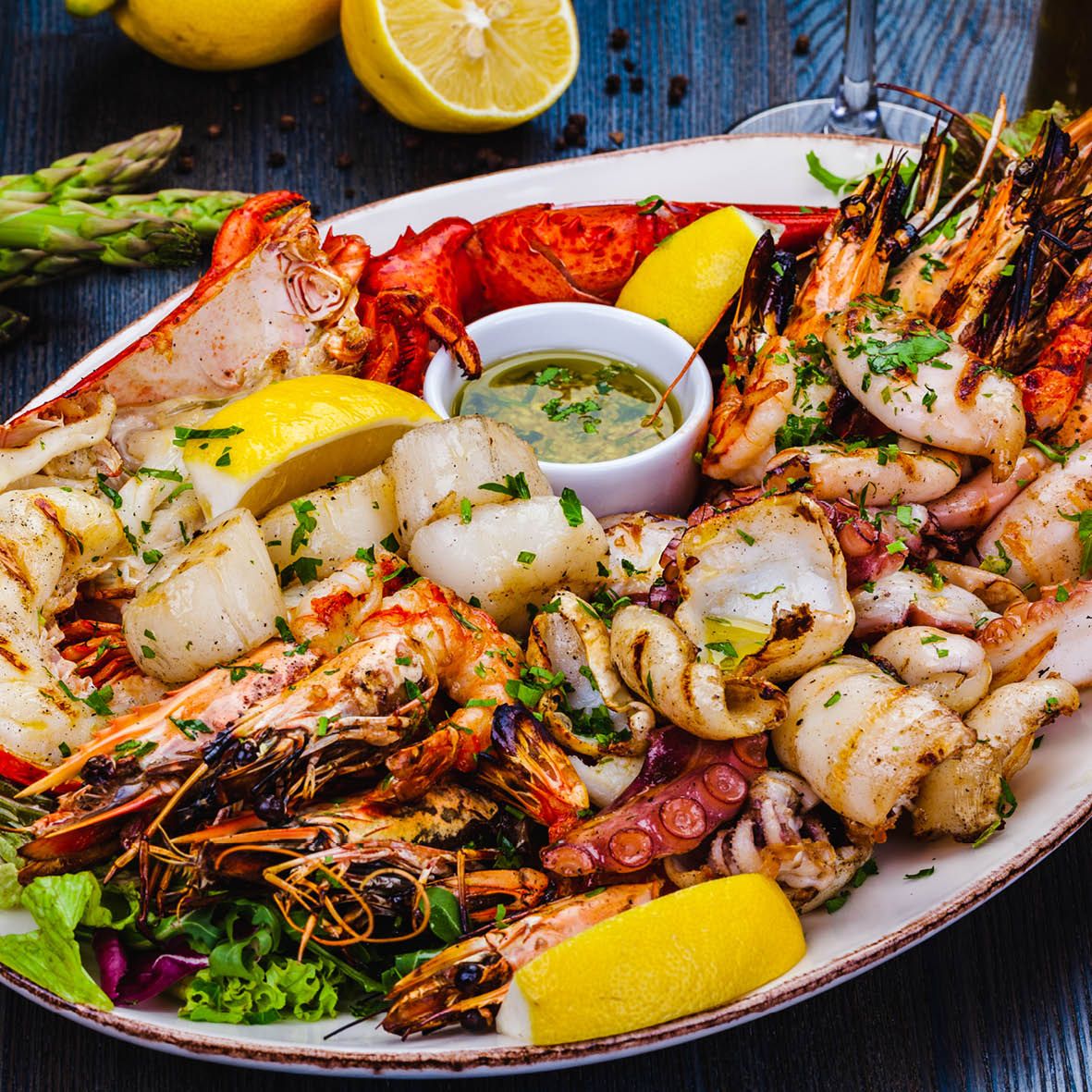 Seafood Platter with Thai Dipping Sauce
Cooked on the barbecue, this platter is packed with all your seafood favourites.
How long will it take?
30 minutes
What's the serving size?
Serves 4
---
What do I need?
1 cup olive oil
2 cloves garlic, minced
2 tbsp chopped dill
Zest and juice of 2 lemons
Salt
Freshly ground black pepper
1 crayfish, halved
24 green prawns, peeled (tails intact), deveined
Scallops
4 Squid tubes
Flat leaf parsley, finely chopped
Lemon wedges
For the Dipping Sauce
½ cup fresh lime juice
1 ¼ tsp lime zest
¼ cup fish sauce
2 tbsp brown sugar
2 tbsp minced lemongrass
1 garlic clove, minced
2 tsp chopped coriander leaves
1 tsp chopped mint leaves
1 small red chilli, deseeded and finely chopped
How do I make it?
Make dipping sauce by whisking together lime juice, lime zest, fish sauce and sugar until sugar dissolves. Add lemongrass, garlic, coriander, mint and chilli and stir well. Refrigerate until ready to serve.
Combine oil, garlic, dill and lemon zest and juice in a bowl and season with salt and pepper. Brush a little over crayfish, prawns and scallops.
Pat outside of squid tubes dry with paper towel. Cut each tube lengthways on one side and open out so that it is flat with inside surface facing up. Use a sharp knife to score diagonal cuts in the squid tubes, then slice into large triangular shaped pieces. Add squid to the bowl of olive oil mixture and set aside to marinate for 5 minutes.
Heat barbecue to medium high heat.
Add prawns and crayfish, flesh side down. Cook prawns for 3-4 minutes. Cook crayfish for 1-2 minutes, then turn and cook shell side for 1-2 minutes. Add squid and cook squid for 2-3 minutes per side. Add scallops and cook for 1-2 minutes.
Transfer all seafood to a platter with the dipping sauce and serve garnished with parsley and lemon wedges.
---
Share this recipe
---
More recipes like this