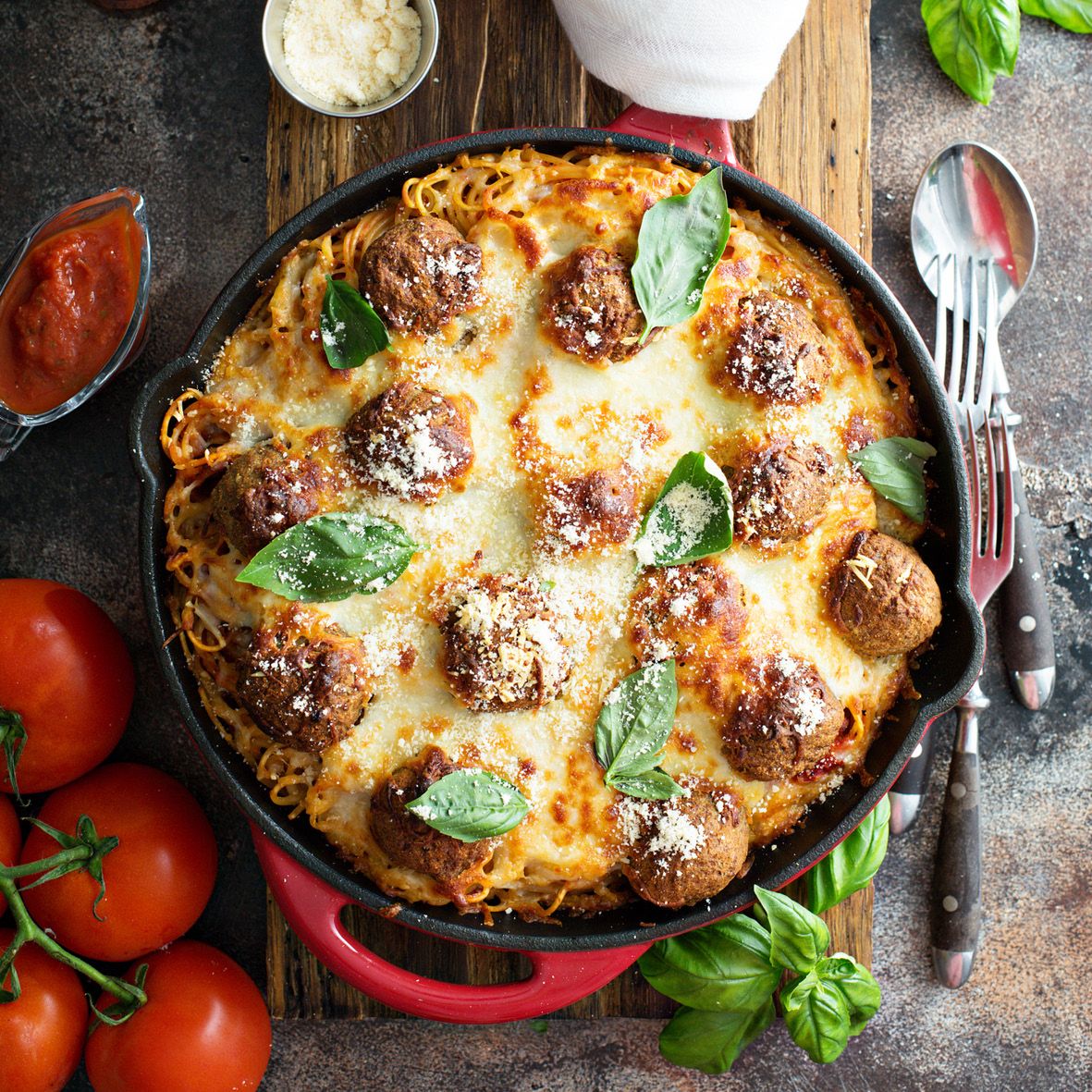 Spaghetti and meatball bake
Take your spaghetti and meatball game to the next level with this tasty dinner.
How long will it take?
35 minutes
What's the serving size?
Serves 4
---
What do I need?
1 packet dried spaghetti
½ cup Cravero Reggiano, finely grated
100g bocconcini
For the meatballs
750g beef mince
2 tsp Worcestershire sauce
1 egg, beaten
½ cup breadcrumbs
¼ cup Cravero Reggiano, finely grated
1 tbsp finely chopped fresh basil, plus extra leaves to serve
For the sauce
2 cloves garlic, minced
1 brown onion, diced
2 carrots, grated
2 bay leaves
1 clove garlic, minced
2 tbsp tomato paste
750g tomato passata
250ml beef stock
How do I make it?
Combine mince, Worcestershire, egg, breadcrumbs, chopped basil and ¼ cup Cravero Reggiano in a bowl. Season with salt and pepper. Roll mixture into 5 centimetre sized balls and place on a non-stick baking tray greased with a little olive oil. Bake at 220C for 10 minutes.
Bring a large saucepan of water to the boil. Add spaghetti and cook to al dente.
Heat a large frying pan over moderate heat. Add a dash of olive oil then the garlic and onion and sauté for 5 to 7 minutes, or until the onion is soft. Add stock, tomato paste, passata, carrots and bay leaves and reduce heat to a simmer. Simmer for 10 minutes.
Remove sauce from heat and discard bay leaves.
Combine spaghetti, meatballs and sauce in a large ovenproof pan and sprinkle with ½ cup Cravero Reggiano and bocconcini. Cook in oven for 10-15 minutes or until cheese has melted.
Serve topped with fresh basil leaves.
---
Share this recipe
---
More recipes like this