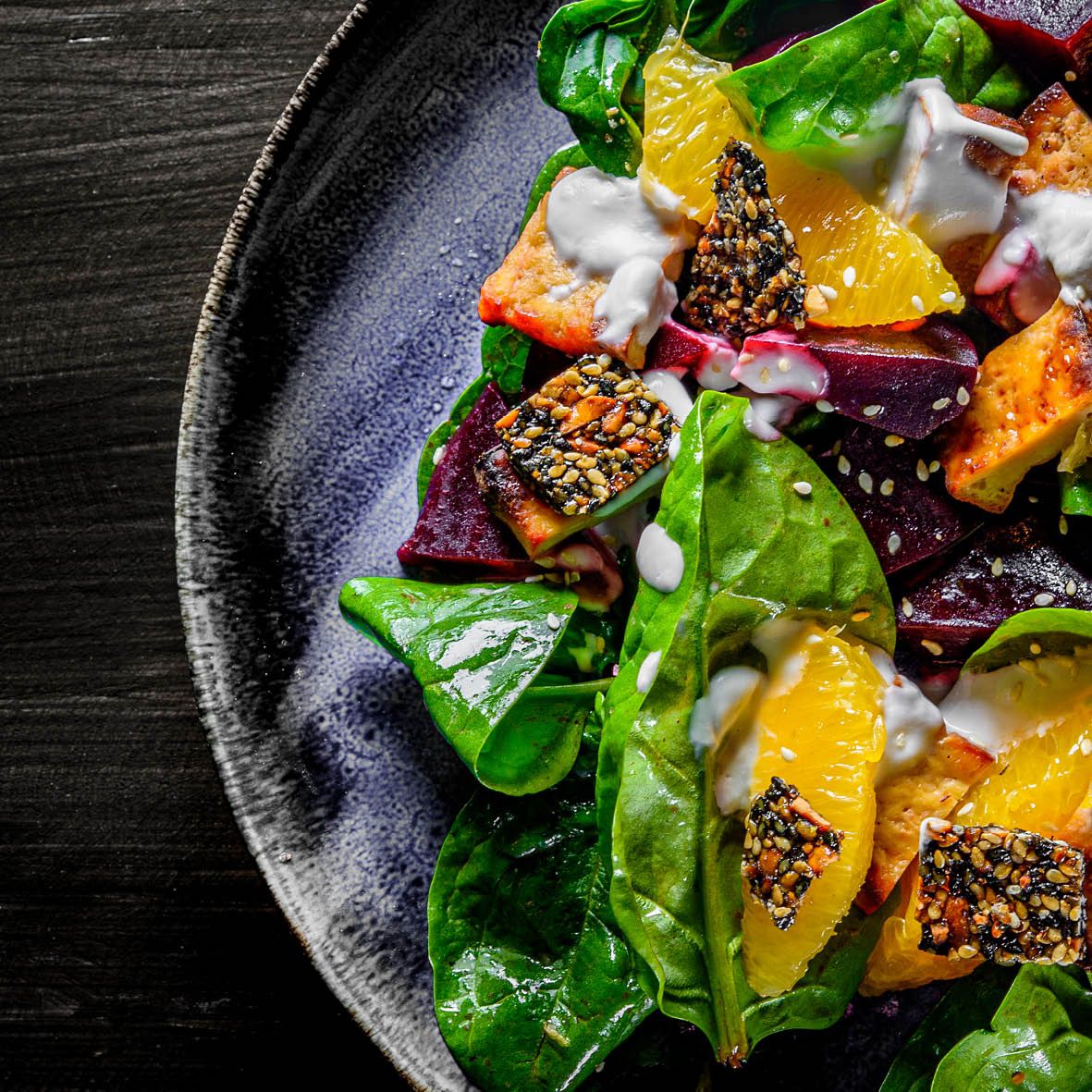 Beet, Orange and Spinach Salad with Sesame Crusted Tofu
This vibrant salad features crunchy sesame crusted tofu topped with an orange yoghurt dressing.
How long will it take?
Takes 1 hour
What's the serving size?
Serves 6
---
What do I need?
450 g firm tofu
6 tbsp tamari
4 tbsp rice wine vinegar
2 tbsp sesame oil
2 cloves garlic, minced
8 tbsp cornflour
2 eggs, whisked
6 tbsp panko breadcrumbs
4 tbsp black sesame seeds
8 tbsp white sesame seeds
½ tsp salt
½ tsp black pepper
4 tbsp avocado oil
For the dressing
1 cup Greek yoghurt
Finely grated zest of ½ orange
2 tbsp orange juice
For the salad
3 oranges, peeled and segmented
250 g baby spinach leaves
440 g whole baby beetroot, quartered
Salt and pepper to taste
How do I make it?
Slice tofu into one centimetre thick pieces. Arrange tofu in a shallow dish.
Prepare marinade by whisking together tamari, vinegar, sesame oil and garlic in a bowl. Pour marinade over tofu and place in the fridge for 1 hour, flipping the tofu halfway through.
Meanwhile prepare salad dressing by combining Greek yoghurt, orange juice and zest in a bowl. Season to taste and refrigerate.
Combine cornflour, salt and pepper in a shallow bowl. In a second bowl add eggs and in a third shallow bowl, combine panko and sesame seeds.
Working one piece at a time remove tofu from marinade, shake off excess marinade and press tofu into cornflour. Dip into egg and then press into the panko and sesame mixture. Move tofu around so that all sides are coated. Place on a plate and repeat to coat all pieces of tofu.
Heat oil in a large frying pan over medium heat. Working in batches, cook tofu in the pan for 3 minutes per side or until crisp and golden brown. Remove from the oil and drain on a paper-towel lined plate.
To serve, place spinach on a serving platter, top with beetroot, orange and tofu and drizzle with dressing.
---
Share this recipe
---
More recipes like this