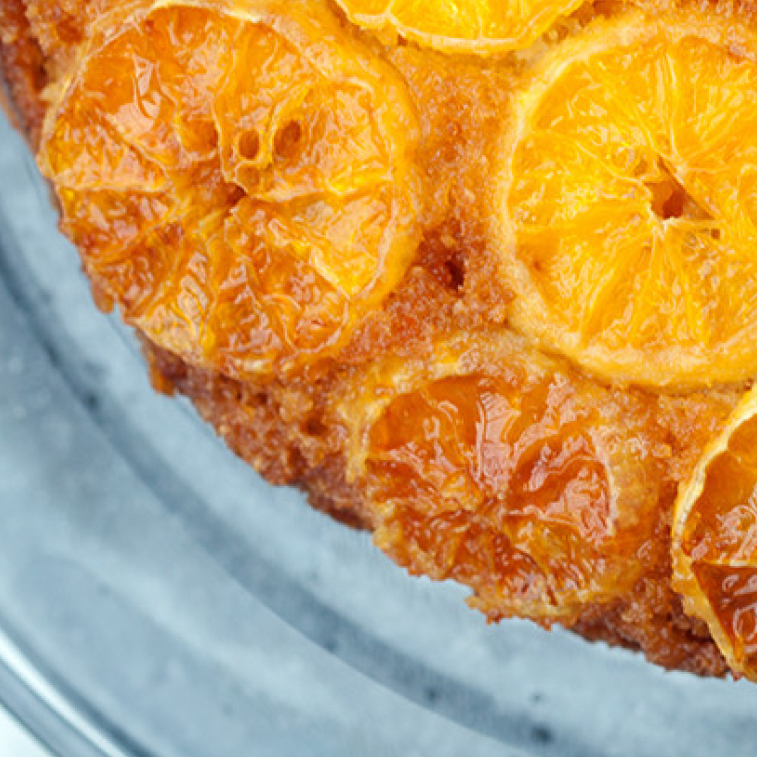 Almond Tangelo Upside Down Cake
Moist, fluffy, crunchy, gooey - this cake has it all. Oh, and did we mention the caramel top?
How long will it take?
25 minutes to prepare, 1 hour to cook, 10 minutes to cool
What's the serving size?
This will make approximately 10 servings
---
What do I need?
For the caramel
3/4 cup caster sugar
1/2 cup water
1 tablespoon butter
pinch of salt, small
For the cake
3-4 tangelos, peeled and thinly sliced in rounds
1 cup caster sugar
225g unsalted butter
tangelo zest, from 2 tangelos
1 teaspoon pure almond extract
1 cup plain flour
1 cup ground almond meal
1 tablespoon baking powder
1/2 teaspoon salt
6 large eggs
For the almond topping
1 teaspoon ground cinnamon
2 tablespoons caster sugar
2/3 cup sliced almonds
How do I make it?
Preheat oven to 175°C. Grease a 23 centimetre cake pan, line with baking paper, and grease the paper; set aside.
Place the sugar and water for the caramel in a small saucepan, and bring to a simmer over medium heat. Continue to cook for about 10-15 minutes, swirling the pan, until the caramel reaches a golden colour. Add in the butter and salt and swirl until melted.
Pour the caramel into the cake pan, and place enough tangelo slices in the bottom of the pan to cover.
In the bowl of an electric mixer fitted with a paddle attachment, cream together the sugar, butter, zest, and almond extract for 5 minutes. Add in the flour, almond meal, baking powder, and salt, and mix on low. Add in the eggs, and mix until just combined. Spread the batter over the tangelos and caramel.
In a small bowl, mix together the cinnamon, sugar, and almonds. Sprinkle over the batter. Cover the cake with a round of baking paper and bake for 45 minutes. Remove the baking paper cover and bake for an additional 15 minutes, until cooked through.
Allow the cake to cool for 5-10 minutes, then invert onto a platter.
Recipe from Rachael Dart
---
Share this recipe
---
More recipes like this