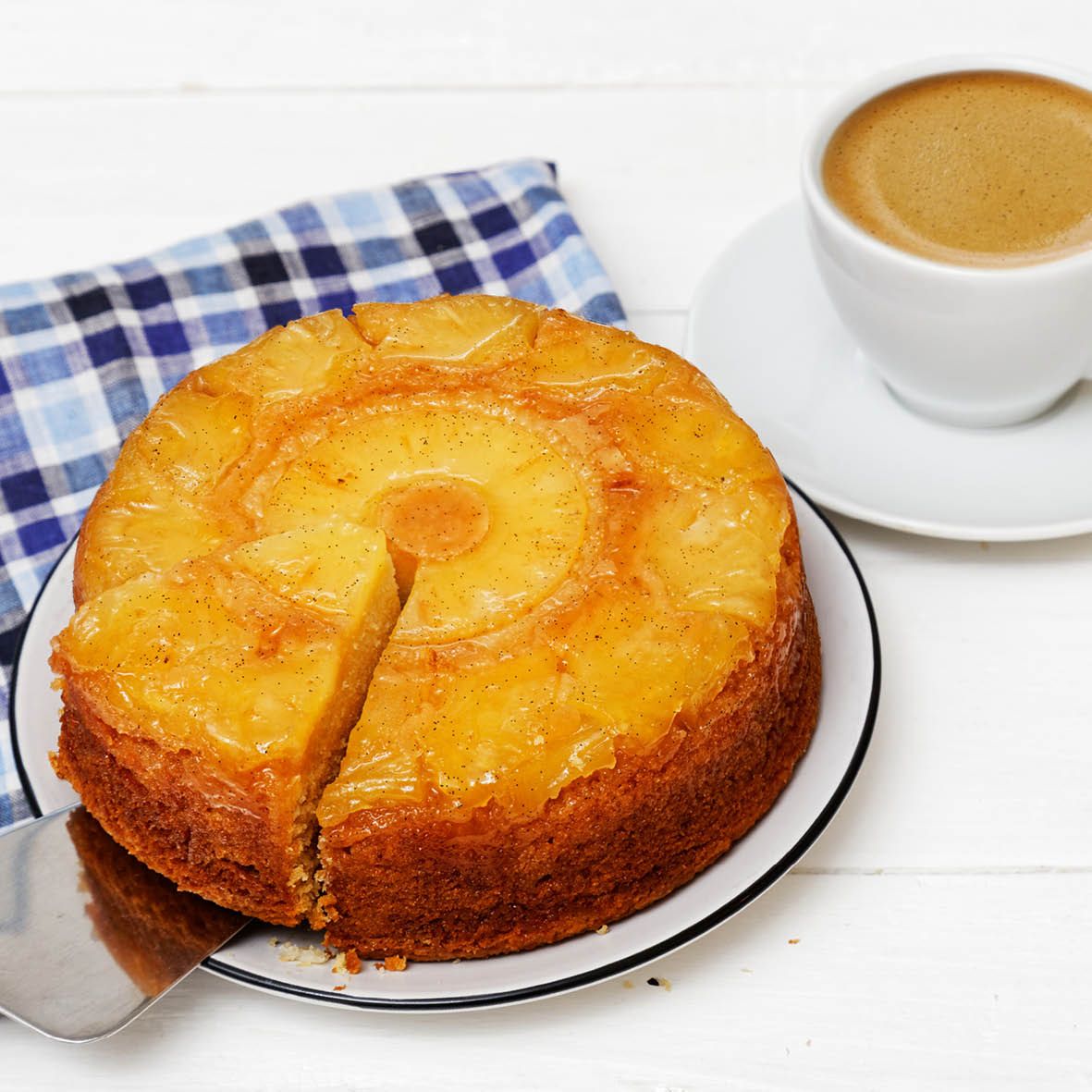 Pineapple Upside Down Cake
Made with fresh pineapple, this retro-inspired cake is buttery and moist thanks to the gentle caramelisation of the pineapple and the juice that infuses into the cake while cooking.
How long will it take?
1 hour 10 minutes
What's the serving size?
Serves 10
---
What do I need?
¾ cup butter
¾ cup packed brown sugar
¾ cup unsweetened pineapple juice
1 ½ cups plain flour
2 teaspoons baking powder
½ teaspoon salt
½ cup white sugar
3 eggs
½ teaspoon vanilla extract
1 fresh pineapple - peeled, cored, and cut into rings
How do I make it?
Preheat oven to 205C.
Melt butter and use some to grease an 18-centimetre cake pan.
Mix 5 tablespoons of butter with dark brown sugar and ¼ cup pineapple juice. Place mixture in the bottom of the cake pan and then arrange pineapple over the top. You can use whole rings or cut into smaller pieces if you prefer. Set aside.
Sift flour, salt, white sugar and baking powder into a large bowl and set aside.
Separate eggs, reserving yolks. Beat egg whites until stiff peaks form.
Beat two of the egg yolks until lemony yellow, then add in remaining ½ cup pineapple juice, vanilla, and remaining butter. Add this mixture to the flour mixture, stirring to combine. Gently fold in beaten egg whites and pour batter into the cake pan over the top of the brown sugar and pineapple rings.
Bake for 30 minutes or until the cake springs back when lightly touched. Remove from oven and let cool in the cake pan for 10 minutes, then cover cake pan with a plate and invert quickly so that the pineapple is on the top.
---
Share this recipe
---
More recipes like this