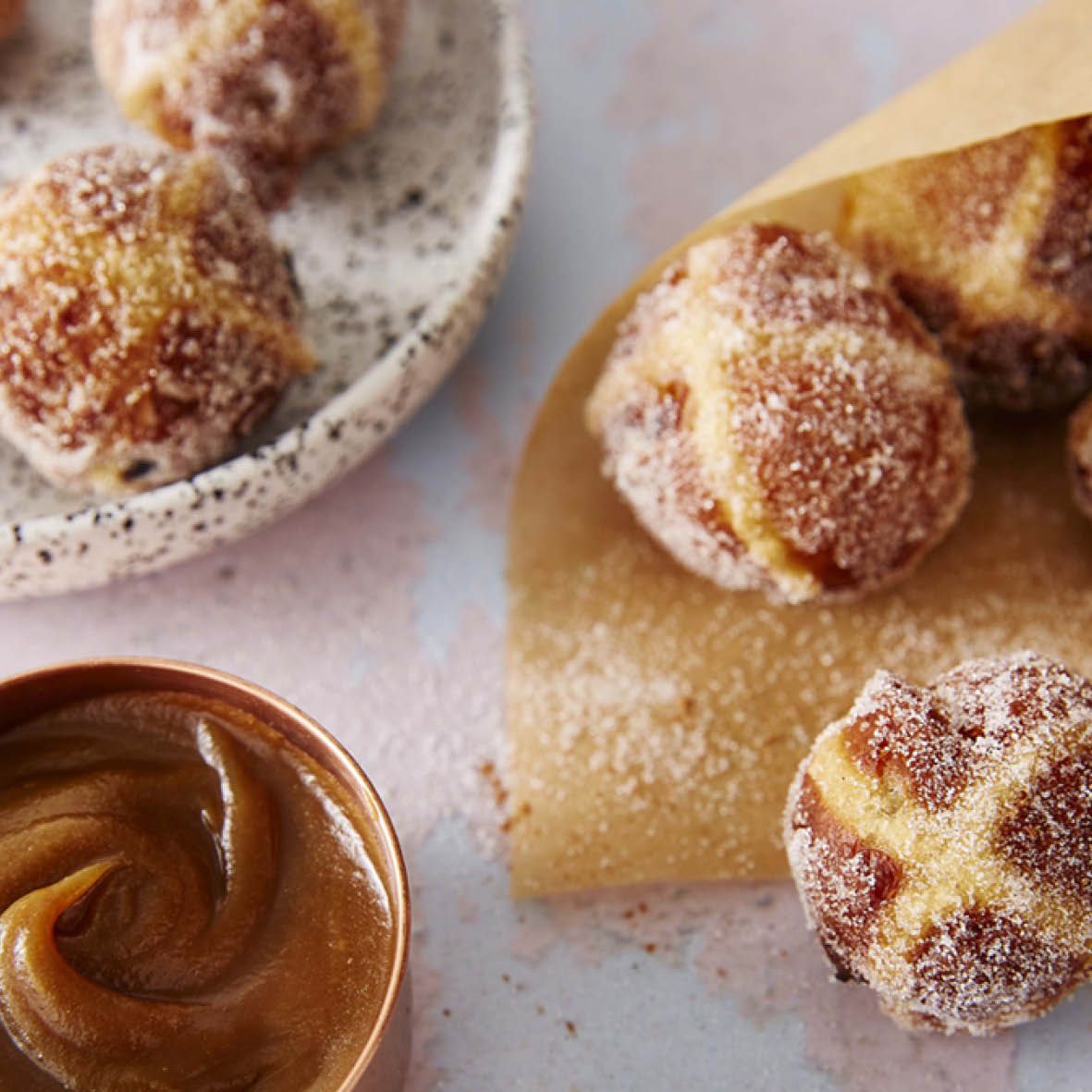 Hot Cross Doughnuts
These tasty bites feature all the flavours of traditional Hot Cross Buns in a delicious doughnut. The dough will need proving so you can save some time by making the dough the night before and storing it covered in the fridge overnight. Do this before you divide the dough into balls.
How long will it take?
Approximately 4 hours
What's the serving size?
Makes 20 mini-doughnuts
---
What do I need?
80ml warm water
3.5g dried yeast
250g bread flour, plus extra for dusting
75g caster sugar, divided
½ tsp salt
¼ tsp ground nutmeg
¼ tsp mixed spice
¼ tsp cinnamon
50g butter, chilled and cubed
1 large egg, lightly beaten
20g plain flour
2 drops almond essence
20ml water
1 litre sunflower oil
How do I make it?
Add 80ml warm water to a jug and then add the yeast. Stir and set aside for approximately 5 minutes or until the mixture is frothy
Sift flour into a large bowl. Add 25g caster sugar, salt, nutmeg, mixed spice and cinnamon and stir to combine. Use your fingers to rub the butter into the flour mix until it resembles fine breadcrumbs. Stir in the egg and the yeast with a wooden spoon until the mixture comes together.
Turn out onto a lightly floured surface and knead the dough for approximately 10 minutes or until the dough is smooth on the outside and springs back when pressed.
Place dough in a lightly greased bowl and cover with a piece of oiled Multix Greener clingfilm.
Set aside to prove in a warm spot until it has doubled in size, approximately 1 to 2 hours.
Knead the dough again for 2 minutes on a floured surface and then divide the dough into 20 equally sized pieces. Shape each piece into a smooth ball. Divide balls between 2 lightly greased baking trays, leaving room for them to expand. Cover with oiled clingfilm and set aside to prove in a warm spot until they have doubled in size.
Mix together a paste of 20g plain flour, almond essence and 20ml water. Place this paste into a piping bag fitted with a plain nozzle or if you don't have a piping bag snip the end off a freezer bag. Pipe a cross onto each doughnut.
Put sunflower oil into a large, deep saucepan and using a kitchen thermometer heat oil to 160C. Use a slotted spoon to lower doughnuts into the hot oil. You will need to work in batches so that you don't overcrowd the pan. Cook for 1-2 minutes until the doughnuts are golden brown. Remove from oil and drain on paper towel for a minute before rolling in the remaining sugar.
---
Share this recipe
---
More recipes like this