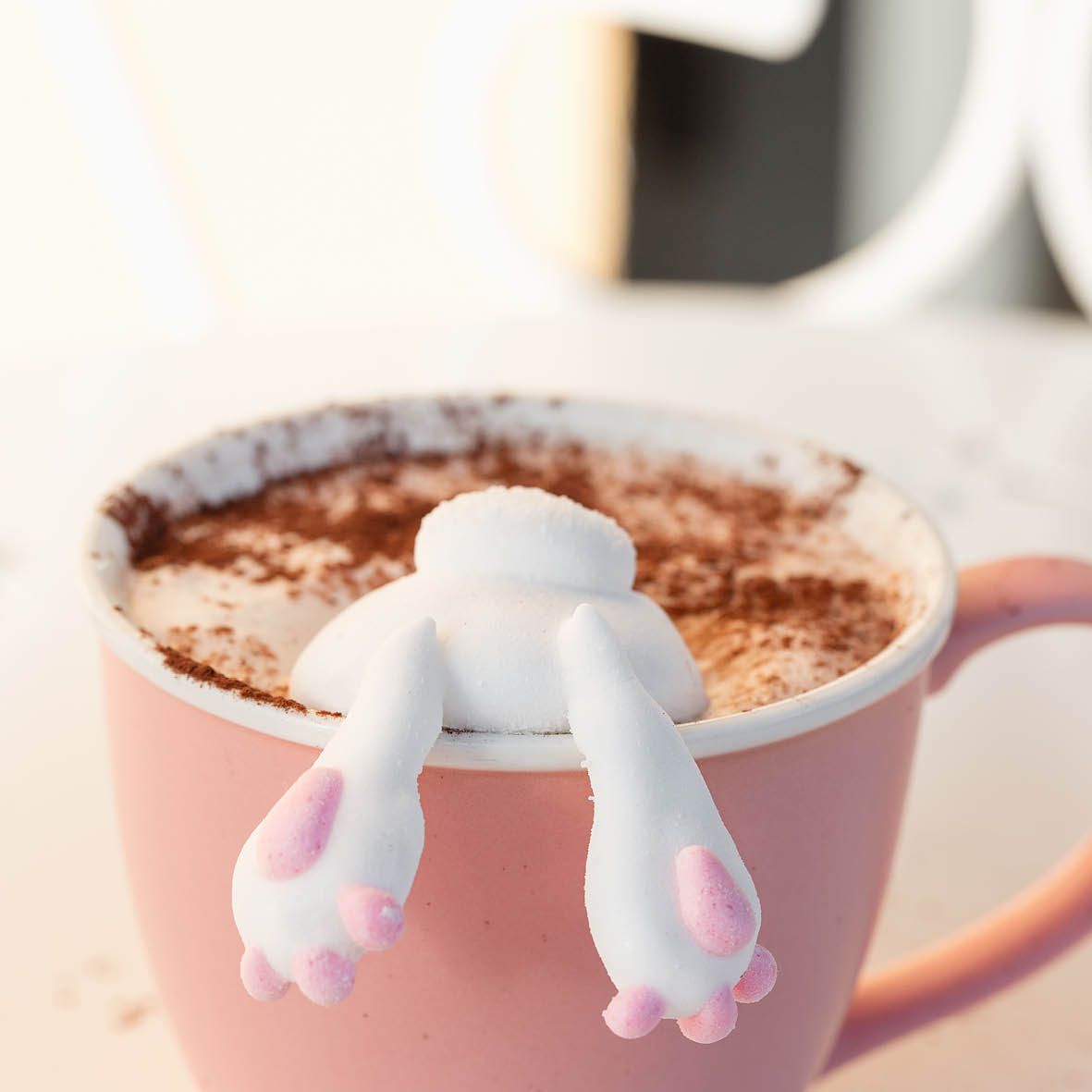 Easter Bunny Hot Chocolate
Sometimes the Easter Bunny can be so generous that it's impossible to eat all the chocolate that he delivers. So, what's the solution? To drink it of course! Turn leftover Easter eggs into a rich and creamy hot chocolate that's perfect for autumn evenings and if you want to go one step further, make these edible marshmallow bunnies to garnish.
How long will it take?
10 minutes
What's the serving size?
Serves 6
---
What do I need?
For the Bunnies
1 ½ cups caster sugar
2/3 cup hot water
2 tbsp gelatine powder
2/3 cup cold water
1 tsp vanilla extract
Red or pink liquid food colouring
1 cup icing sugar
For the Hot Chocolate
100 g caster sugar
125 ml water
125 g Easter egg chocolate, broken into pieces
300 ml cream
75 g cocoa powder
1 litre milk
How do I make it?
Make Bunnies first by combining sugar and hot water in a saucepan over medium heat. Cook, stirring, for 3 minutes or until the sugar has dissolved and the syrup is clear.
Combine gelatine and cold water in a jug and stir with a fork. Pour into the hot syrup and cook, stirring for 3 minutes or until the gelatine has dissolved and the mixture is clear. Set mixture aside to cool to room temperature, then add to the bowl of an electric mixer. Beat mixture on high for 8 to 10 minutes, or until very thick. Add vanilla and beat for 1 minute.
Divide mixture, placing ¾ in a piping bag. Add a drop of food colouring to the remaining mixture and beat again until the colour is evenly distributed throughout the marshmallow. Place pink marshmallow mixture into a separate piping bag.
Line a baking tray with baking paper and sprinkle baking paper generously with icing sugar. Pipe out bunny shapes onto the baking tray. Do some larger white circles for the body topped with a smaller white circle for the tail. Next pipe the feet onto the base of the body. Use the pink marshmallow to pipe paw pads onto the feet. After you have finished piping, sift some icing sugar over the top of the marshmallows and set aside to dry in a cool place for at least 2 hours. When the marshmallows have dried, remove excess icing sugar gently with a pastry brush.
Make the Hot Chocolate by heating water and sugar in a saucepan over medium-low heat, stirring until the sugar dissolves. Simmer for 2 to 3 minutes, or until the mixture is slightly thickened.
Add chocolate to the sugar mixture and stir until it has melted. Add cream, cocoa and 80 ml of the milk and whisk to combine. Remove from heat and set aside.
Heat remaining milk over medium-low heat so that it is warmed through but do not allow it to boil.
Pour chocolate mixture into milk and stir well to combine. Heat until just below boiling point, then pour into mugs. Add a Bunny garnish and serve immediately.
---
Share this recipe
---
More recipes like this