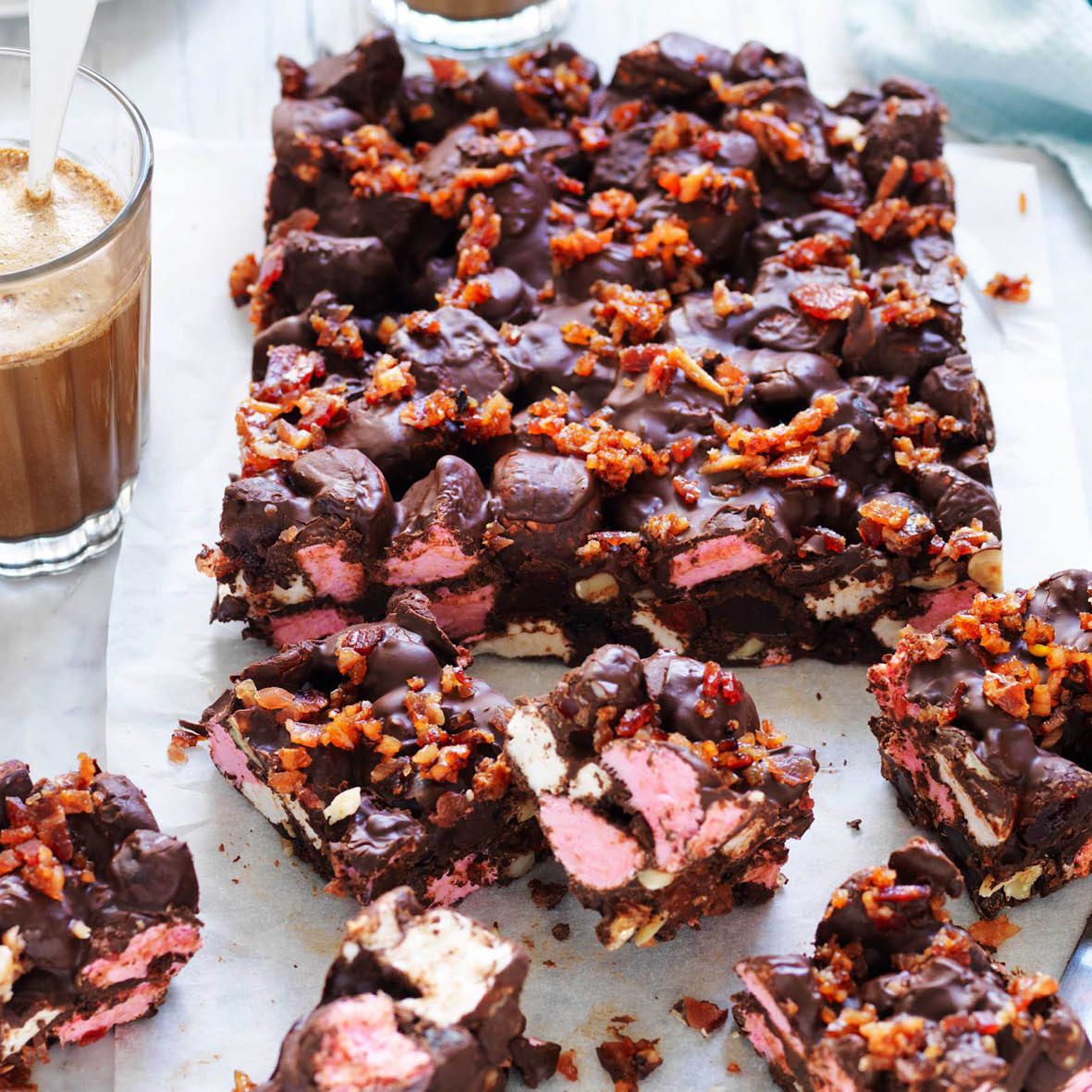 Candied Bacon Rocky Road
There's Rocky Road and then there's Candied Bacon Rocky Road! Trust us, this is the perfect balance of sweet, salty and chocolatey flavours combined into one simply irresistible treat.
How long will it take?
50 minutes
What's the serving size?
Serves 16
---
What do I need?
2 tablespoons maple syrup
1 tablespoon brown sugar
175g rindless bacon rashers
400g dark chocolate, roughly chopped
280g white and pink marshmallows, roughly chopped
200g glace cherries
150g Turkish Delight chocolate bar, roughly chopped
½ cup unsalted roasted peanuts
How do I make it?
Preheat oven to 180˚C/160˚C fan-forced. Line a baking tray with baking paper. Combine maple syrup and brown sugar in a small bowl. Place bacon onto prepared tray and brush generously with maple syrup glaze. Bake for 15 minutes. Turn bacon and brush with maple syrup mixture. Bake for a further 15 minutes. Stand and cool. When cold and crisp, finely chop the bacon.
Grease and line a 26cm x 16cm x 3cm deep baking pan with baking paper. Place chocolate into a large heatproof bowl. Microwave on high in 30 second bursts, stirring with a metal spoon after each burst, until just melted. Stir until smooth. Remove from heat and stand for 5 minutes.
Stir through marshmallows, cherries, Turkish Delight, peanuts and half of the bacon through the chocolate. Pour into prepared pan and spread evenly. Sprinkle with remaining bacon. Stand at room temperature to set (or refrigerate in hot weather). Cut into squares and serve.
Recipe from Australian Pork
---
Share this recipe
---
More recipes like this