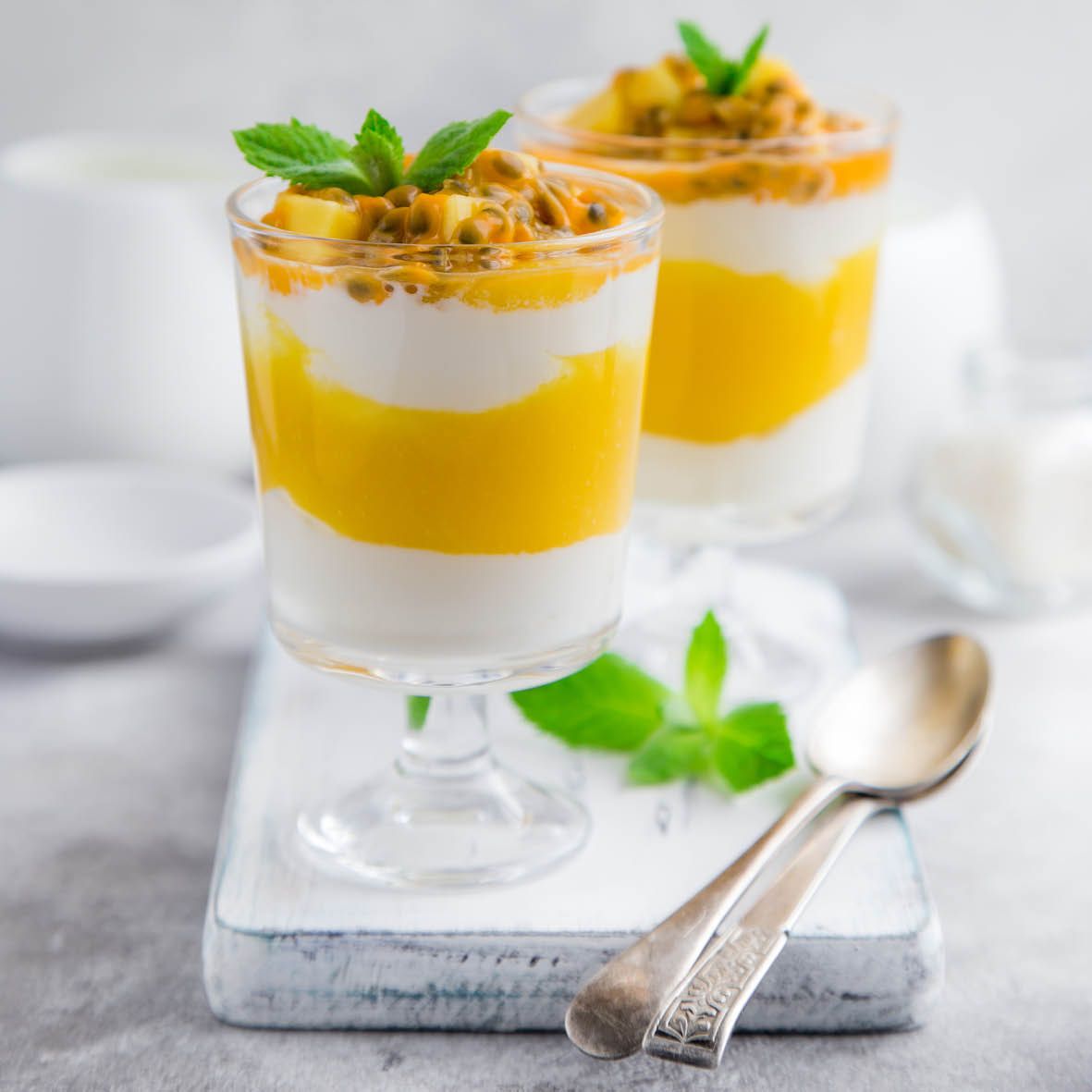 Mango and Passionfruit Trifle with Chantilly Cream
Featuring mango and passionfruit, these tropical trifles are easy-to-make and guaranteed to be a hit. You can make individual trifles as we have, or combine into one larger trifle.
How long will it take?
30 minutes plus overnight setting time
What's the serving size?
Serves 4
---
What do I need?
2 ripe mangoes
50 g sugar
10 mL lime juice
8 sponge finger biscuits, broken in half
1 x 85g packet mango flavoured jelly
250 mL passionfruit kombucha
2 passionfruit
Mint leaves, to garnish
For the Chantilly Cream
250 mL cream
150 g cream cheese
30 g icing sugar
20 mL vanilla extract
How do I make it?
Peel mangoes and dice into small pieces. Place half the mango in a saucepan and reserve the other half. Add sugar and lime juice to the saucepan and cook, stirring over medium heat for 10 minutes or until the pieces break down and are softened. Remove from heat and set aside to cool slightly.
Make jelly by emptying jelly crystals into a bowl with 250 mL boiling water. Stir to dissolve jelly crystals. Add mango mixture from the saucepan to the jelly mixture and stir to combine. Pop in the fridge while you prepare the other ingredients.
Whip cream, cream cheese, icing sugar and vanilla until soft peaks form.
Pour passionfruit kombucha into a shallow dish. Working quickly dip each sponge finger biscuit into the kombucha and then arrange in the base of serving dishes.
Add a generous dollop of the cream mixture so that the biscuits are well covered, then spoon in the mango jelly mix and refrigerate overnight.
When ready to serve, add remaining cream mixture and top with reserved mango. Cut passionfruit in half and scoop out pulp and drizzle over the top. Garnish with a mint leaf and serve immediately.
---
Share this recipe
---
More recipes like this