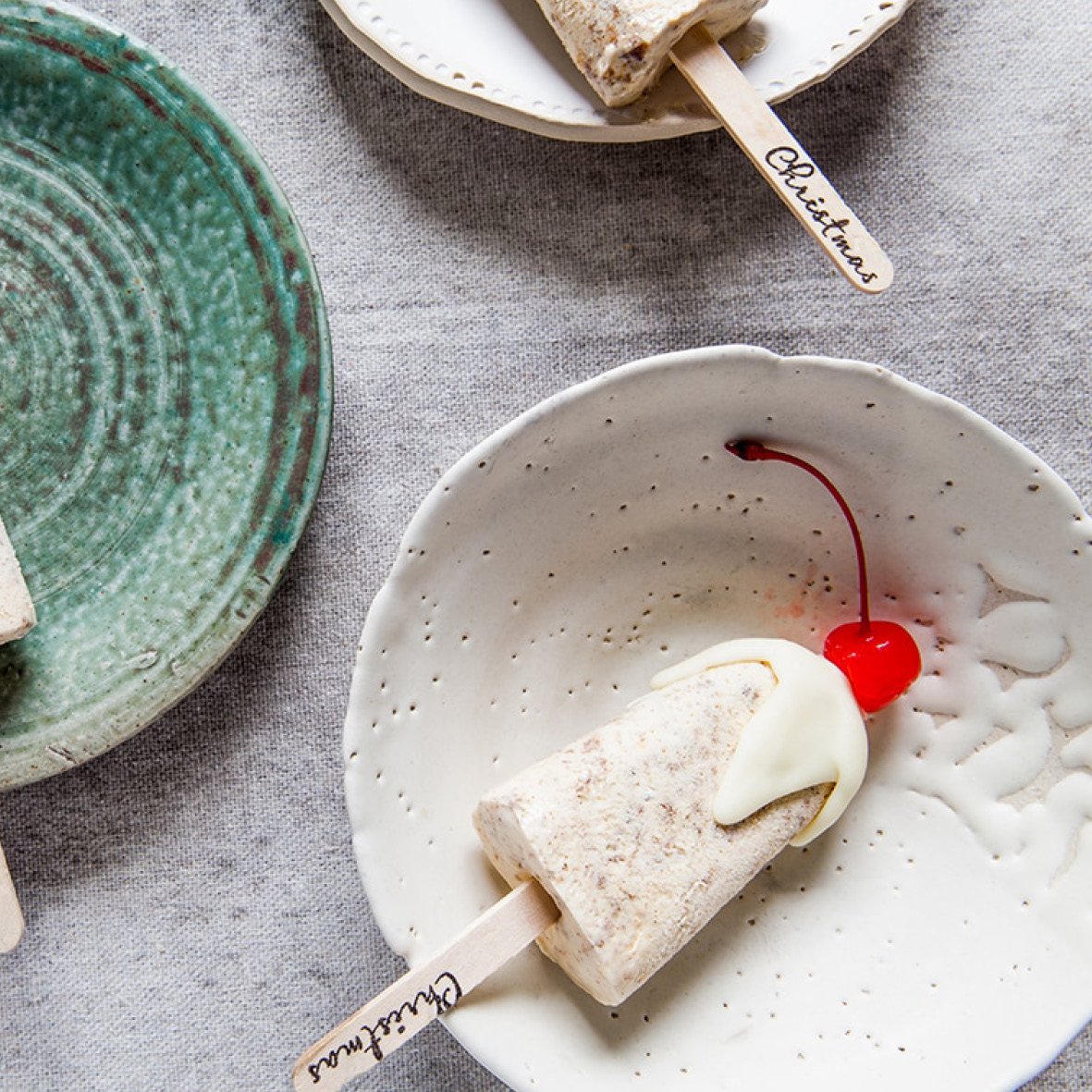 Boozy Christmas popsicles
For an Aussie summer there can be no better way to use up leftover Christmas pud than by turning it into these popsicles.
How long will it take?
30 minutes
What's the serving size?
Makes 14 popsicles or a tub of ice-cream
---
What do I need?
200 g day-old Christmas pudding, roughly chopped
2 tbsp brandy
4 egg yolks
125 g (½ cup) caster sugar
¼ tsp ground nutmeg
½ tsp ground cinnamon
1 vanilla bean, split in half
300 ml thickened cream
125 g (½ cup) crème fraîche
14 wooden popsicle sticks
250 g white chocolate melts
12 maraschino cherries or glace cherries
How do I make it?
Process Christmas pudding in a food processor until crumbs form. If the pudding you are using is very moist, opt to break the pudding into crumbs by hand. Place into a bowl, add brandy and mix well. Set aside.
Place egg yolks and sugar into a medium heatproof bowl, beat with an electric mixer until thick and creamy, about 3-4 minutes. Place the bowl over a saucepan of simmering water and whisk for a further 5 minutes or until mixture doubles in size. Remove from heat and set aside to cool at room temperature.
Using an electric mixer, whip the cream, nutmeg, cinnamon and vanilla seeds until soft peaks form, about 2-3 minutes. Fold the cooled egg custard and pudding crumbs through the whipped cream. Spoon the mix into 80 ml (⅓ cup) capacity popsicle molds. Freeze overnight.
Remove popsicles from freezer and, working quickly, remove each from their molds, placing onto a tray lined with baking paper then return to the freezer until ready to serve.
Melt chocolate in a heatproof bowl over simmering water or in the microwave oven, allowing the mixture to cool but not set.
To serve, drizzle each popsicle with a little melted white chocolate and top with a cherry. Eat immediately.
---
Share this recipe
---
More recipes like this