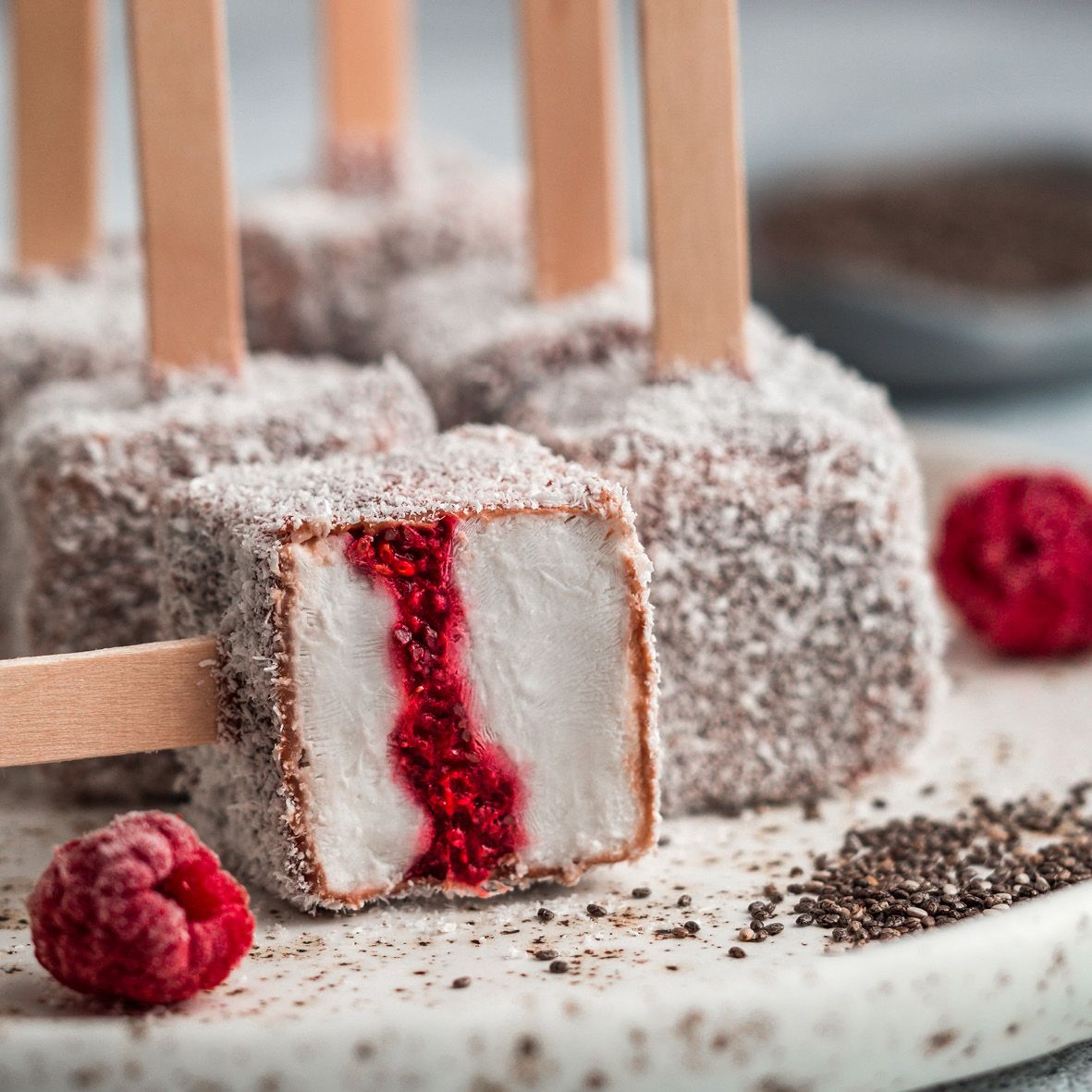 Lamington ice-cream pops
Is there anything more Australian than a lamington? We've updated the classic Aussie treat by turning it into an ice-cream! Raspberry jam is sandwiched between vanilla ice-cream, covered in chocolate and sprinkled with coconut to produce the perfect summer indulgence.
How long will it take?
30 minutes plus overnight freezing time
What's the serving size?
Makes 16
---
What do I need?
2 litres Valhalla vanilla ice-cream
¼ cup raspberry jam
430g dark chocolate, chopped
220g milk chocolate, chopped
250g desiccated coconut
How do I make it?
Line base and sides of a 20 centimetre square cake tin with baking paper, extending the paper 3 centimetres above the edge of the tin.
Remove ice-cream from freezer and let stand at room temperature for 5-10 minutes until it is softened enough to easily spoon out.
Spoon half the ice-cream into the prepared cake tin and level with the back of the spoon or a spatula.
Dollop the jam on top of the ice-cream and spread to cover the top surface of the ice-cream.
Spoon remaining half of ice-cream over the top of the jam and smooth surface with a spoon or spatula.
Place in freezer for 20 minutes to firm slightly. Remove from freezer and insert icy-pole sticks into the ice-cream at 5 centimetre intervals so you have 4 rows of 4 sticks. Return to freezer and freeze overnight.
Remove from freezer and stand for 2 minutes before removing from pan. Working quickly, cut the ice-cream into squares with an icy-pole stick in the middle of each square. Place onto a tray lined with baking paper and return to the freezer for 1 hour.
Microwave chocolate on high until melted, stirring every 30 seconds with a metal spoon. Set aside to cool for 10 minutes.
Place coconut in a bowl.
To coat the ice-cream in chocolate we recommend working in batches of 4 ice-cream sticks at a time so that they don't melt. Take 4 ice-cream sticks out of freezer and working quickly, dip 1 at a time into the chocolate to coat all over. Then dip each side into coconut to cover. Return to freezer immediately. Repeat with remaining ice-cream sticks. Freeze for 1 hour to ensure they are firm before serving.
---
Share this recipe
---
More recipes like this