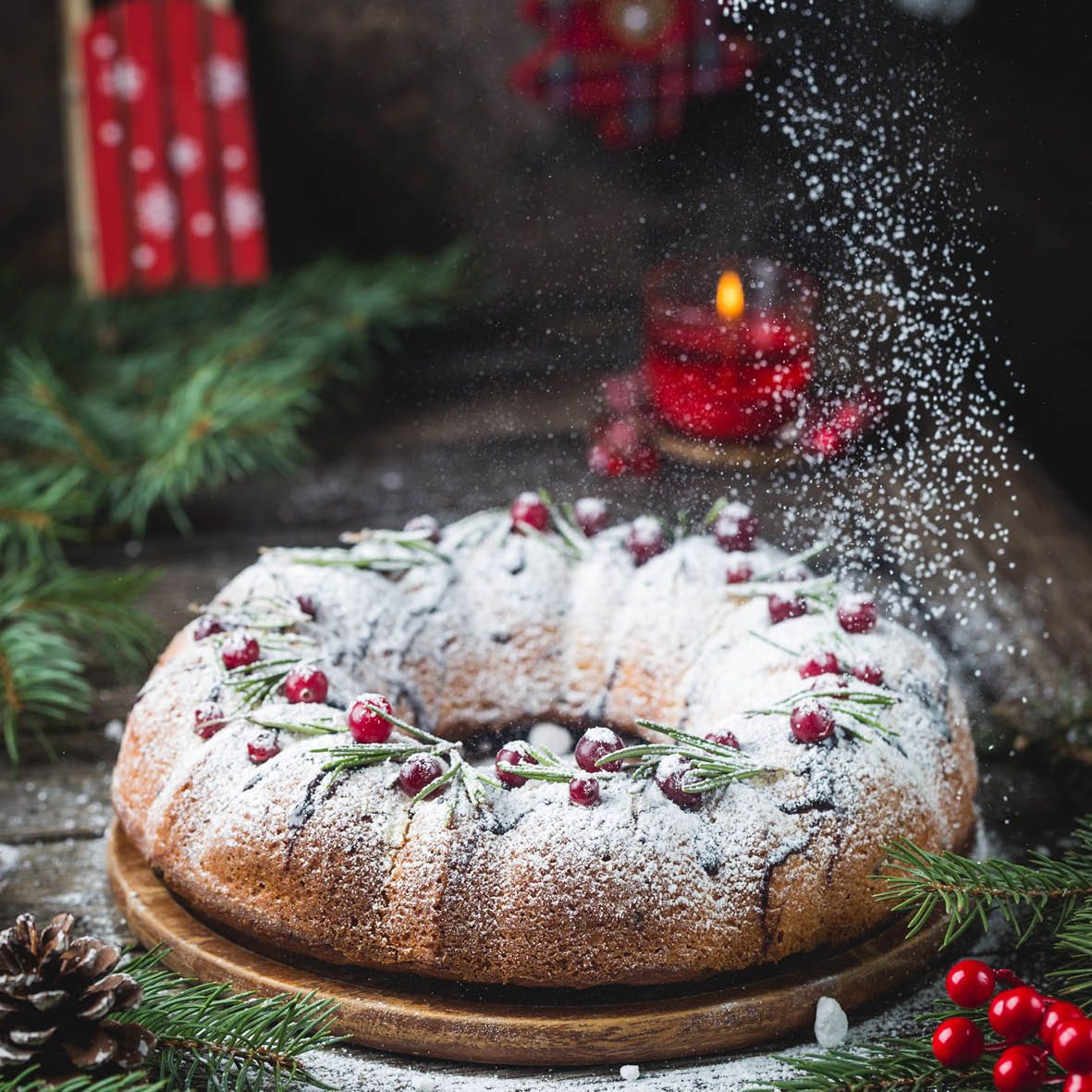 Modern Christmas Cake
If a heavy, rich fruit cake isn't your thing, you'll enjoy this lighter and more modern version featuring ginger, pecan and cranberries.
How long will it take?
3 hours
What's the serving size?
Serves 8-10
---
What do I need?
125 g butter
90 g pecan halves
125 g light muscovado sugar
90 g dried cranberries
90 g dried apricots, chopped
Grated zest and juice of 1 small orange
2 ½ tbsp. brandy
2 eggs
150 g plain flour
1 tsp baking powder
1 tsp ground ginger
½ tsp ground cinnamon
25 g crystallised ginger, chopped
Icing sugar to decorate
How do I make it?
Preheat oven to 130C.
Grease and line a 20 centimetre cake tin.
Grind half the pecans in a food processor.
Chop butter and melt in a large heavy based saucepan. Add sugar, cranberries, apricots, orange zest and juice and brandy. Bring slowly to the boil, stirring and then reduce to a simmer and cook for 10 minutes or until the fruit has plumped up and is glossy. Remove from heat and set aside to cool for 30 minutes.
Sift flour, baking powder, ground ginger and cinnamon together. Beat eggs gently and stir into flour mix. Add flour mix along with ground pecans, remaining pecan halves and crystallised ginger to the fruit mixture in the saucepan and stir well to combine.
Spoon mixture into the cake tin and bake for 1 hour, then reduce temperature to 120C and cook for a further hour or until a skewer inserted in the centre comes out clean. Cool in the cake tin for 15 minutes and then turn out onto a wire rack to cool completely.
Dust with icing sugar to serve.
---
Share this recipe
---
More recipes like this