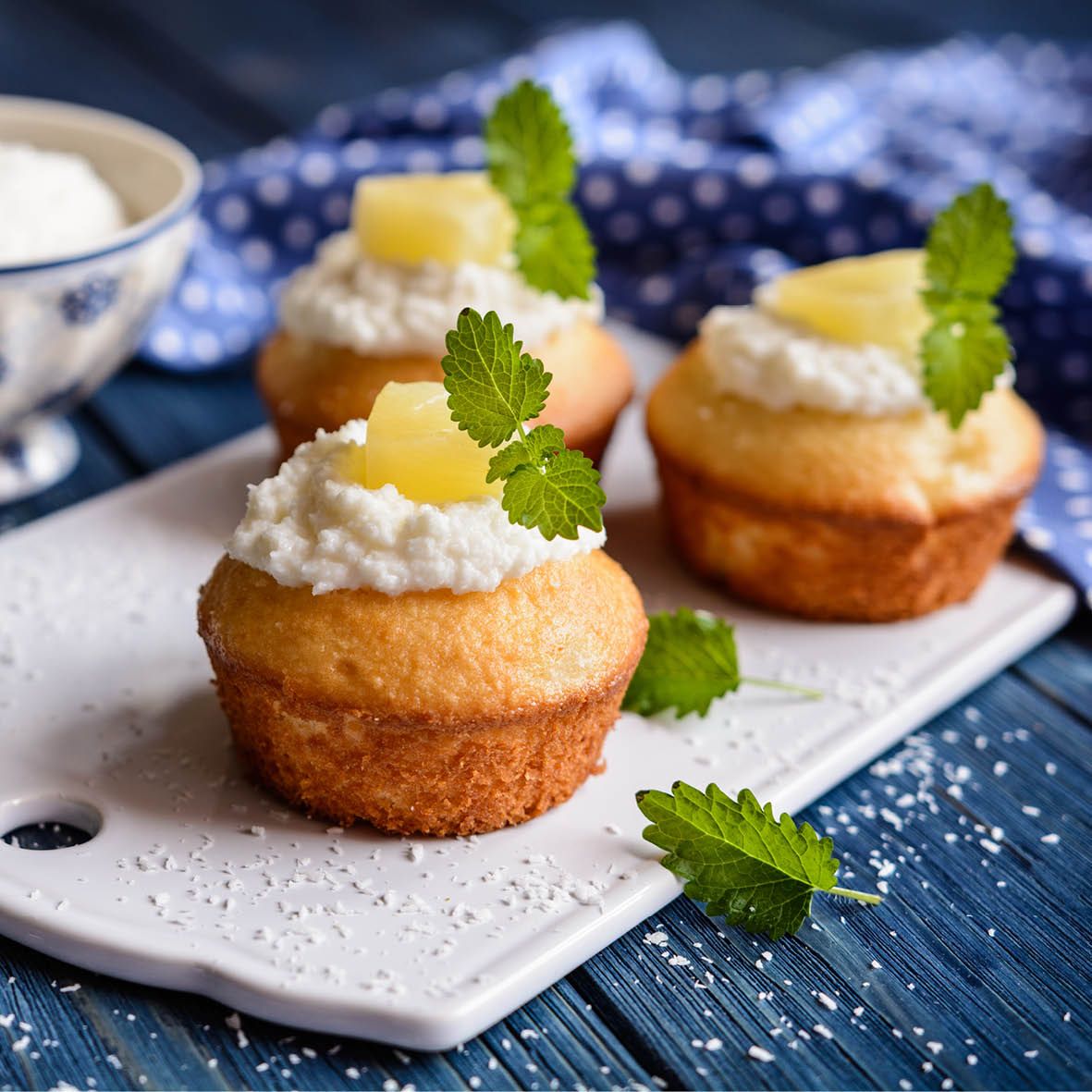 Pineapple Curd and Coconut Cupcakes
Surprise! Hidden inside these coconut-flavoured cupcakes is a sweet pineapple curd and fresh pineapple pieces. Topped with a luscious coconut frosting, they are a perfect afternoon tea treat.
How long will it take?
2 hours including chilling time
What's the serving size?
Makes 12 cupcakes
---
What do I need?
For the Pineapple Curd
2 large eggs
2 large egg yolks
120 mL tinned pineapple juice
½ cup caster sugar
2 tbsp cornflour
2 tbsp unsalted butter
½ pineapple, cored and cut into chunks
For the cupcakes
165 g plain flour
35 g cornflour
¼ cup desiccated coconut
1 ½ tsp baking powder
¼ tsp salt
200 g caster sugar
2 large eggs
½ cup vegetable oil
250 mL coconut milk
For the frosting
1 cup unsalted butter, softened
Pinch of salt
3 cups icing sugar
¼ cup desiccated coconut
20 mL coconut milk

How do I make it?
For the Pineapple Curd
Combine eggs, egg yolks, pineapple juice, sugar and cornflour in a bowl and mix until the cornflour has dissolved.
Pour mixture into a saucepan and cook over medium-low heat, stirring constantly until thickened (about 10 minutes).
Remove from heat and stir in butter.
Strain through a fine sieve and place in a bowl.
Cover with clingfilm making sure that the clingfilm touches the surface of the curd to stop a skin forming. Refrigerate for 2 hours to set.
For the cupcakes
Preheat oven to 180C.
Grease and line a muffin tin with cupcake cases.
Mix flour, cornflour, coconut, baking powder and salt together in a bowl.
In a separate bowl whisk together sugar, eggs and vegetable oil. Fold this into the dry ingredients until just combined. Add coconut milk and stir to combine.
Place mixture into cupcake cases and bake in oven for 20-25 minutes or until cooked through. Remove from oven and set aside to cool.
For the frosting
Using an electric mixer, beat butter and salt for 1 minute.
Gradually add icing sugar beating until frosting is light and fluffy.
If mixture is too thick, add a little coconut milk to loosen it slightly.
Fold through desiccated coconut.
To assemble
When cupcakes have cooled completely, cut a hole in the top and fill with a teaspoon of the pineapple curd and a piece or two of fresh pineapple.
Add frosting to the top of the cupcakes and garnish with a piece of chopped pineapple.
---
Share this recipe
---
More recipes like this