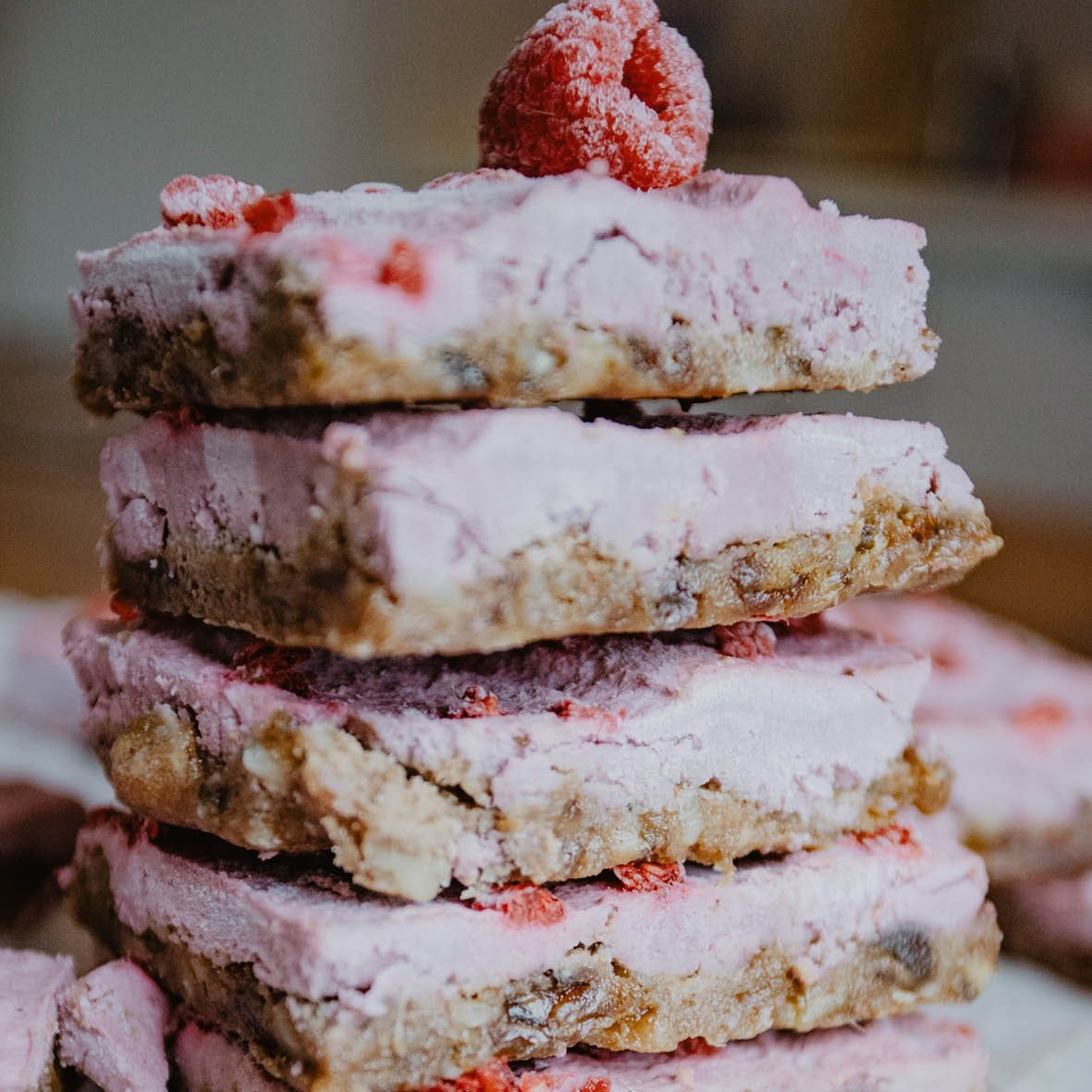 Raspberry Marshmallow Slice
A pillowy soft raspberry marshmallow sits atop a crunchy biscuit base, to make the perfect sweet treat for gifting.
How long will it take?
Takes 1 hour plus setting time
What's the serving size?
Makes 12 pieces
---
What do I need?
For the biscuit base
65 g caster sugar
195 g plain flour
1 tsp cocoa powder
2/3 cup desiccated coconut
170 g unsalted butter, melted
For the topping
2 egg whites
1 ¼ cups water
5 tsp powdered gelatine
400 g caster sugar
4 tsp liquid glucose
1 tsp vanilla extract
2 tbsp raspberry jam, strained
Handful of freeze-dried raspberries
How do I make it?
Preheat oven to 180C. Line a 20 x 20 x 5 centimetre baking tray with baking paper.
Make the biscuit base by combining flour, cocoa powder, caster sugar and coconut together in a bowl. Add melted butter and stir to combine.
Press mixture into the base of the baking tray and cook for 30 minutes. Remove from oven and set aside to cool.
Make the marshmallow by whisking egg whites in a stand mixer until soft peaks form.
Put half a cup of water into a small bowl and add powdered gelatine. Stir and set aside.
Add sugar, glucose and remaining water to a heavy based saucepan, but do not stir. Bring mixture to a boil over medium-high heat. Use a sugar thermometer to measure the temperature; when it reaches 130C, remove from heat.
Microwave gelatine mixture for 20 seconds on high. Remove, stir and add to sugar syrup, stirring to incorporate it. Take care as the mixture may splatter.
Turn stand mixer onto a low-medium speed and slowly add the sugar syrup in a steady stream until it is all incorporated. Increase speed to high and beat for 10 minutes or until it has doubled in volume. Gently fold in raspberry jam.
Brush the inside of the baking tin with a little butter or coconut oil to stop the marshmallow sticking. Spread marshmallow mixture evenly over the biscuit base. Sprinkle with freeze-dried raspberries. Leave to cool completely, then cut into slices with a greased knife and store in an airtight container.
---
Share this recipe
---
More recipes like this