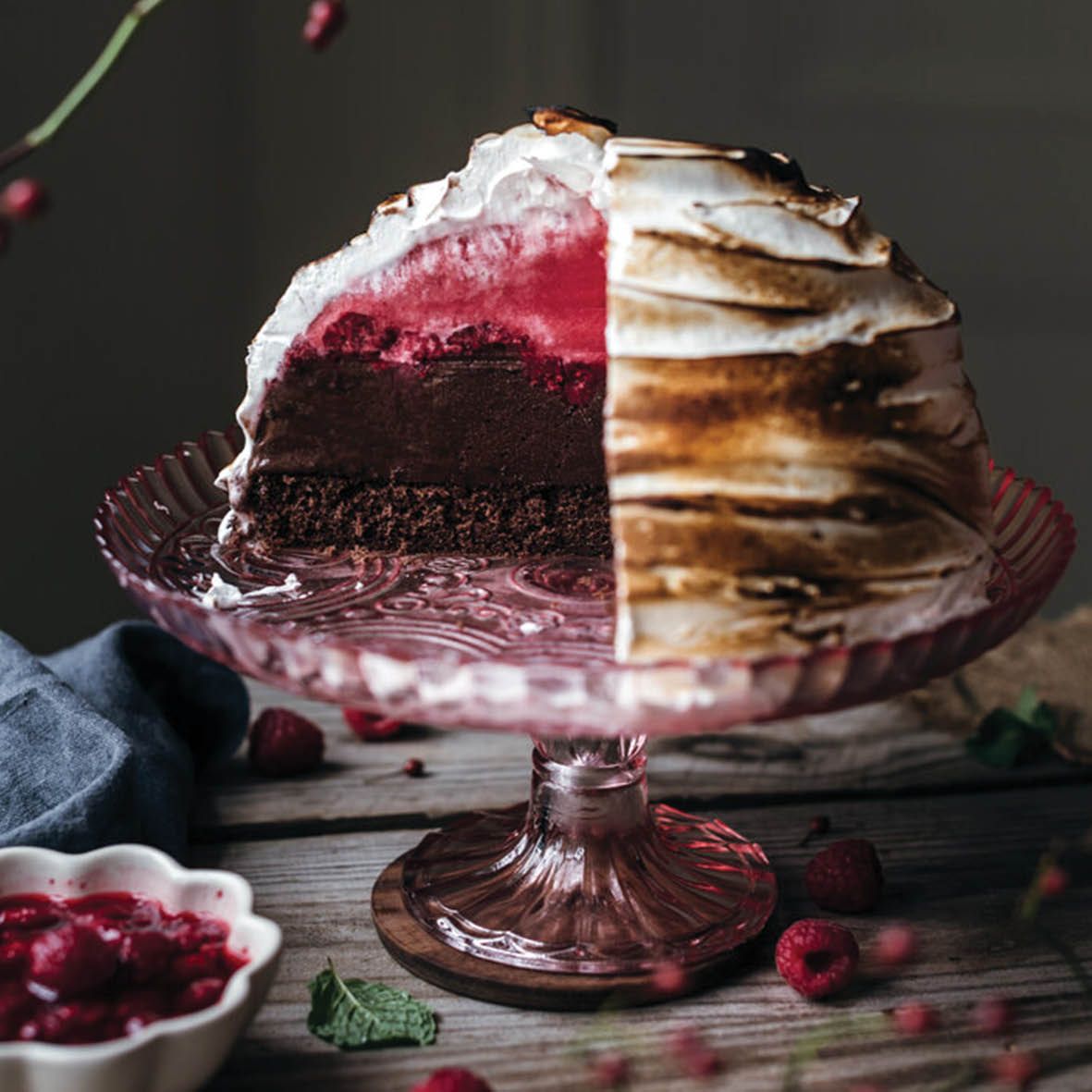 Bombe Alaska
A blast from the past, Bombe Alaska was all the rage in the 70's but we think deliciousness never goes out of style, so here's our 2021 version featuring the timeless combination of chocolate and raspberries.
How long will it take?
Takes 3 hours plus setting time
What's the serving size?
Serves 12
---
What do I need?
For the macerated raspberries
3 punnets fresh raspberries
1 tbsp caster sugar
1 tbsp Grand Marnier
For the cake base
3 large free range eggs
75 g caster sugar
50 g plain flour, sifted
2 tbsp cocoa powder, sifted
20 g unsalted butter, melted
¼ tsp vanilla extract
For the ice-cream layers
500 mL raspberry sorbet
1 litre chocolate ice-cream
For the meringue
6 free range egg whites
330 g caster sugar
200 mL water
½ tsp cream of tartar
How do I make it?
To make the macerated raspberries
Place raspberries in a bowl, sprinkle with sugar and Grand Marnier and toss to combine. Set aside to macerate for
30 minutes or you can put them in the fridge overnight.
To make the cake base
Preheat oven to 180C. Line and grease a 23 centimetre cake tin. Using an electric mixer, beat eggs on high for one minute and then reduce speed to medium and gradually add the sugar. When all sugar has been added, increase speed to high and beat for 5 minutes or until it is pale and fluffy. Fold flour and cocoa powder gradually into the mix, taking care not to knock too much air from the batter. Pour into cake tin and cook for 20 minutes or until a skewer inserted comes out dry. Set aside to cool.
Prepare the ice-cream layers
Remove ice-cream and sorbet from the freezer and place in the fridge to soften for 30 minutes.
Line a 6 cup capacity freezer-safe bowl with clingfilm, leaving enough overhang to be able to pull the Bombe Alaska out when it is frozen.
Add raspberry sorbet to the bowl, smoothing it out with a spatula. Strain the macerated raspberries to remove juice and add the strained raspberries in a layer on top of the sorbet.
Add chocolate ice-cream on top of raspberries and smooth the top with a spatula. You need to leave enough room for the cake to sit on top of the ice-cream and be flush with the top of the bowl. Place cake on top, then fold over the clingfilm overhang. If there are any gaps not covered by clingfilm add an extra layer. Place in the freezer for 1 hour to set.
To make the meringue
Meanwhile prepare meringue by bringing sugar and water to the boil in a small saucepan over high heat. Reduce heat to medium and use a wet pastry brush to brush the sides of the saucepan to remove any sugar crystals. Cook until the syrup reaches 121C on a sugar thermometer.
Place egg whites and cream of tartar in the bowl of a stand mixer and whisk on medium speed to soft peaks. When the sugar syrup is at 121C, increase speed to high and slowly add syrup into egg whites. Continue whisking for 15 minutes or until the meringue is thick, glossy and has cooled.
To assemble
Remove the bowl from the freezer and place a tea towel soaked in hot water on the outside to help loosen it for unmoulding. Pull the clingfilm back and invert a plate or cake stand over the bowl, then flip and unmould. Spread the meringue mixture all over and use a palette knife to spread and swirl it. Use a kitchen blowtorch to brown
the meringue, then serve immediately.
---
Share this recipe
---
More recipes like this