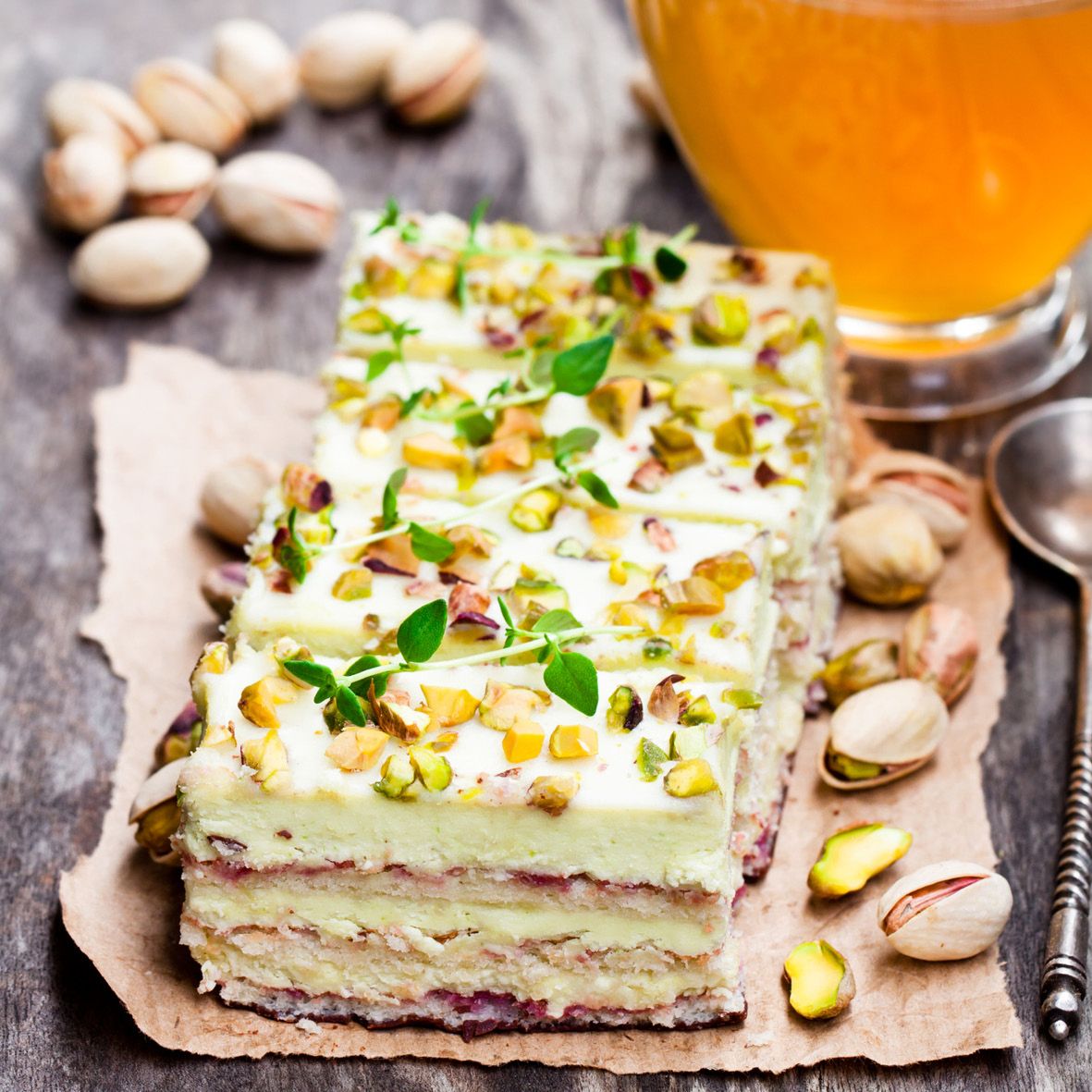 Pistachio green tea cake
This is the perfect cake to serve for afternoon tea. And what should you serve it with? A cup of green tea of course!
How long will it take?
1 ½ hours
What's the serving size?
Serves 12
---
What do I need?
2 ½ tsp + ¼ cup sugar
1 1/3 cup plain flour
¼ cup egg yolk
½ cup egg white
2 tbsp vegetable oil
¼ tsp baking powder
2 tbsp matcha tea powder
¾ cup boiling water
1 cup cold water
For the filling
450g cream cheese, softened
¼ cup raspberry jam
¾ cup ground roasted pistachios
1 tbsp honey
2 handfuls roasted pistachios, roughly chopped, to serve
How do I make it?
Grease and line a loaf tin.
Whisk egg yolk and 2 ½ teaspoons sugar, then stir in oil.
Mix matcha tea powder into a paste with ¾ cup boiling water. Then add in 1 cup cold water.
Add the tea mixture to the egg yolk mix. Then sift in 1/3 cup flour and mix well.
In a second bowl, whisk egg white until thickened and then add in baking powder and beat well.
Add ¼ cup sugar and whisk until the egg white forms peaks.
Fold egg white into egg yolk carefully using a spatula. Try not to beat out too much air.
Pour the batter into the loaf tin and distribute evenly.
Bake for 55 minutes at 160C. Cake is ready if a skewer inserted comes out clean.
Remove from oven and cool on a cooling rack.
To prepare the filling, beat the cream cheese until it has a creamy consistency. Stir in ¾ cup chopped pistachios and honey.
Cut cake in quarters lengthways. Spread a layer of jam on the bottom layer, then add cream cheese filling. Repeat with remaining layers, finishing with a layer of cream cheese and top with remaining pistachios.
Refrigerate for at least 30 minutes before serving.
---
Share this recipe
---
More recipes like this