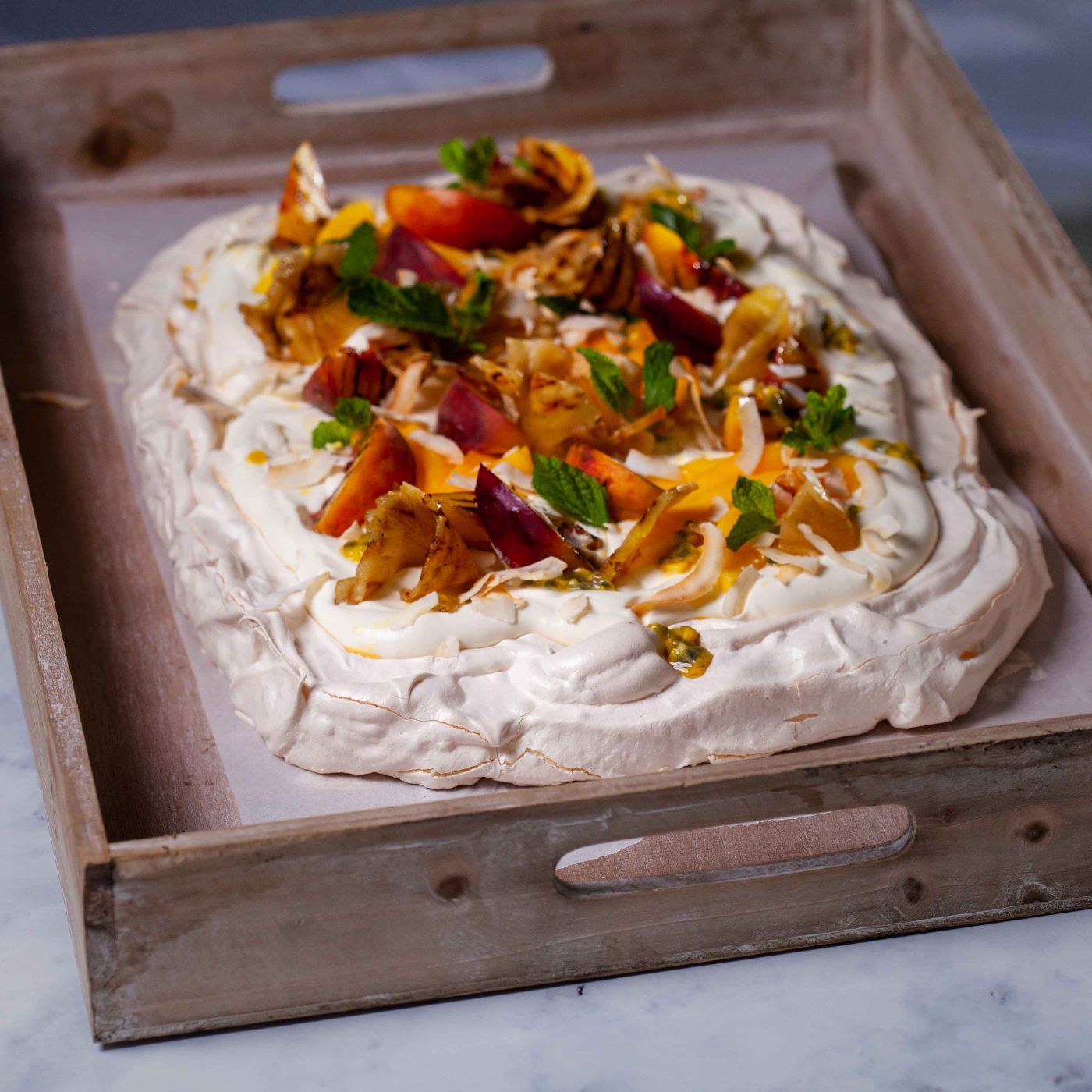 Grilled Summer Fruit Pavlova with Coconut Cream
If you've got a crowd to feed, this is the pavlova for you. It serves 12 and features an assortment of summery fruits, gently grilled to bring a delicious hint of caramelisation to the pavlova. Generously topped with a coconut and rum cream, it is finished with zingy passionfruit and mint for a decadently delicious dessert. The meringue can be made a day before.
How long will it take?
2 ½ hours plus cooling time
What's the serving size?
Serves 12
---
What do I need?
8 egg whites, at room temperature
2 cups caster sugar
1 tbsp vanilla extract
1 tbsp cornflour
1 tbsp white vinegar
600 mL thickened cream
4 tbsp coconut cream curd (solid part from the top of the tin)
4 tbsp white rum (optional)
2 peaches, stones removed and cut into wedges
2 nectarines, stones removed and cut into wedges
½ medium pineapple, peeled and sliced into ½ centimetre thin rounds
1 mango, stone removed and cut into slices
3 passionfruit, halved
50g dried shaved coconut, lightly toasted
Mint leaves, to serve
How do I make it?
Preheat oven to 160C.
Line a large 30 x 40 centimetre baking tray with baking paper.
Place egg whites into a large bowl of an electric mixer and beat on high until soft peaks form. Gradually add sugar, 1 tablespoon at a time, beating well after each addition until the mixture is thick and glossy. Check that the sugar has dissolved by rubbing mix between your fingers – if it feels gritty, continue beating until all the sugar has dissolved.
Reduce speed to low and add vanilla, cornflour and vinegar and mix to combine.
Spoon mixture onto the prepared tray and spread into a rectangle approx. 25 x 35 centimetres. Make a slight indent in the top. When you are ready to put the meringue in the oven, reduce the temperature to 110C and cook for 1 ½ hours. Turn the oven off and leave the meringue inside until completely cooled.
Prepare grilled fruits by brushing the barbecue or a grill pan generously with olive oil. Working in batches cook the peaches, nectarines and pineapple until lightly caramelised on both sides. Lay grilled fruit on a baking tray and place in the fridge to cool.
Whip the cream, coconut cream curd and rum together to soft peak stage. Place in the fridge until ready to assemble.
Before assembling, place the meringue onto a serving platter. Spread the coconut cream mixture over the meringue. Arrange mango slices on top along with grilled peaches, nectarines, and pineapple.
To garnish, sprinkle over the passion fruit pulp, shaved coconut, and mint leaves.
---
Share this recipe
---
More recipes like this