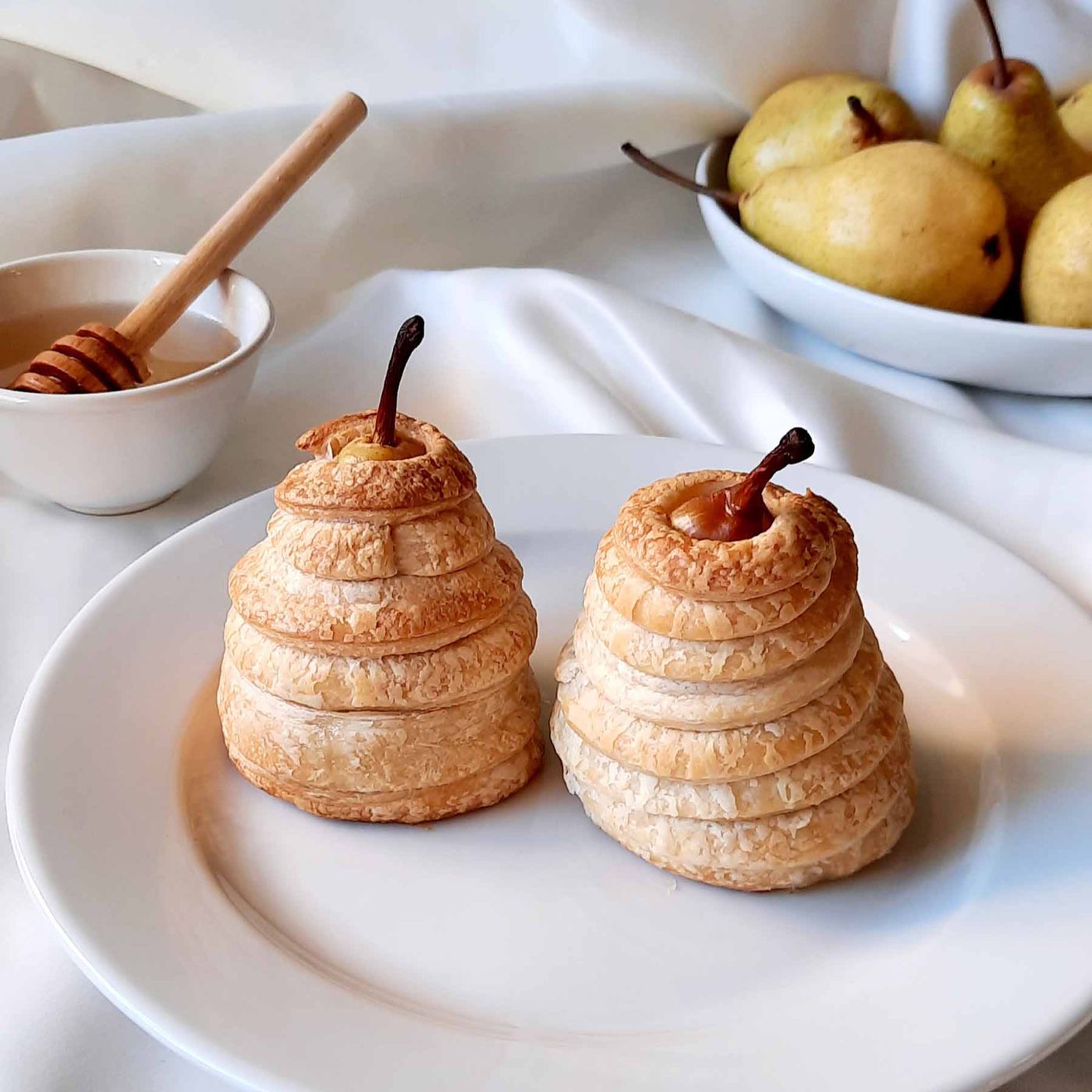 Baked Pears in Puff Pastry
A delicious dessert awaits with these pears that are gently poached in honey, vanilla and cinnamon and then wrapped in buttery puff pastry and baked to crispy perfection.
How long will it take?
1 hour, plus overnight for pears to soak in poaching liquid
What's the serving size?
Serves 4
---
What do I need?
4 pears
5 cups water
1 ½ cups caster sugar
3 tbsp honey
3 cinnamon sticks
½ vanilla bean, split lengthwise
1 egg
½ tbsp milk
2 sheets frozen puff pastry, thawed
How do I make it?
Peel pears, leaving stems intact. Slice bottom off pears so that they will sit flat and remove the core from the bottom of the pear.
In a medium saucepan add water, caster sugar, honey, cinnamon, and vanilla and bring to a boil. When boiling, reduce heat to a simmer and add pears. Cover and simmer for 7 minutes, then remove lid, turn pears and simmer for a further 8 minutes or until pears are knife tender.
Remove saucepan from heat and set aside to cool. Transfer to an airtight container and refrigerate overnight.
Preheat oven to 190C.
Remove pears from poaching liquid and sit on a plate lined with paper towel.
Cut four squares from one of the pastry sheets to cover the bottom of the pears. Slice the other sheet into 1-centimetre-wide strips.
Whisk egg and milk together in a small bowl.
Brush egg wash over pears, then put a square of pastry over the bottom of each pear and place on a lined baking tray. Starting at the bottom of the pear, wrap the pastry strips around the pear, leaving the stem exposed. Repeat for remaining pears.
Brush the pastry with egg wash and bake for 30 minutes, or until the pastry is golden brown and crispy.
Serve drizzled with honey if desired.
---
Share this recipe
---
More recipes like this