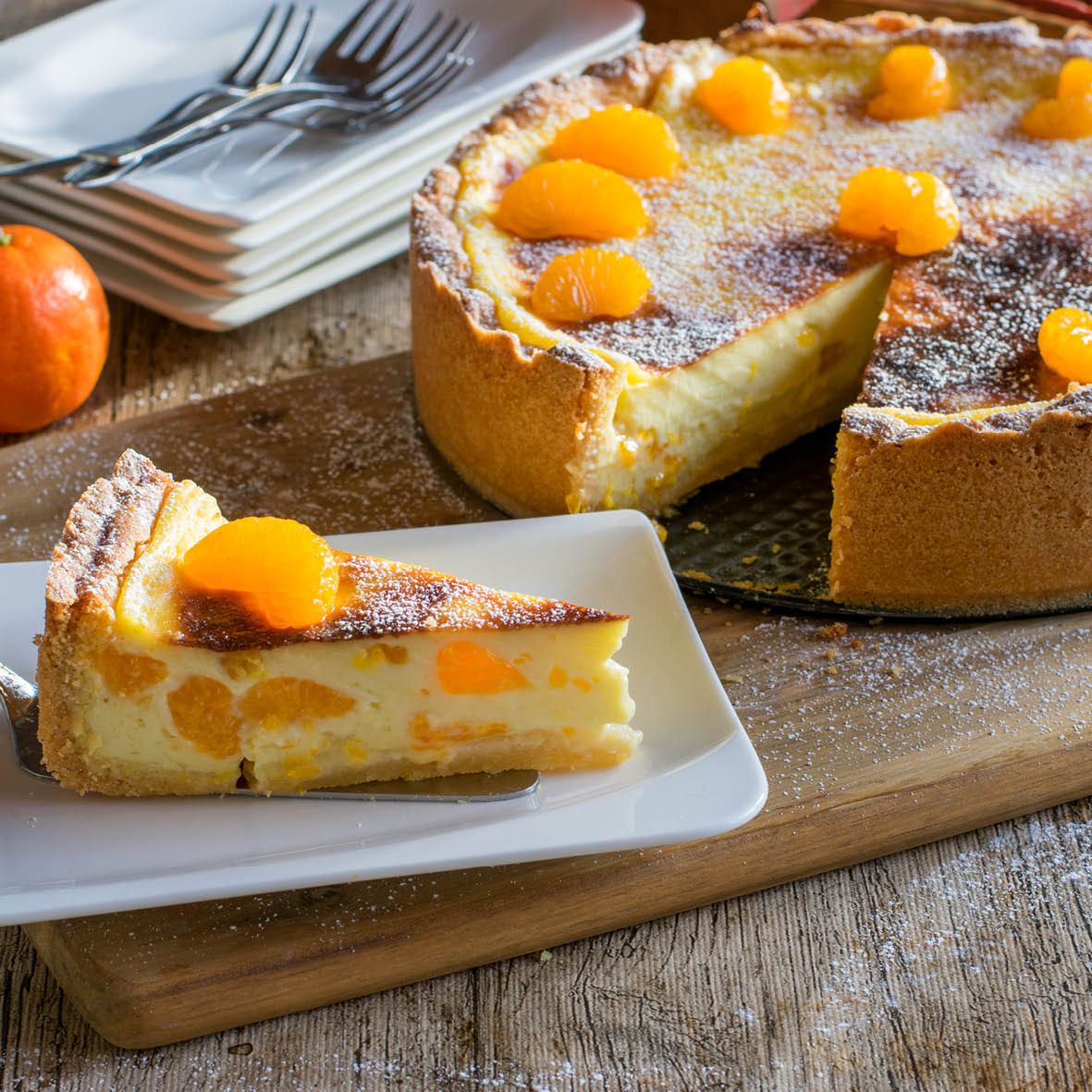 Mandarin Sour Cream Custard Cake
This delicious dessert is inspired by the traditional German Sour Cream Cake "Schmandkuchen". Our cake features a sweet pastry crust with a fruity filling of mandarin in a creamy, almost cheesecake-like filling.
How long will it take?
1 hour 45 minutes
What's the serving size?
Serves 8
---
What do I need?
For the pastry crust
1 ½ cups plain flour
160 g unsalted butter, diced
85 g caster sugar
2 egg yolks
¾ tsp vanilla extract
Zest of 1 small lemon
1 – 2 tsp cold water (optional)
For the filling
¼ cup orange marmalade
3-4 mandarins, peeled, segmented
1 cup sour cream
115 g caster sugar
3 eggs
½ cup thickened cream
How do I make it?
Preheat oven to 180c.
To make the pastry crust, whisk together all the dry ingredients and the lemon zest in a food processor. Add butter and pulse until the mixture resembles coarse sand. If the mixture does not come together well, you can add 1 to 2 tbsp cold water.
Turn dough out onto a floured surface. This is a soft dough but it will come together.
Grease and line a 20 centimetre springform pan and work the dough into the pan.
Add a splash of water to the marmalade to make it spreadable. Spread a thin layer of marmalade over the dough. Layer some of the mandarin pieces over the base, leaving enough for decorating the top of the cake later. Place the springform pan onto a lined baking tray to catch any leaks or overflow.
Blend the sour cream, caster sugar, eggs and cream together and pour over the top of the mandarins. Bake in oven for 55 – 60 minutes, or until the top is golden brown.
Leave to cool at room temperature and then refrigerate for at least 1 hour before serving. Garnish the top with remaining mandarin pieces and a dusting of icing sugar.
---
Share this recipe
---
More recipes like this