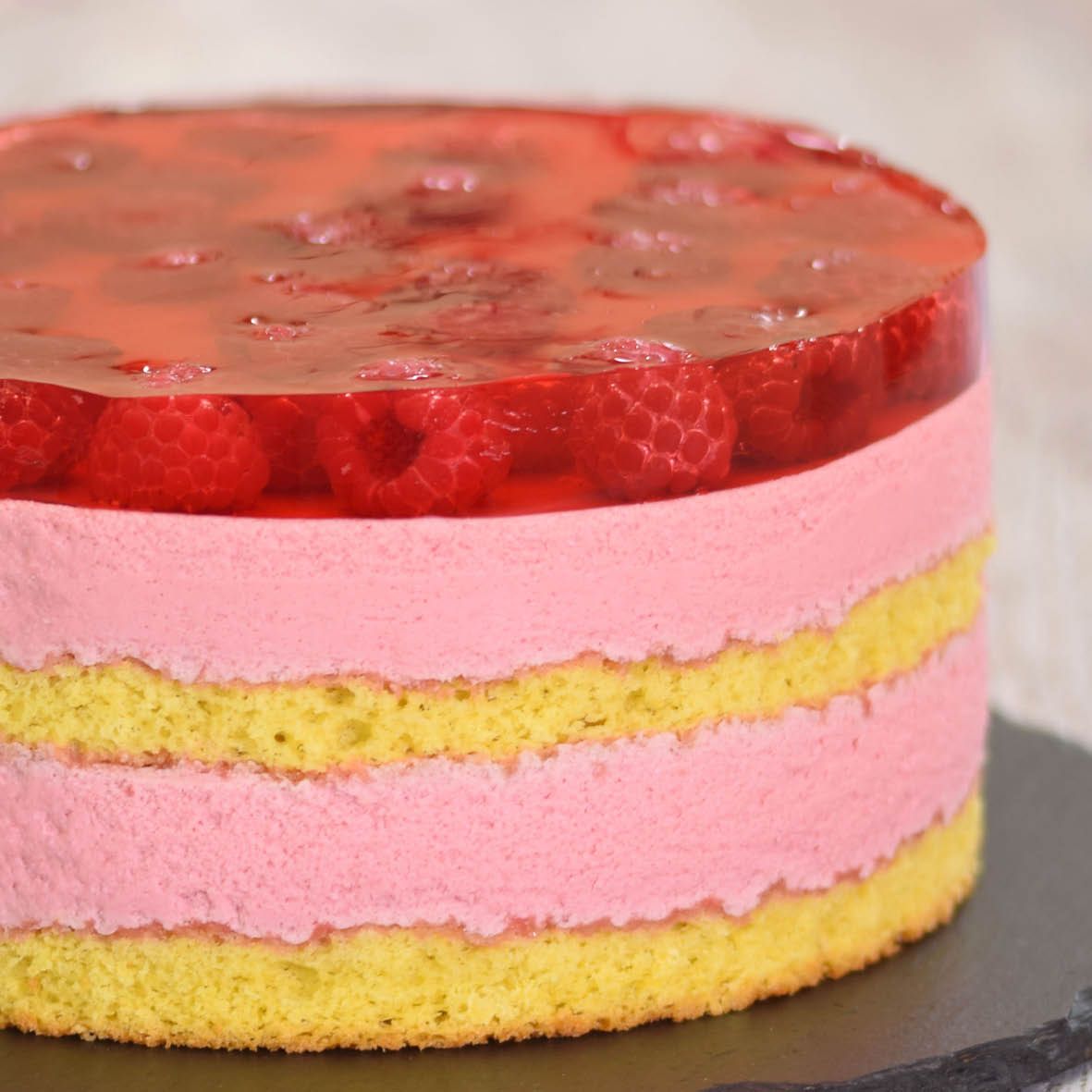 Raspberry Mousse Cake
A raspberry-lover's delight, this cake features a moist sponge cake combined with raspberry mousse and topped with a layer of raspberries encased in raspberry jelly.
How long will it take?
1 ½ hours plus overnight setting time
What's the serving size?
Serves 10
---
What do I need?
For the sponge
4 free range eggs
100 g caster sugar
30 g unsalted butter, melted
100 g plain flour
For the mousse
240 g raspberry jam
30 mL water
2 ½ tsp powdered gelatine
3 tbsp lemon juice
480 mL thickened cream
35 g caster sugar
For the jelly
2 x 85 g packets of raspberry jelly crystals
240 mL boiling water
120 mL ice cold water
125 g fresh Westerway Berry Farm raspberries
How do I make it?
Preheat oven to 180C.
Grease a 25-centimetre springform pan.
Whisk eggs and sugar in an electric mixer on high speed until the mixture is thick and tripled in size. Fold melted butter and flour into the mixture and then pour batter into the prepared springform pan.
Bake in oven for 25 to 30 minutes or until a skewer inserted comes out clean.
Remove from oven and set aside to cool for a few minutes, then remove from pan and allow to cool completely.
Wash the springform pan and grease and line the bottom and sides.
Cut cake so that you have two cakes and return one to the pan. Set aside.
Combine gelatine and lemon juice in a small bowl, stir and set aside to allow the juice to be absorbed.
Meanwhile add raspberry jam to a small saucepan with water and cook over medium-high heat. When the jam has thinned a little add gelatine and lemon juice mixture and stir until it has dissolved. Remove from heat and set aside to cool completely.
When jam has cooled, beat cream and caster sugar together in an electric mixer until thick peaks have formed. Gently fold in the jam mixture until fully combined.
Pour half the mousse into the springform pan, then top with remaining piece of cake. Pour remaining mousse on top and level it off with a spatula or palette knife. Refrigerate for at least 3 hours.
Make the jelly by combining jelly crystals with boiling water, then add iced water and stir well. Set aside to cool completely.
Place raspberries on top of the top layer of mousse and then carefully pour the cooled jelly mixture over the raspberries. Pouring the jelly over the back of a spoon will ensure that it lands gently on the cake.
Refrigerate overnight to allow the jelly to set.
To serve, release springform and remove baking paper.
---
Share this recipe
---
More recipes like this