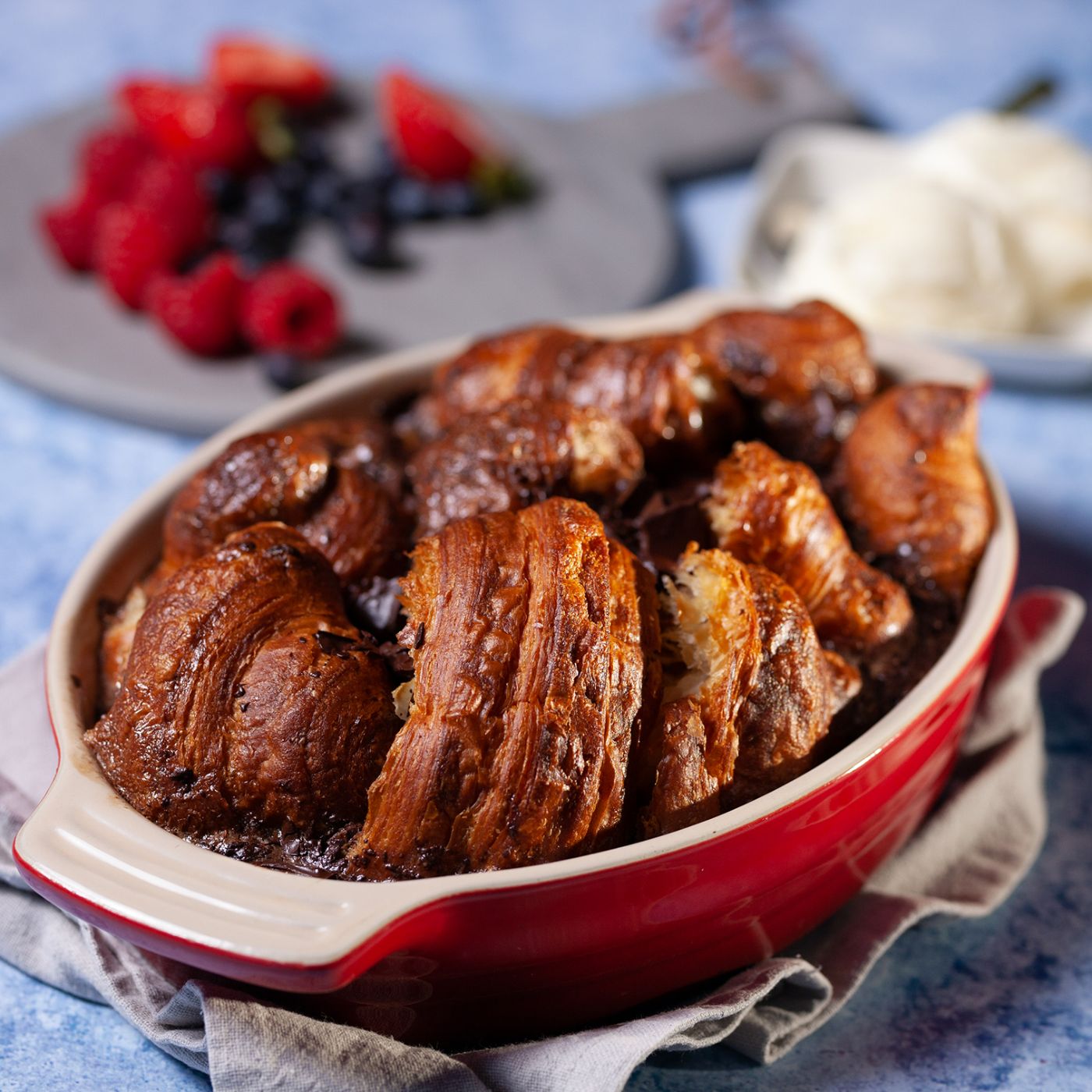 Chocolate Croissant Pudding
This easy to make dessert is perfect for the chocolate lover. It features chocolate croissants baked in a luscious chocolate custard and is ideal for a winter dinner party or a special family dinner.
How long will it take?
50 minutes
What's the serving size?
Serves 6
---
What do I need?
4 large croissants
300 mL thickened cream
150 mL full cream milk
80 g dark chocolate, roughly chopped
50 g milk chocolate, roughly chopped
3 egg yolks
2 tbsp caster sugar
Vanilla ice cream to serve
Fresh berries to serve
How do I make it?
Preheat oven to 160C.
Tear each croissant into 3 pieces and place in an ovenproof dish, arranging them so that they fit snugly.
Make the chocolate custard by adding cream and milk to a saucepan over medium heat and bring to a near boil. Remove from the heat and whisk in 50g of dark chocolate and all the milk chocolate.
Add the egg yolks to a bowl with caster sugar and whisk to combine. Slowly pour in the chocolate and cream mixture into the egg while whisking continuously, until combined and smooth.
Pour the custard over the croissants and sprinkle over the remaining dark chocolate. Set aside for 5 minutes before baking in the oven for 30 minutes, or until the custard has set.
Serve warm with vanilla ice cream and fresh berries.
Video & photography by David Pyefinch, food by Sarah Joseph
---
Share this recipe
---
More recipes like this