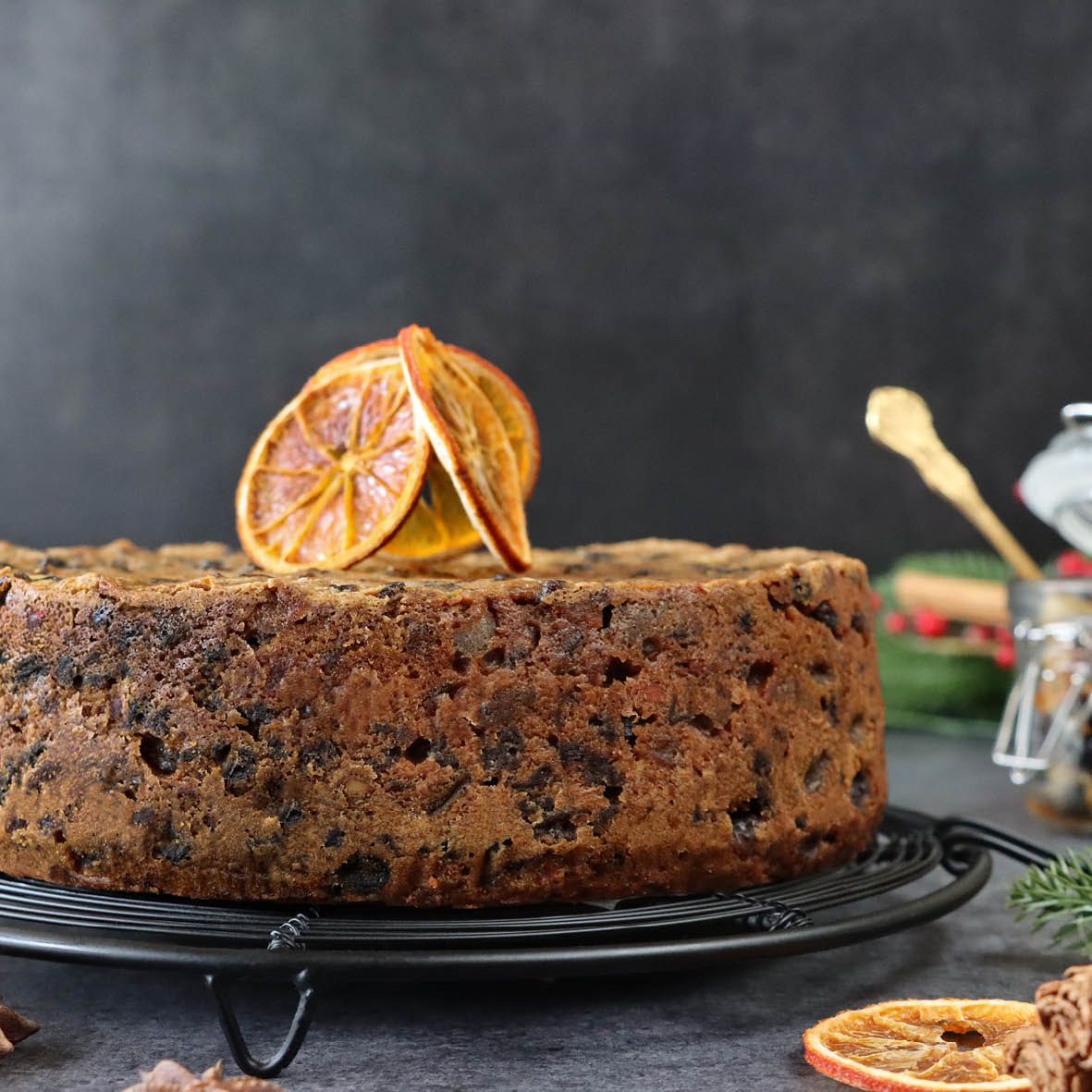 Spiced Rum Cake
Take the traditional festive fruit cake up a notch with this boozy version full of spiced rum
How long will it take?
2 hours
What's the serving size?
Serves 10
---
What do I need?
For the fruit
65 g sultanas
50 g raisins
50 g prunes
25 g glacé cherries
35 g mixed peel
2 sticks cinnamon
150 mL spiced rum
For the cake
225 g unsalted butter
225 g dark brown sugar
5 free range eggs
1 tsp vanilla extract
1 tsp almond extract
Zest of 1 orange
Zest of 1 lemon
150 g plain flour
25 g almond meal
1 tsp baking powder
45 mL molasses
45 mL spiced rum
For feeding
How do I make it?
Add all fruit ingredients to a bowl and mix to coat the fruit. Put in an airtight jar and leave for 48 hours to one-month. When fruit is soaked, discard cinnamon sticks and blend remaining ingredients in a food processor, keeping some texture in the fruit.
Make the cake by preheating oven to 180C. Grease and line a 20-centimetre springform pan.
Cream butter and sugar together until light and fluffy. In a separate bowl, mix together eggs, vanilla extract, almond extract, orange zest and lemon zest. Slowly add this mixture to the butter and sugar mixture, taking care not to knock out the air. Add flour, baking powder and almond meal into the mixture, folding gently to keep as much air as possible in the cake. Add the soaked fruit and fold through. Set aside.
Add molasses and spiced rum to a small saucepan and bring to a gentle boil. Cook until the mixture has reduced by one-third, then pour it into the cake mixture. Mix well to ensure that it is evenly incorporated into the cake batter.
Pour batter into prepared springform pan and bake for 70 to 80 minutes or until the cake is evenly browned on top and a skewer inserted comes out clean. Transfer to a wire rack to cool.
Remove cooled cake from springform pan and place on a large plate. Use a skewer to poke holes in the cake. Pour rum over the cake slowly, allowing time for the rum to be absorbed into the holes.
Allow the cake to sit for 15 minutes, then serve.
---
Share this recipe
---
More recipes like this