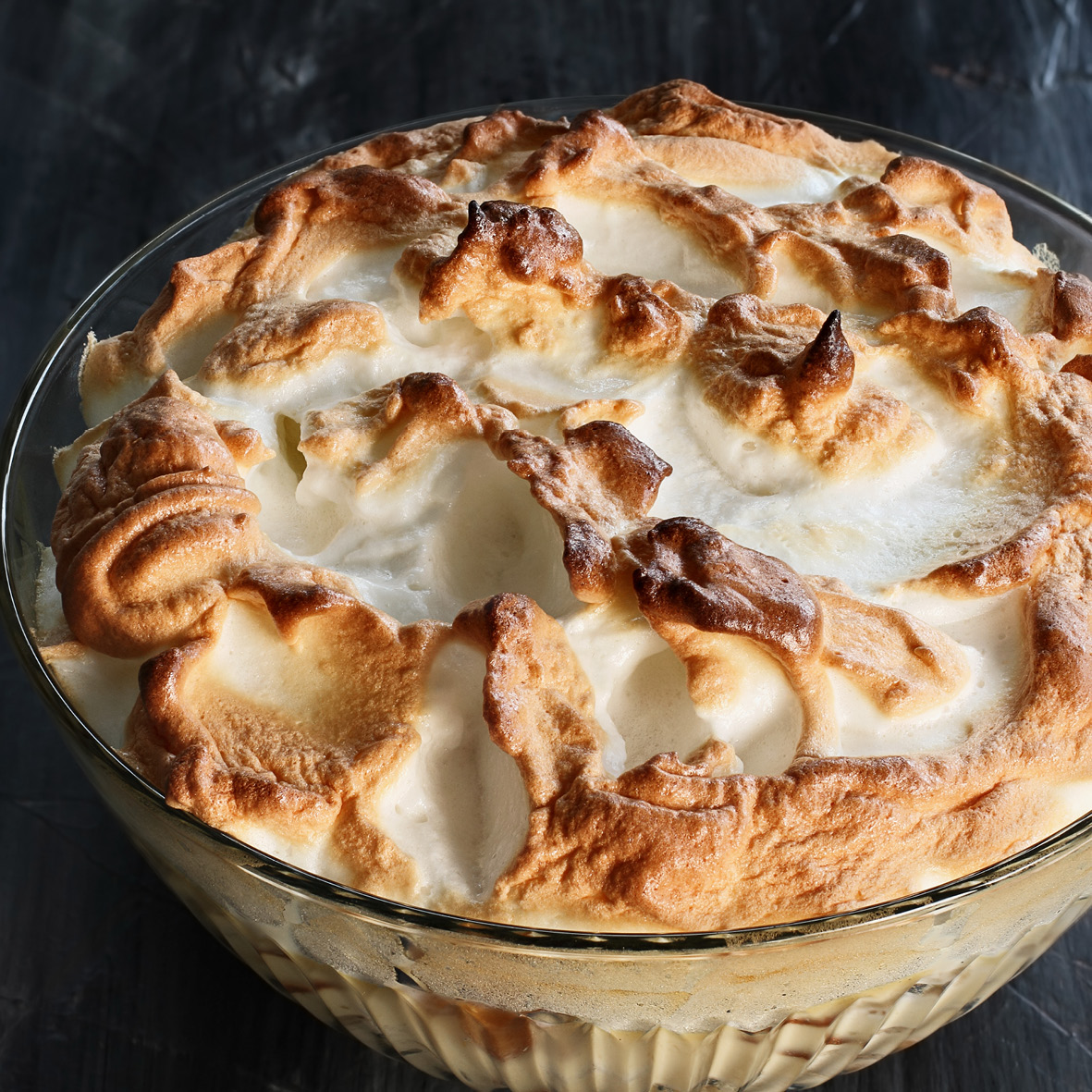 Homemade southern banana pudding with meringue
This sweet, gooey and creamy banana pudding dessert is an American favourite
How long will it take?
45 minutes
What's the serving size?
Serves 8 – 10
---
What do I need?
3 ripe bananas, peeled and sliced into 5cm rounds
1 tablespoon freshly squeezed lemon juice
½ cup caster sugar, plus 2 tablespoons
1/3 cup plain flour
¼ teaspoon salt
4 large free-range eggs, separated
1 cup milk
1 cup cream
½ teaspoon vanilla extract
45 vanilla wafers
1 pinch cream of tartar
How do I make it?
Heat the oven to 200C.

Toss the banana slices and lemon juice in a small bowl and set aside.

Combine ½ cup sugar, flour and salt in a saucepan. Add the egg yolks and whisk to combine. Add the milk and cream and carefully whisk to combine. Cook over medium-low heat, stirring constantly until the mixture reaches 82C, approximately 5 to 10 minutes. The mixture will begin to thicken and bubble around the edges. Remove the pan from the heat and whisk in the vanilla extract.

Spread a small amount of the pudding in the bottom of an oven-safe dish. Cover with a layer of vanilla wafers, followed by a layer of banana slices. Pour 1/3 of the remaining pudding on top of the bananas and repeat, ending with a layer of pudding.

Whisk the egg whites and cream of tartar in the bowl of a stand mixer on medium speed until soft peaks form. Gradually add the remaining 2 tablespoons of sugar and continue whisking until stiff peaks form. Spoon the meringue over the warm pudding, being sure to cover the edges. Bake until the meringue is evenly browned, about 8 to 10 minutes. Remove the pudding from the oven and cool for 15 minutes before serving. Cool completely before refrigerating. Refrigerate for up to 3 days.
---
Share this recipe
---
More recipes like this