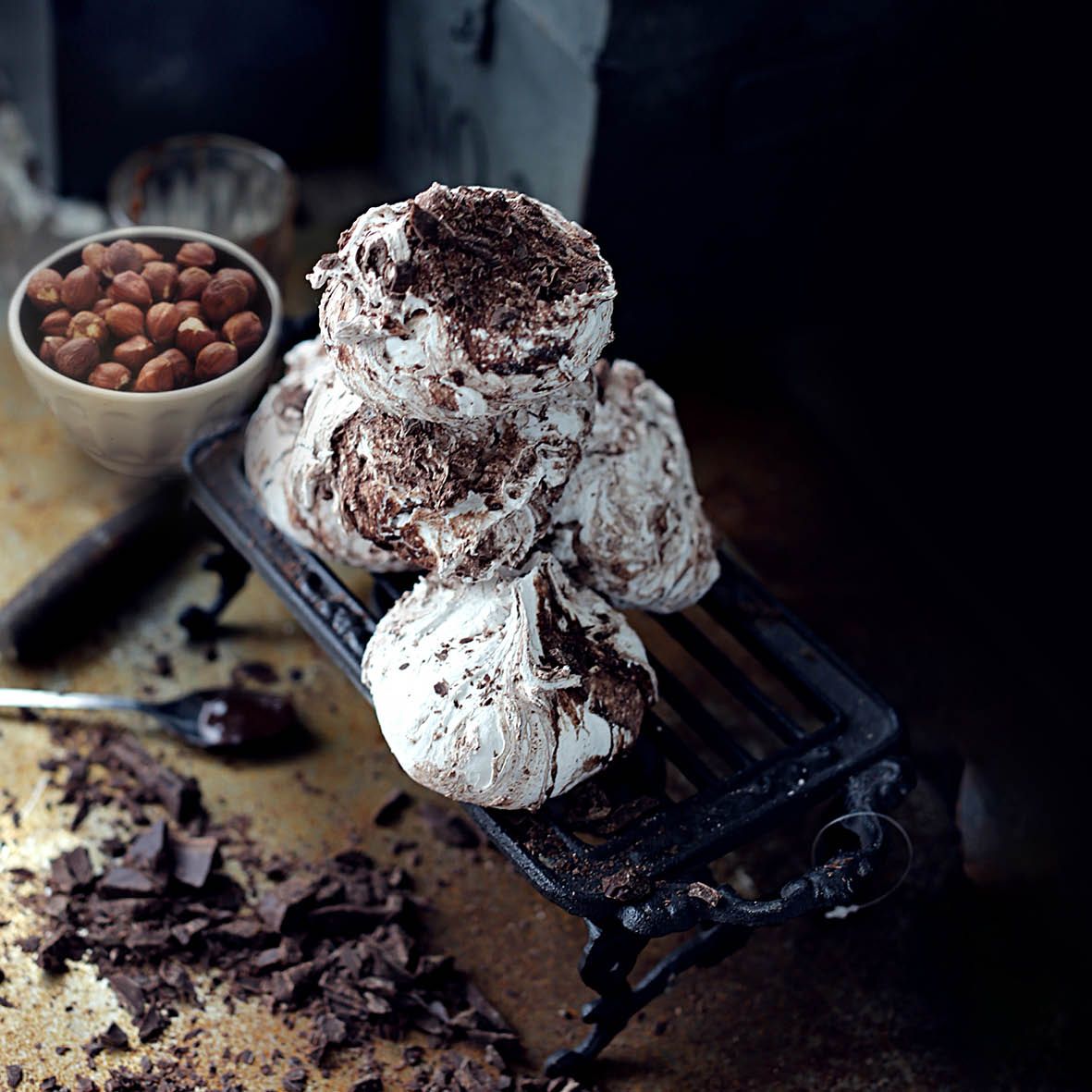 Marbled Chocolate Meringues with Choc-Hazelnut Cream
These crispy meringues are great served on their own, but if you're looking for the ultimate indulgence try topping them with this unapologetically rich chocolate and hazelnut cream.
How long will it take?
2 hours, plus cooling time
What's the serving size?
Makes 10
---
What do I need?
6 medium egg whites
220 g caster sugar
180 g dark brown sugar
50 g dark chocolate, melted
For the Choc-Hazelnut Cream
100 g dark chocolate
90 mL milk
70 g butter
100 g roasted hazelnut kernels
50 g brown sugar
Pinch of salt
How do I make it?
Preheat oven to 120C.
Line two baking trays with baking paper.
Add egg whites, caster sugar and brown sugar to a large heatproof bowl and set over a pan of just simmering water. Using a handheld blender, whisk egg whites and sugar on low speed over the heat until the sugar starts to dissolve, then increase speed and whisk until the mixture is thick and glossy.
Remove mixture from the heat and continue whisking until the mixture has cooled. Add melted chocolate to the meringue mix and fold gently to swirl through.
Dollop mixture onto baking sheets, to create 10 mounds. Bake for 1 hour, then turn the oven off and leave the meringues inside to cool completely before removing.
To make the Choc-Hazelnut Cream, add chocolate, butter, and milk to a small saucepan over low heat. Heat until chocolate has melted, then remove from heat and stir. Set aside to cool slightly.
Add hazelnuts, brown sugar and salt to a food processor and blitz until the hazelnuts are very fine, then add 2 tablespoons of the chocolate mixture and blend again to combine. Add remaining chocolate mixture and blend until the mixture is creamy.
Serve meringues with the Choc-Hazelnut Cream.
TOP TIPS
1. The Choc-Hazelnut Cream can be made in advance and stored in a sterilised jar in the fridge for up to one month.
2. If storing the Choc-Hazelnut Cream in the fridge, bring it to room temperature before eating as it will thicken in the fridge.
3. Store meringues in an airtight container in a cool place (not the fridge) for up to three days.
---
Share this recipe
---
More recipes like this