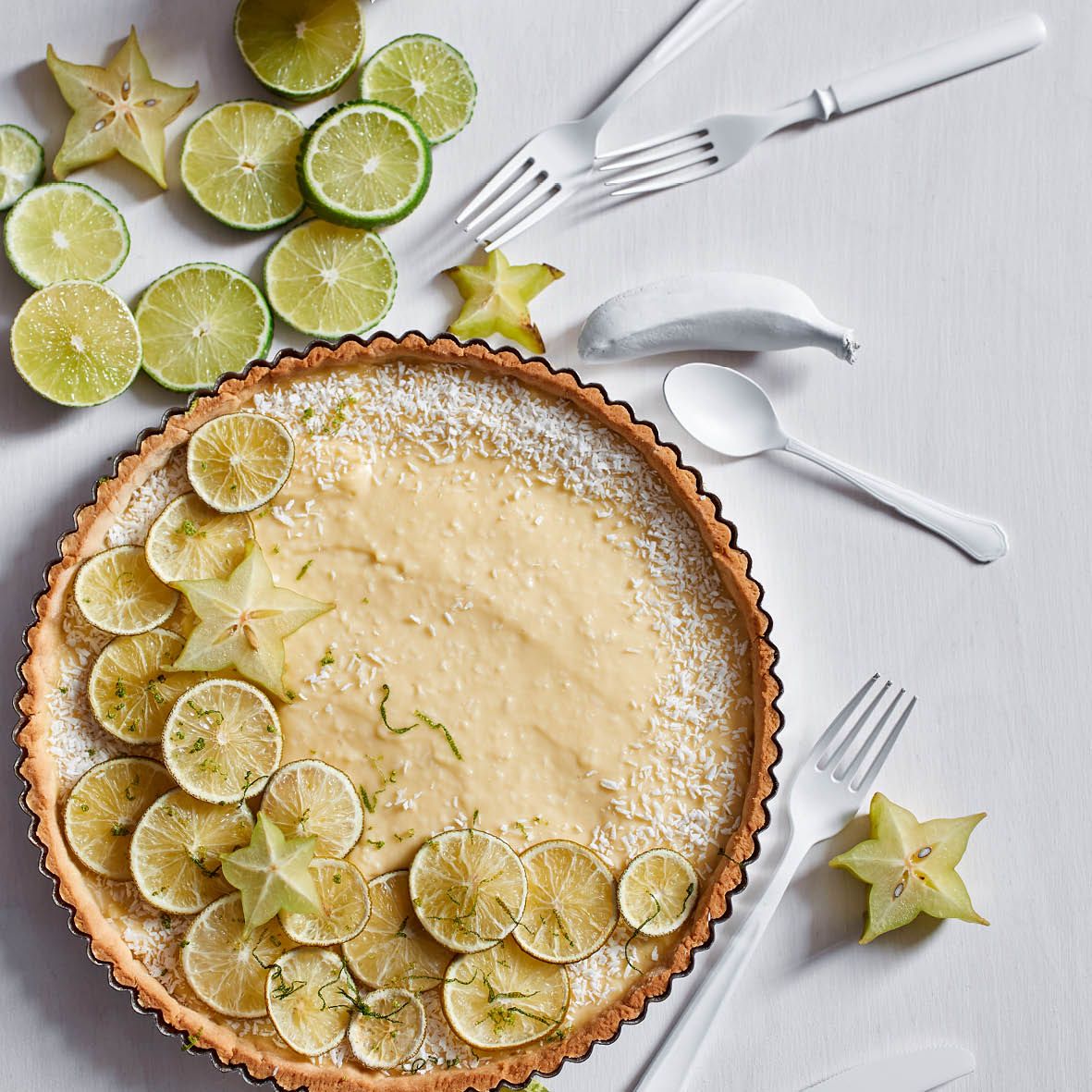 Gin and Tonic Tart
This boozy tart is the perfect way to treat your party guests. If you've got a large gathering, double the recipe and make it in a large rectangular tray so you can cut it into bite-sized squares for a fabulous sweet canapé.
How long will it take?
1 hour 20 minutes
What's the serving size?
Serves 8
---
What do I need?
For the pastry crust
125g golden caster sugar
125g soft unsalted butter
3 medium egg yolks
1 tsp vanilla bean paste or extract
1½ tbsp chilled tonic water
250g plain flour
Pinch of salt
For the lemon curd filling
Grated zest and juice of 4 large lemons
2 tbsp gin
250g caster sugar
4 medium eggs, plus 2 yolks
2 tbsp juniper berries, lightly crushed
225g soft unsalted butter, diced
2 sheets leaf gelatine
How do I make it?
Make pastry by pulsing sugar and butter in a food processor until combined. Add egg yolks, vanilla and tonic water and pulse until combined. Add flour and salt and pulse until pastry looks smooth. Remove from food processor and use your hands to bring it together. Shape into a flat disc and refrigerate for 30 minutes.
Bring a saucepan of water to the boil, then reduce to a very low simmer. Make the filling by whisking lemon zest and juice with gin, sugar, eggs and yolks in a large heatproof bowl. Add juniper berries and butter. Place bowl over the simmering water, making sure the bowl isn't touching the water. Stir while butter melts and then cook, stirring for 10 minutes or until the curd is thick enough to coat the back of a spoon. Soak gelatine in a small bowl of cold water for a few minutes to soften.
When curd has thickened, remove from heat. Squeeze excess water from gelatine and stir it into the lemon curd. When the gelatine has melted into the curd, strain the curd through a sieve into a bowl. Cover the surface with clingfilm and set aside to cool.
Grease and line a 23 centimetre tart tin. Roll pastry on a lightly floured surface to a thickness of 3 millimetres. Transfer pastry to tin, lining base and sides. Return to fridge to chill for 30 minutes.
Preheat oven to 180C.
Line pastry case with baking paper and baking weights and cook for 20 minutes. Remove weights and paper and return to oven for 10 minutes or until golden. Remove from oven and set aside to cool.
When completely cooled, remove from tin and spread lemon curd into the pastry case and chill for at least 4 hours.
Serve garnished with lemon or lime slices.
---
Share this recipe
---
More recipes like this