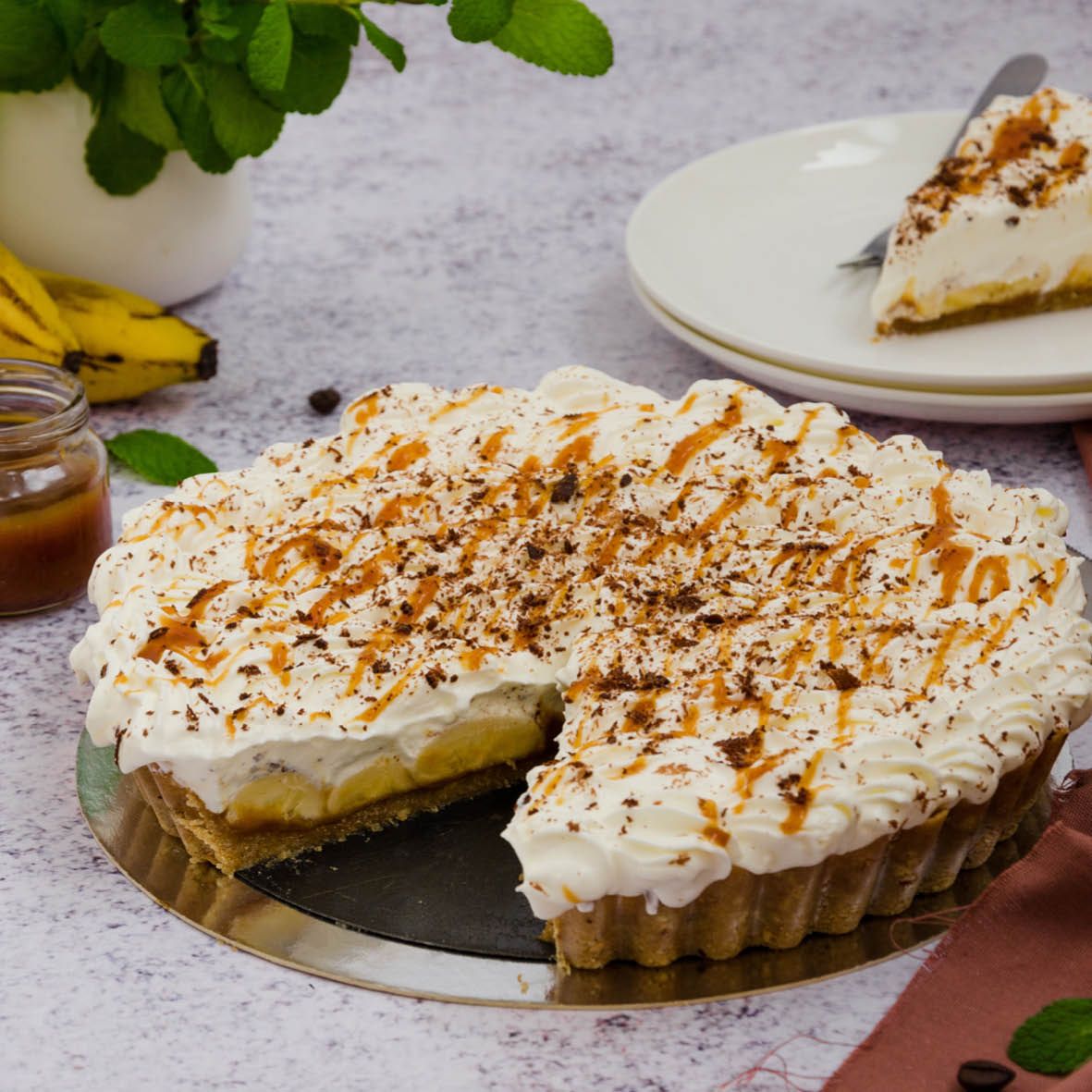 Banoffee Pie
Banoffee Pie is a classic dessert, with the fabulous flavour combination of caramel, bananas and whipped cream on a biscuit base.
How long will it take?
2 ½ hours
What's the serving size?
Serves 6
---
What do I need?
For the base
1 ½ cups sweet biscuit crumbs such as Arnott's Milk Coffee
1/3 cup caster sugar
6 tbsp butter, melted
For the caramel filling
½ cup butter
½ cup brown sugar
1 x 395 g tin sweetened condensed milk
For the topping
2-3 large bananas, peeled and sliced
480 mL thickened cream
¼ cup caster sugar
1 tsp vanilla extract
Grated chocolate to serve
How do I make it?
Preheat oven to 175C.
Blitz biscuits in a food processor to form fine crumbs. Add melted butter and caster sugar and mix to combine.
Press the biscuit mixture into a 22-centimetre pie dish or a springform pan covering the base and sides. Bake for 10 minutes, then remove from the oven and set aside to cool completely.
Prepare filling by adding butter, brown sugar and condensed milk to a medium saucepan over medium heat. Bring the mixture to a boil for 3-4 minutes, stirring vigorously, until it thickens and darkens in colour so that it is a dark golden toffee colour. Reserve a couple of tablespoons of the filling in a small dish to use later for garnishing the top of the pie, then pour the remaining filling into the prepared crust, then allow to cool completely at room temperature and then put in the fridge for 2 hours to firm.
When filling has set, beat cream with caster sugar and vanilla until medium to stiff peaks form.
Slice bananas and arrange over the top of the caramel filling, then add whipped cream to the top and garnish with grated chocolate and reserved caramel filling.
---
Share this recipe
---
More recipes like this