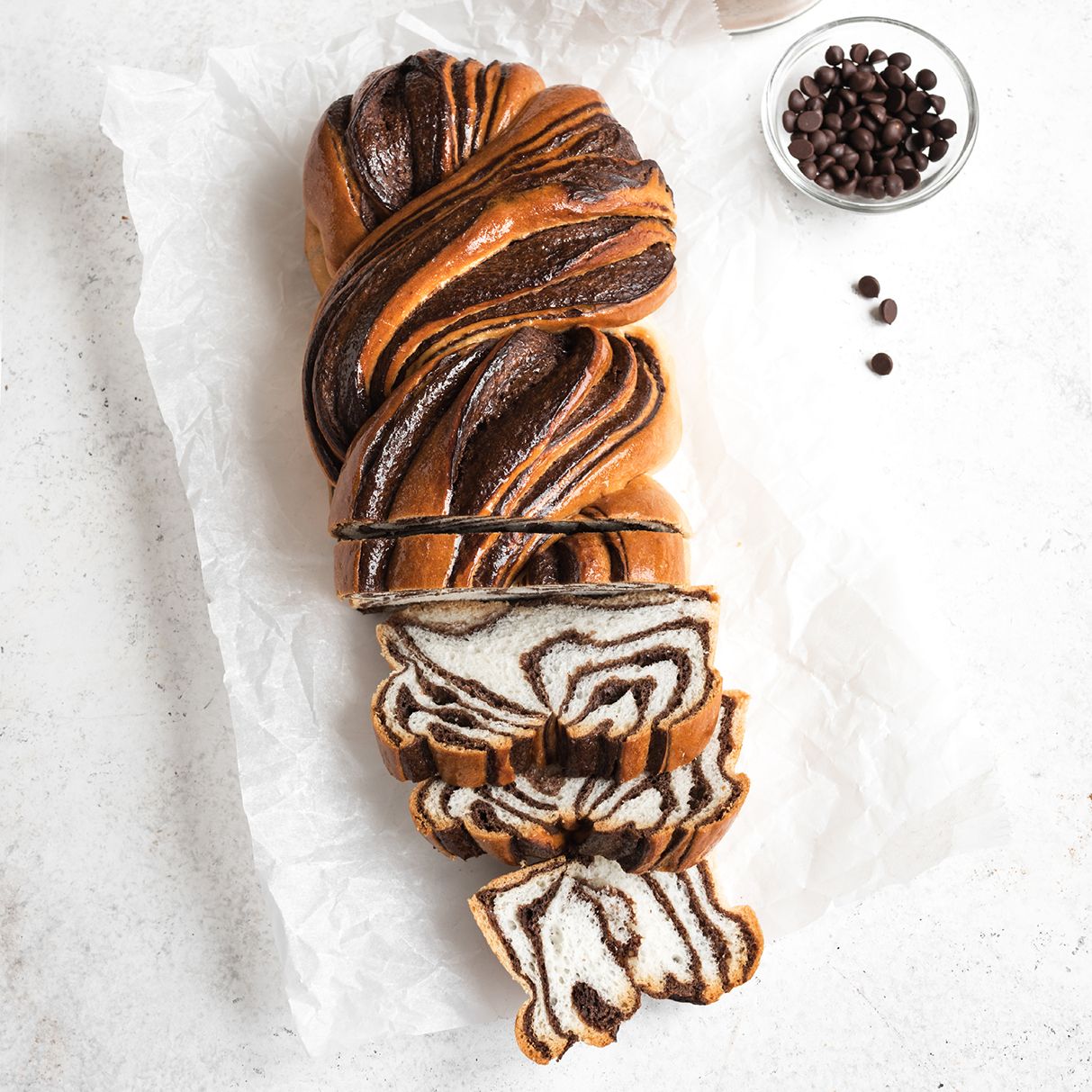 Chocolate Babka
A chocolate filled, buttery rich brioche dough will give you all the feels. You will need to set aside a bit of time and patience to make this but the results are definitely worth it. This recipe makes two loaves because if there's anything better than one babka, it's two babka.
How long will it take?
45 minutes plus overnight in the fridge.
What's the serving size?
Each loaf serves 6
---
What do I need?
For the dough
14 g dried yeast
80 ml lukewarm water
80 ml lukewarm milk
110 g caster sugar
600 g plain flour
1 tsp salt
2 eggs + 2 egg yolks
150 g butter, chopped
For the filling
100 g butter, softened
110 g brown sugar
200 g dark chocolate, melted and cooled
2 tbsp cocoa powder
For the sugar syrup
110 g caster sugar
125 ml water
1 tsp vanilla paste
How do I make it?
Add yeast, water and milk and 1 teaspoon of the sugar to a small bowl and stir to combine. Set aside for 5 minutes.
Add the remaining sugar, flour and salt to a large bowl and stir to combine. Make a well in the centre of the flour mixture and pour in the yeast mixture along with the eggs and egg yolks. Stir all ingredients together to form a dough. Turn out onto a lightly floured surface and knead until smooth. Add butter, one piece at a time, kneading well after each addition. When all the butter is added continue to knead for a further 5 minutes or until the dough is very smooth. Place dough in a greased bowl and cover with clingfilm. Refrigerate dough overnight.
Make the filling by beating butter and sugar with an electric mixer until smooth. Add chocolate and cocoa powder and beat to combine. Put filling in the fridge for at least 10 minutes so that it firms up and becomes spread-like.
Preheat oven to 180C.
Grease and line two 10 x 24 centimetre loaf tins. Line a baking tray with baking paper. Turn dough out onto a lightly floured surface and cut into 2 equal portions. Roll 1 into a rectangular shape and spread with half the chilled chocolate mixture. Working from the long side, roll the dough up to make a log. Place log on the baking tray resting on the seam side. and repeat for the other piece of dough. Place the logs in the fridge for 10 minutes to become firmer.
Remove 1 log from the fridge and use a knife to cut the dough. Use a knife to gently cut the log in half lengthwise, starting at the top and finishing at the seam. You will now have 2 pieces both with layers of dough and visible filling. With the cut sides facing up take one end of each piece and press them together to join them. Then fold the left piece of the right and continue to do this creating a simple plait. Squeeze the other ends together and carefully lift it into a loaf tin. Repeat with remaining dough and chocolate filling. Cover filled loaf tins with clingfilm and place in a warm spot to rise for 1 ½ hours.
Remove clingfilm and place loaf tins in the oven and bake for 30 minutes or until a skewer comes out clean.
Make the syrup by combining sugar, water and vanilla in a saucepan over low heat. Cook, stirring for 2 minutes or until the sugar has totally dissolved. Bring to the boil and cook for a further 2 minutes or until the syrup has thickened a little.
Pour syrup over each loaf and cool in pans. To serve, cut into slices and enjoy.
---
Share this recipe
---
More recipes like this