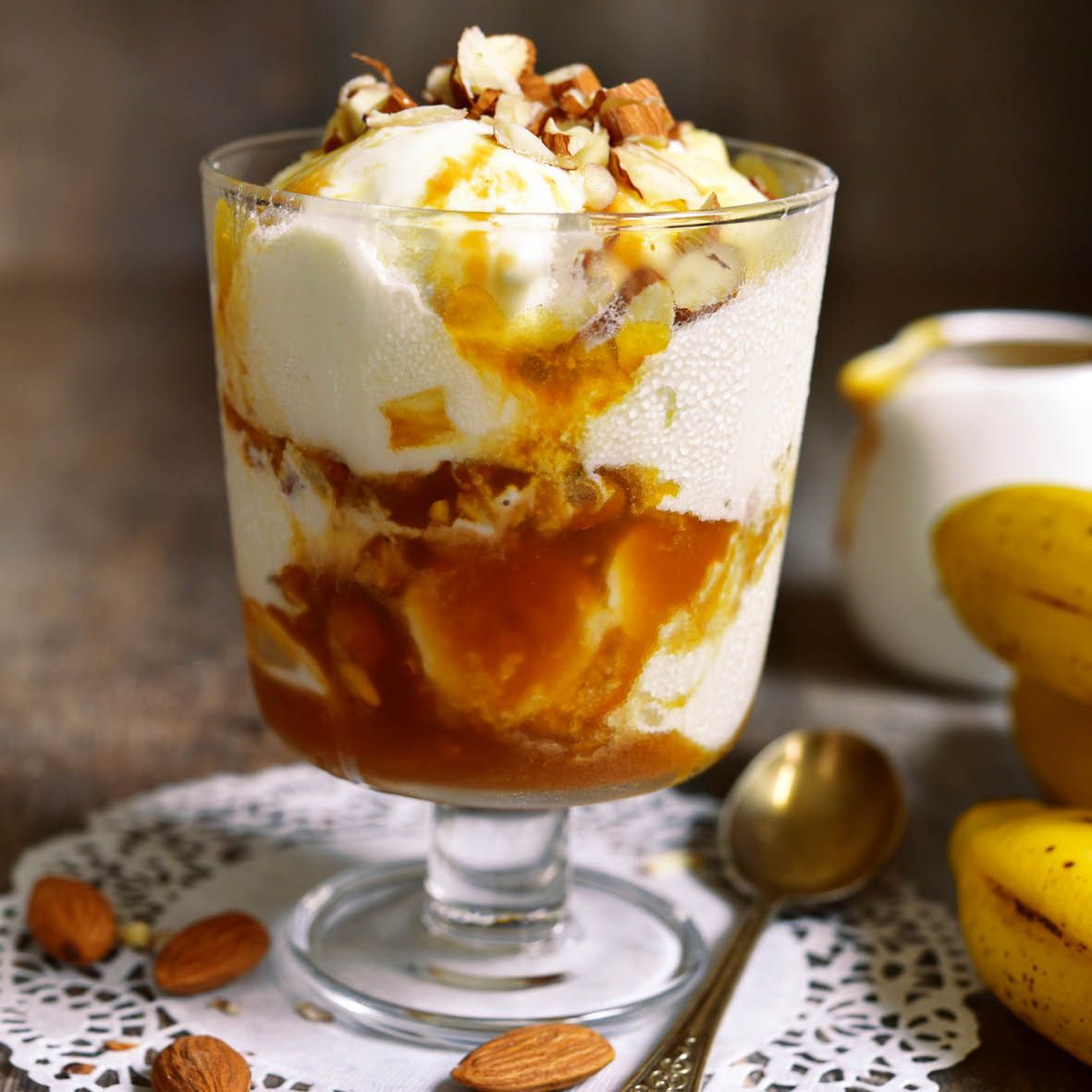 Roasted Banana and Caramel Ice-cream
Don't throw away over-ripe bananas, turn them into this sensational banana ice-cream.
How long will it take?
30 minutes plus freezing time
What's the serving size?
Makes approximately 1 ½ litres of ice-cream
---
What do I need?
For the Caramel
150 g caster sugar
50 g unsalted butter
3 ripe bananas
100 ml cream
For the Ice Cream
2 cups thickened cream
1 can sweetened condensed milk, chilled
½ tsp vanilla extract
How do I make it?
Heat caster sugar in a frying pan over a gentle heat, swirling the pan until it is fully dissolved. Increase heat and continue cooking until the colour changes to a deep golden brown. Add butter and swirl pan until butter has melted. Add bananas to caramel and cook for 7-8 minutes, or until the bananas are soft and caramelised.
Remove bananas from the frying pan and put into a food processor and blitz to a puree.
Add 100 ml cream to the caramel and stir constantly until it is well incorporated into the caramel. Put caramel in a bowl, leave to cool for 15 minutes, then cover with clingfilm.
In the bowl of an electric mixer, whip the cream until stiff peaks form. In a separate bowl, whisk vanilla into condensed milk. Using a spatula, gently fold the condensed milk mix into the whip cream, slowly incorporating the two mixes together so that it stays light and aerated.
Gently fold in banana and then place in a freezer safe container, alternating spoonfuls of the ice cream with drizzles of three-quarters of the caramel sauce, to create ripples when scooped. Cover surface with plastic wrap and seal with a lid. Freeze for at least 6 hours or until firm.
Serve ice cream with remaining caramel sauce drizzled over the top.
---
Share this recipe
---
More recipes like this