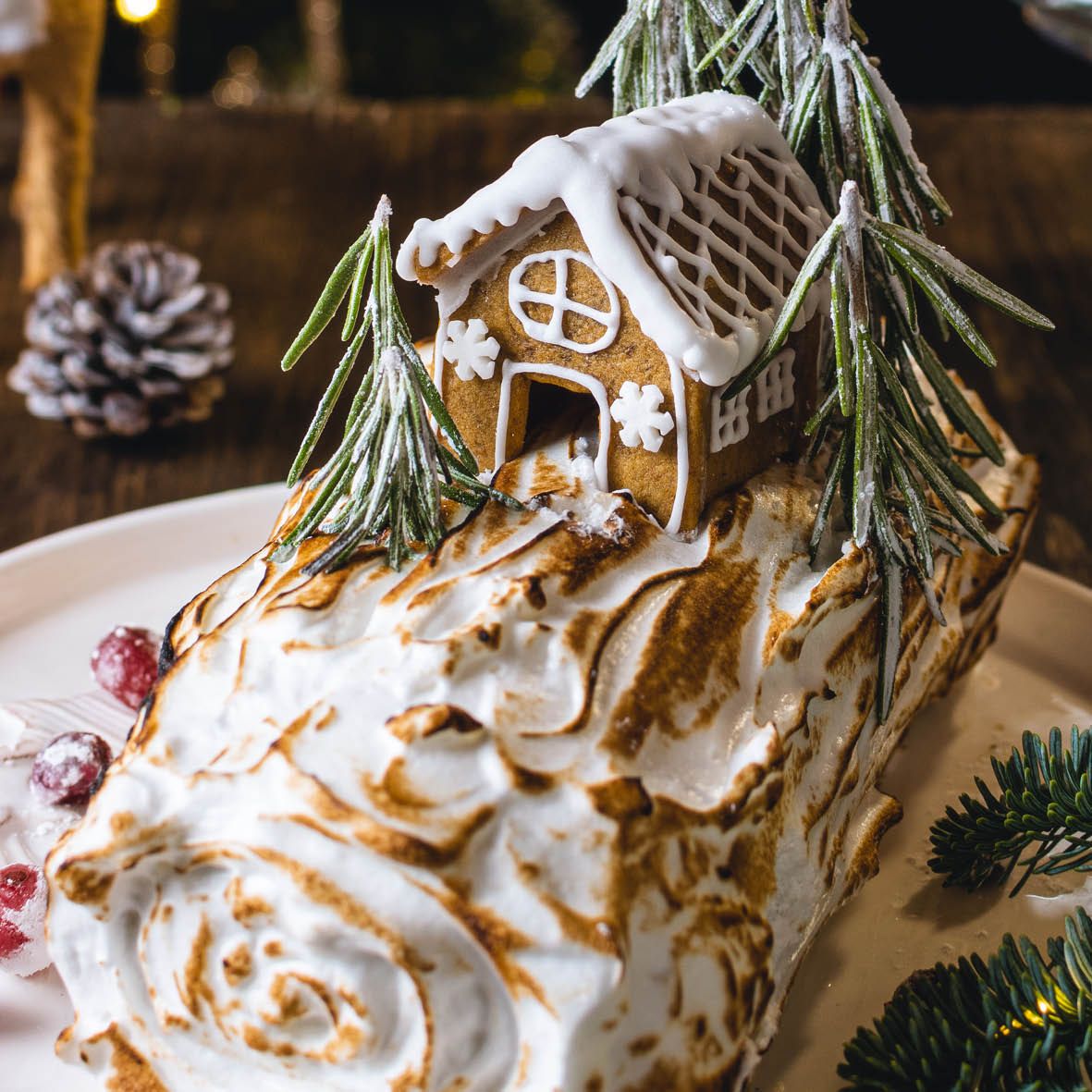 Christmas Log
A delicately spiced Swiss roll filled with nougat cream is topped with Italian meringue and decorated with a cute gingerbread house in this undeniably Christmas-themed dessert.
How long will it take?
Takes 1 ½ hours
What's the serving size?
Serves 8
---
What do I need?
For the Swiss roll
130 g caster sugar
2 tbsp water
4 large free-range eggs, separated
2 tsp mixed spice
70 g almond meal
80 g self-raising flour
20 g icing sugar
For the nougat cream
250 g cream cheese, softened
150 g white chocolate, melted
1 tsp vanilla extract
100 g soft nougat, chopped into small pieces
For the Italian meringue
100 mL water
100 g caster sugar
2 egg whites
How do I make it?
Preheat oven to 170C and line a 22 x 30 cm Swiss roll tin with baking paper.
Place sugar and water in a small saucepan over medium-high heat. Cook, stirring until the sugar dissolves, then remove from heat and set aside to cool slightly.
Add egg yolks to the bowl of an electric mixer and beat on low speed for 1 minute, then add mixed spice and continue beating for a further 2 minutes. Carefully drizzle the sugar mixture down the side of the bowl to add it into the egg mixture. Increase speed to medium and beat for 4 minutes or until thick and creamy.
Use a spatula to gently fold almond meal and self-raising flour into the mixture.
In a clean bowl, beat egg whites to soft peaks. Gradually, one third of the mix at a time, fold the first mixture through the egg white mixture.
Put batter into the Swiss roll tin and bake for 15 minutes or until the cake springs back when touched in the centre. Remove from oven and set aside.
Sift half the icing sugar over the cake and cover with a clean tea towel. Place a wire rack on top and flip so that the wire rack is on the bottom. Remove the tray and peel away baking paper. Dust with the remaining icing sugar.
Starting at one of the short ends, roll the cake while it is still warm with the tea towel inside. Leave to rest for 20 minutes and then unroll and set aside to cool completely.
Make the nougat cream by adding cream cheese, chocolate and vanilla to a bowl and whisking to combine.
Make Italian meringue by adding water and sugar to at small saucepan and heating the syrup to 115C without stirring.
When the syrup reaches 110C start beating the egg whites in an electric mixer. When they are foamy but not yet firm, gradually pour the hot sugar syrup into the egg whites as they continue whipping on low to medium speed. When all the syrup is added increase the speed to medium-high and continue until the meringue reaches stiff peaks.
---
Share this recipe
---
More recipes like this