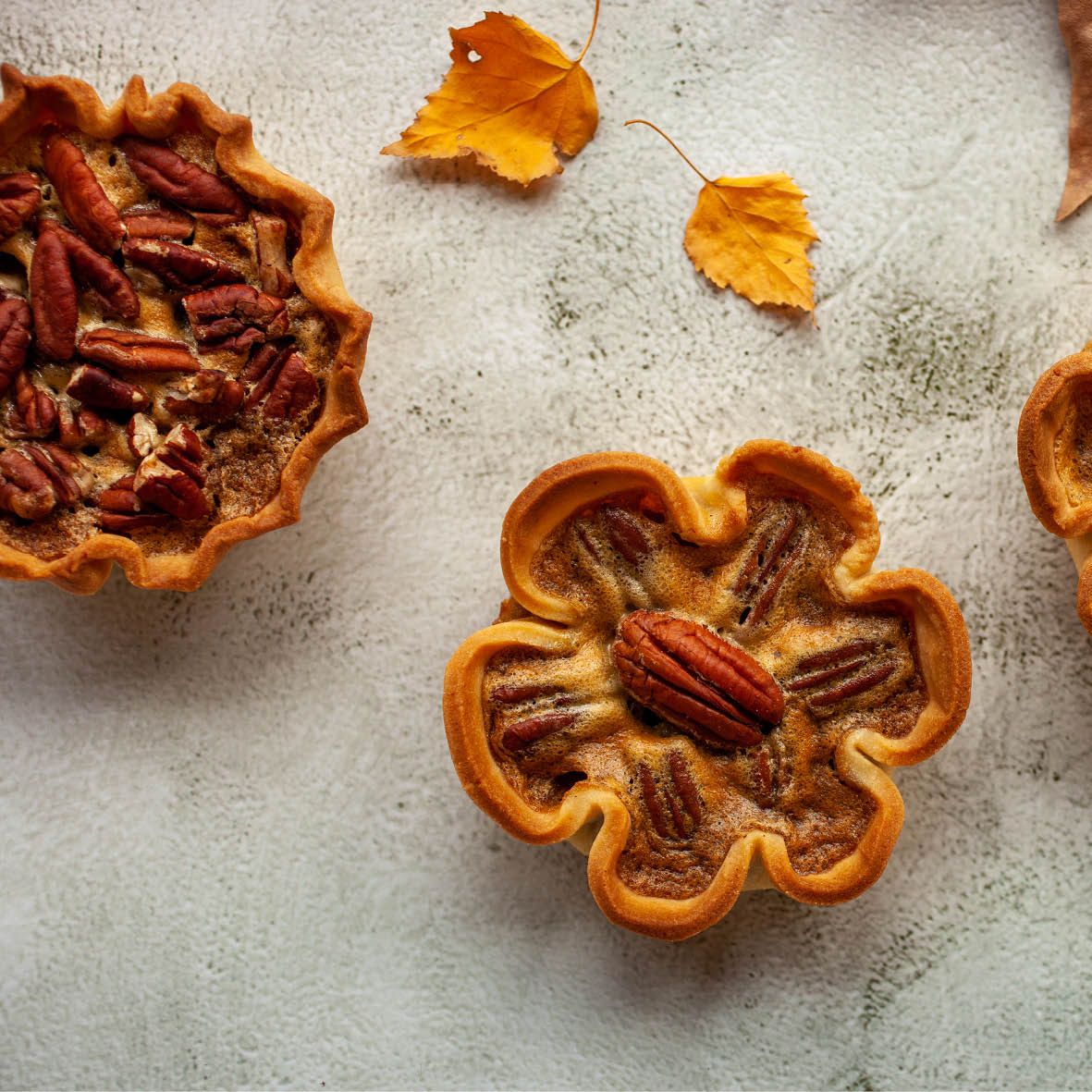 Nutty Brown Butter, Whisky and Pecan Tarts
Celebrate Father's Day with this deliciously decadent tart. A homemade pastry is filled with the perfect balance of boozy, gooey filling and finished off with a crunchy nutty top. It really is too good to resist.
How long will it take?
2 hours 10 minutes
What's the serving size?
Serves 6
---
What do I need?
For the pastry
175g plain flour, plus extra for dusting
50g icing sugar
90g chilled unsalted butter, cut into cubes
1 egg yolk
1 tbsp cold water
Pinch of salt
For the filling
300g pecans
120g butter
150g golden syrup
100ml thickened cream
2 tbsp whisky
5 egg yolks
150g brown sugar
1 tsp vanilla extract
½ tsp nutmeg
How do I make it?
Preheat oven to 180C fan forced. Grease 6 tart tins with butter and flour.
Sift flour, icing sugar and a pinch of salt together. Rub butter into the flour mixture using your fingertips until the mixture looks like fine breadcrumbs. Mix in yolk and cold water and then turn out onto a lightly floured surface. Knead pastry until smooth.
Roll pastry out to 1-2mm thick and line side and base of tart tins with it. Prick the base of the tarts with a fork and then place in the fridge for 20 minutes to chill.
Remove tarts from fridge and place a sheet of baking paper over the base of the pastry and fill with baking weights. Blind bake for 10 minutes or until the edges are a pale brown colour. Remove weights and cover the edges of the tarts with foil, then return to the oven and cook until the base of is pale brown and dry. Remove from oven and set aside.
Line a baking tray with baking paper and spread pecans in a thin layer on tray. Toast in the oven for 5 8 minutes, then remove from oven and set aside to cool. When pecans are cool place them on top of the pastry evenly.
Place butter in a small pan over low heat. Cook, swirling occasionally until the butter is lightly browned and smells nutty. Remove from heat and add golden syrup, whisky and cream.
Use an electric mixer to beat egg yolks until thick. Add in whisky cream mix, sugar, vanilla and nutmeg and blend to combine. Pour mixture over the pecans and bake for 20 minutes or until the top is caramelised. The tarts can be served warm or cold and are delicious with whipped cream or ice-cream, or both!
---
Share this recipe
---
More recipes like this