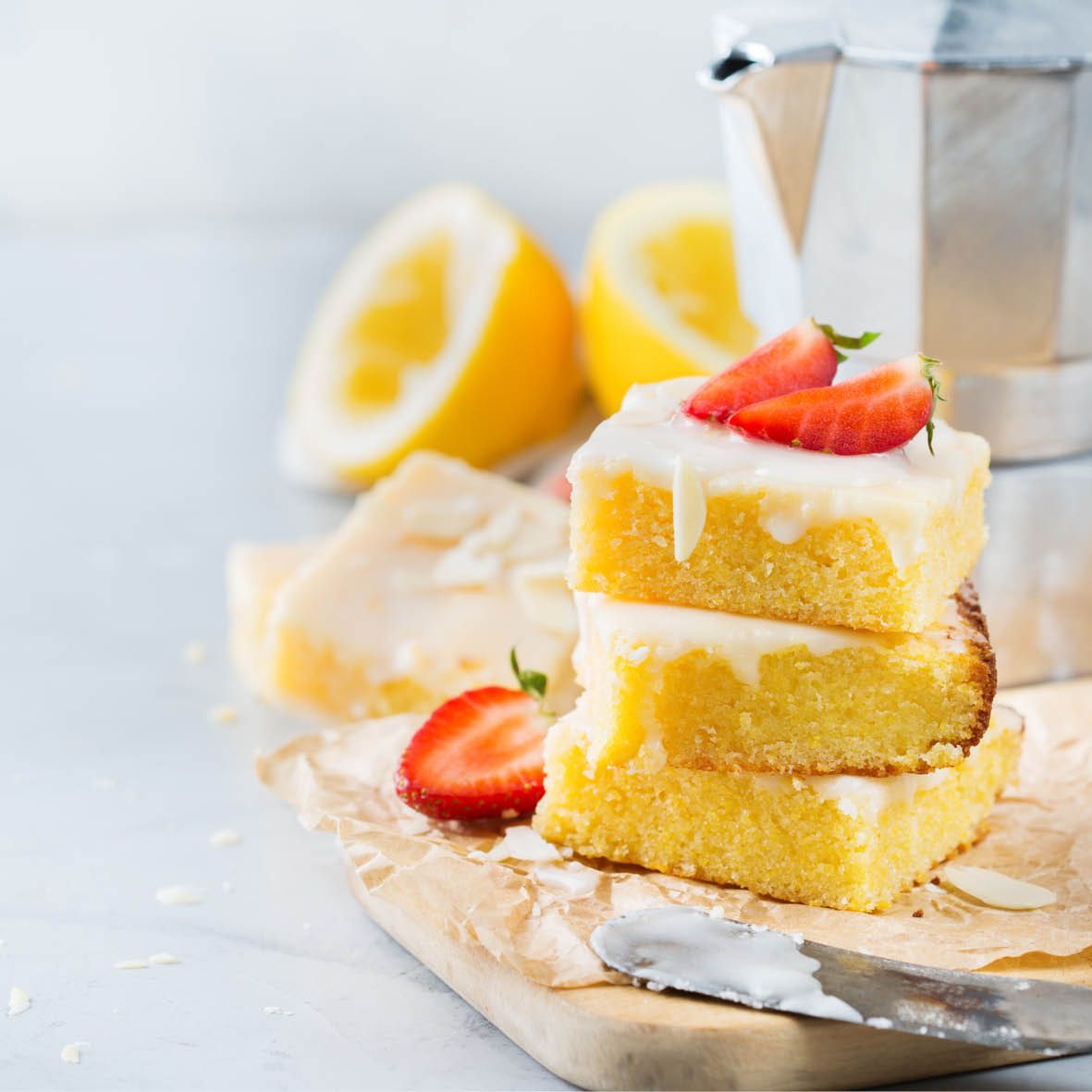 Lemon Polenta Syrup Slice
Our take on the classic cake, this gluten-free, dairy-free Lemon Polenta Syrup Slice has a lovely light texture because it is made with olive oil rather than butter. Infused with a lemon syrup and drizzled with lemon icing it is a citrus sensation that everyone will enjoy.
How long will it take?
45 minutes
What's the serving size?
Makes approximately 18 squares
---
What do I need?
160ml olive oil
200g caster sugar
200g ground almonds
100g polenta
1 ½ tsp baking powder
3 eggs
2 large lemons
200g icing sugar
How do I make it?
Preheat oven to 180C.
Grease and line a 20 centimetre cake tin.
Using an electric mixer beat olive oil and sugar until pale and frothy.
Mix ground almonds, polenta and baking powder together in a bowl and then pour one-third of this mix into the olive oil and sugar. Blend to combine then add 1 egg and another third of the dry mix, blending constantly. Repeat for the remaining eggs and dry ingredients.
Zest lemons and add the zest to the mixture, stirring to incorporate. Pour mixture into the prepared cake tin and bake for 35 minutes or until a skewer comes out clean.
Juice the lemons and add half the juice to a small saucepan with 50g icing sugar. Bring to the boil and cook until the icing sugar has dissolved.
Use a skewer to price the top of the slice with holes and pour the warm syrup over the cake. When the cake and syrup have cooled you can remove it from the tin.
Make icing by combining the remaining icing sugar and lemon juice. Pour over the top of the cake and leave to set. When the icing has set, cut into squares to serve.
---
Share this recipe
---
More recipes like this