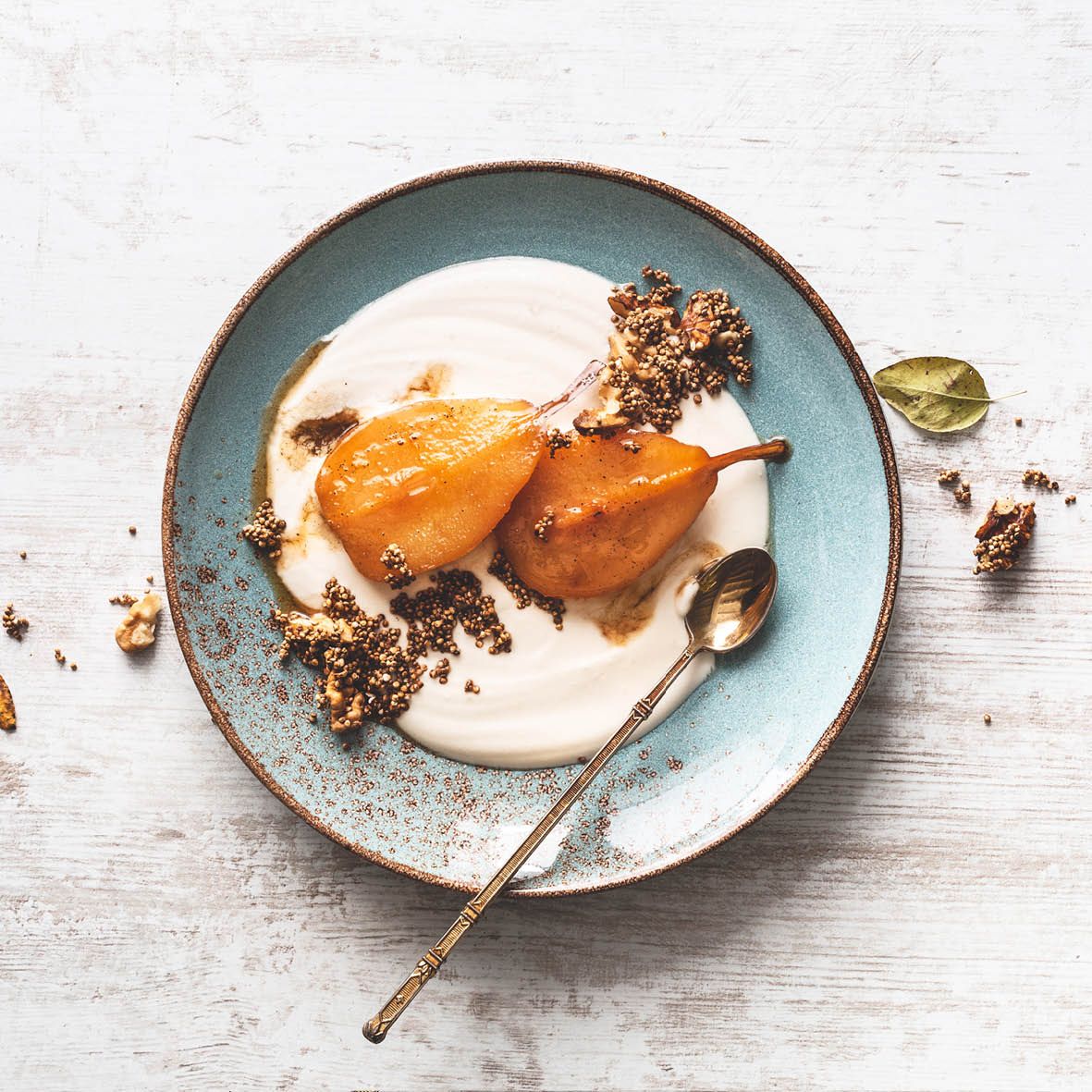 This delightful dessert takes advantage of the bounty of Tasmanian pears available at the moment. The tangy creaminess of the mascarpone cream is the perfect match for the sweet and juicy honey roasted pears, while the nut crumb adds a fabulous texture.
How long will it take?
1 hour
What's the serving size?
Serves 4
---
What do I need?
4 pears
3 tbsp honey
1 tbsp caster sugar
2 tbsp unsalted butter
¼ cup water
For the Mascarpone Cream
1 cup cream
1 cup mascarpone
1 vanilla bean
¼ cup caster sugar
For serving
Toasted hazelnuts or almonds or a combination of both, roughly ground to make a crumb
How do I make it?
Preheat oven to 190C.
Make the mascarpone cream by adding cream and mascarpone to a bowl. Slice vanilla bean in half lengthways and scrape out the seeds into the cream and mascarpone. Stir and cover the bowl and place in the fridge while the pears are cooking.
It is not necessary to peel the pears for this recipe but if you would prefer them without skin you can peel them. Halve pears lengthways and core.
Place pears, cut side up in a roasting pan and sprinkle them with caster sugar. Drizzle over honey and then pour water into the roasting pan. Add butter to pan and bake for 20 minutes, basting the pears two or three times while cooking. Turn pears over and bake for a further 20 minutes, basting with the pan juices two or three times. Check the pears are ready by gently inserting a knife or skewer into the thickest part. When the pears are cooked, remove from oven and allow to cool to room temperature.
Remove cream mixture from the fridge and strain it through a fine mesh strainer into a mixing bowl to remove the vanilla seeds. Add sugar and whisk until soft peaks form.
To serve, place mascarpone cream in bowls, add pear halves and garnish with nut crumbs.
---
Share this recipe
---
More recipes like this