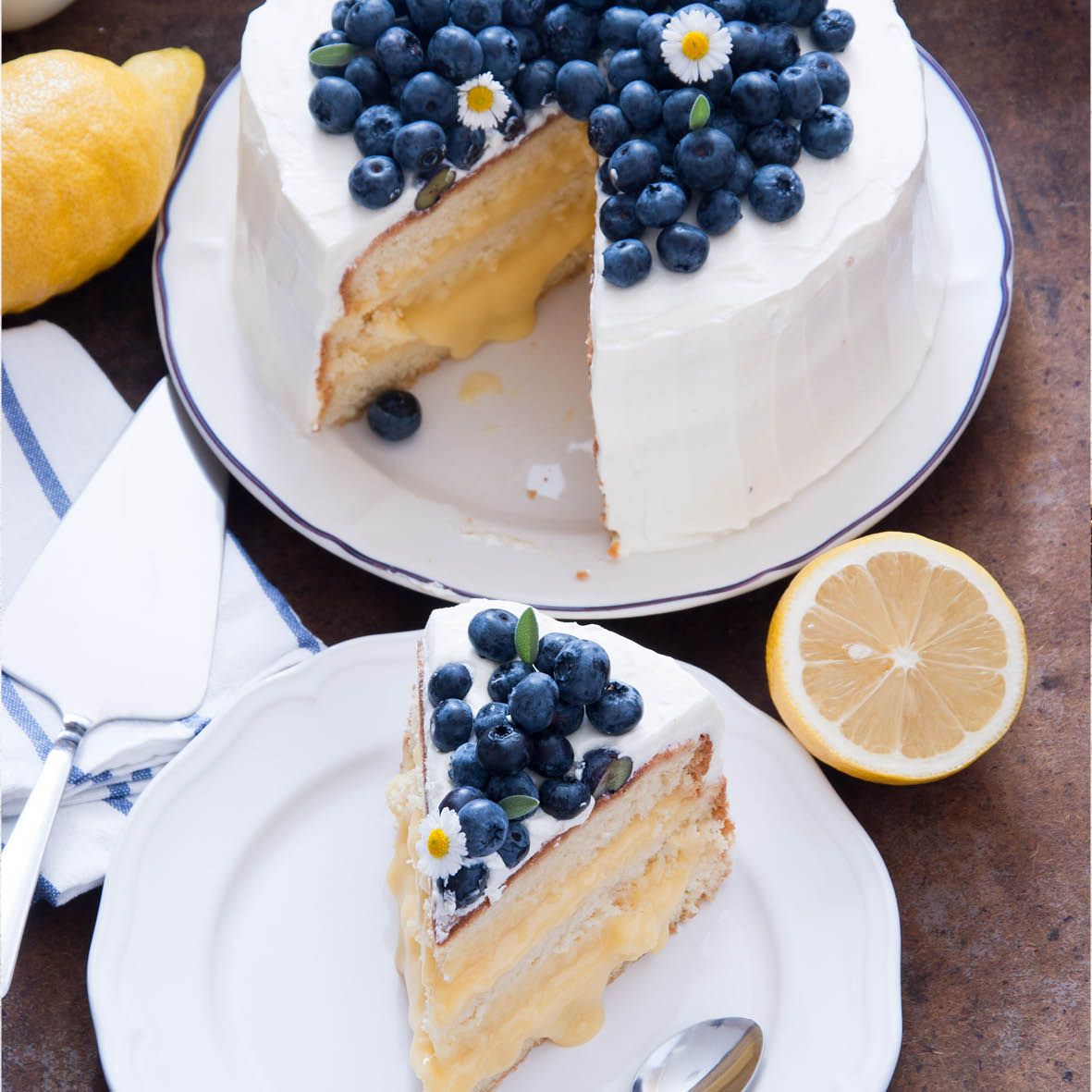 Blueberry and Lemon Delight Cake
The perfect treat for Mother's Day, this show-stopping sponge is filled with zesty lemon curd and topped with fresh blueberries.
How long will it take?
1 ½ hours
What's the serving size?
Serves 8
---
What do I need?
For the Lemon Curd
Zest and juice of 2 large lemons
100g sugar
50g butter, cut into cubes
1 egg plus 1 egg yolk, gently mixed with a fork
For the Sponge Cake
225g butter, softened
225g sugar
4 large eggs
½ tsp vanilla essence
1 ¼ cups plain flour, sifted
1 ½ tsp baking powder
½ tsp salt
To decorate
250ml milk
30g plain flour
100g copha
125g butter
200g white sugar
1tsp vanilla essence
1 punnet blueberries
How do I make it?
To make the lemon curd
In a double boiler place lemon zest and juice, sugar and butter. Stir until the butter has melted. Add in egg and egg yolk and stir. Cook, stirring regularly until the mixture is thick and custardy, approximately 10 minutes. Remove from heat and stir occasionally while it cools. Refrigerate until needed.
To make the sponge
Preheat oven to 175C.
Grease and line a large cake tin.
In a large mixing bowl cream butter and sugar until pale and creamy. Add eggs one at a time, beating well. Add vanilla and beat well.
Sift flour, baking powder and salt together and fold into wet ingredients using a large metal spoon. Be careful not to overmix. Pour mixture into cake tin. Bake for 35-40 minutes or until the cake is well risen and a skewer inserted comes out clean. Remove from the oven and set aside to cool. Remove from the cake tin after 30 minutes and place on a wire rack to cool completely.
When cake is cooled, cut into three equal pieces and spread bottom and middle layers with lemon curd and sandwich all layers together.
To make the frosting
Combine milk and flour in a small saucepan. Bring to the boil, then remove from heat and set aside to cool. Add copha, butter, sugar and vanilla to cooled mixture and beat for 10 minutes.
To decorate
Cover cake top and sides with frosting. Use a spatula to make it smooth. Add blueberries to the top of the cake and decorate with flowers if desired. Serve immediately.
---
Share this recipe
---
More recipes like this