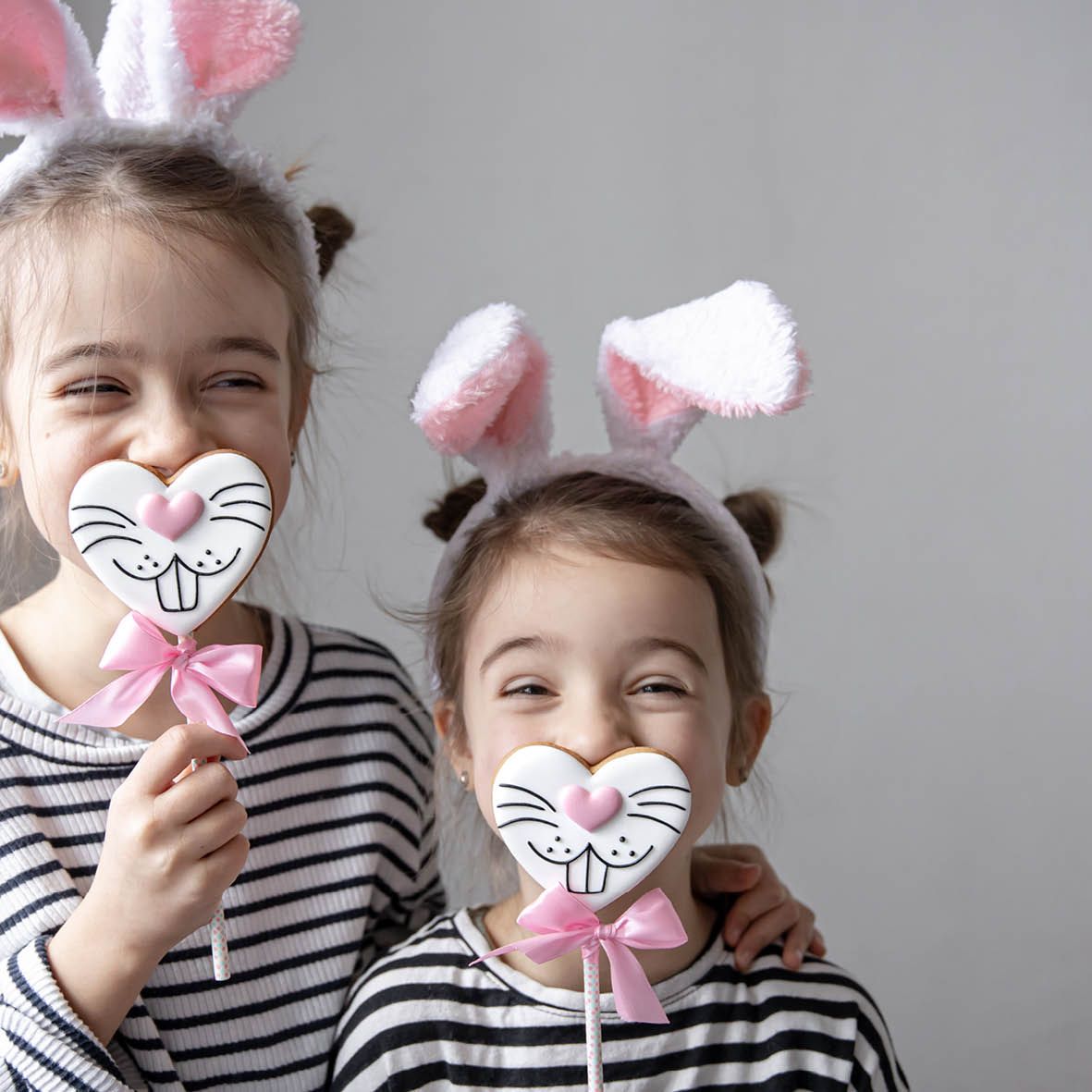 Bunny Face Gingerbread Cookies
Get the kids in the kitchen to help make these cute bunny faces for their friends.
How long will it take?
2 hours 20 minutes
What's the serving size?
Makes 15
---
What do I need?
3 cups plain flour
1 ½ tsp baking powder
¾ tsp bicarbonate of soda
¼ tsp salt
1 tbsp ground ginger
1 ¾ tsp ground cinnamon
¼ tsp ground cloves
6 tbsp unsalted butter
¾ cup dark brown sugar
1 large egg
½ cup molasses
2 tsp vanilla extract
For the Icing
1 ½ cups icing sugar
1 egg white
½ tsp lemon juice
Red or pink food colouring
Icing gel in black
How do I make it?
Mix flour, baking powder, bicarb, salt, ginger, cinnamon, and cloves together in a bowl. In a separate bowl beat butter, brown sugar, and egg, using an electric mixer; then add molasses and vanilla and continue to mix until well combined. Gradually add the dry ingredients and mix until you have a smooth dough. Divide the dough in half and wrap each half in clingfilm. Let stand at room temperature for at least 2 hours or up to 8 hours.
Preheat oven to 190C. Line baking trays with baking paper.
Roll one portion of the dough out on a lightly floured surface to thickness of 3-4 millimetres. Use a heart-shaped cookie cutter to cut out cookies. Place icy-pole sticks on baking tray and then place a cut-out cookie on top of each stick, ensuring 2 centimetres of the stick is covered by the cookie. Press down gently to help affix the cookies to the sticks. Make sure there is at least 4 centimetres between each cookie on the tray to allow for spreading. Cook one tray at a time for 10 minutes or until golden brown and cooked through. Remove from the oven and allow to stand until they are firm enough to move to a wire rack.
To make the icing, mix all ingredients together with an electric mixer until smooth. Place a small portion of the icing in a separate bowl for the pink noses. Colour the separated portion using food colouring until you have the desired colour.
Transfer white icing to a piping bag fitted with a small nozzle and decorate the cookies following the shape of the cookie. Set aside to dry. Next, pipe the pink icing on in a heart shape for the nose and then use the icing gel to draw on the whiskers and teeth.
Top tip: the cookie dough will keep in the fridge for up to 4 days.
---
Share this recipe
---
More recipes like this