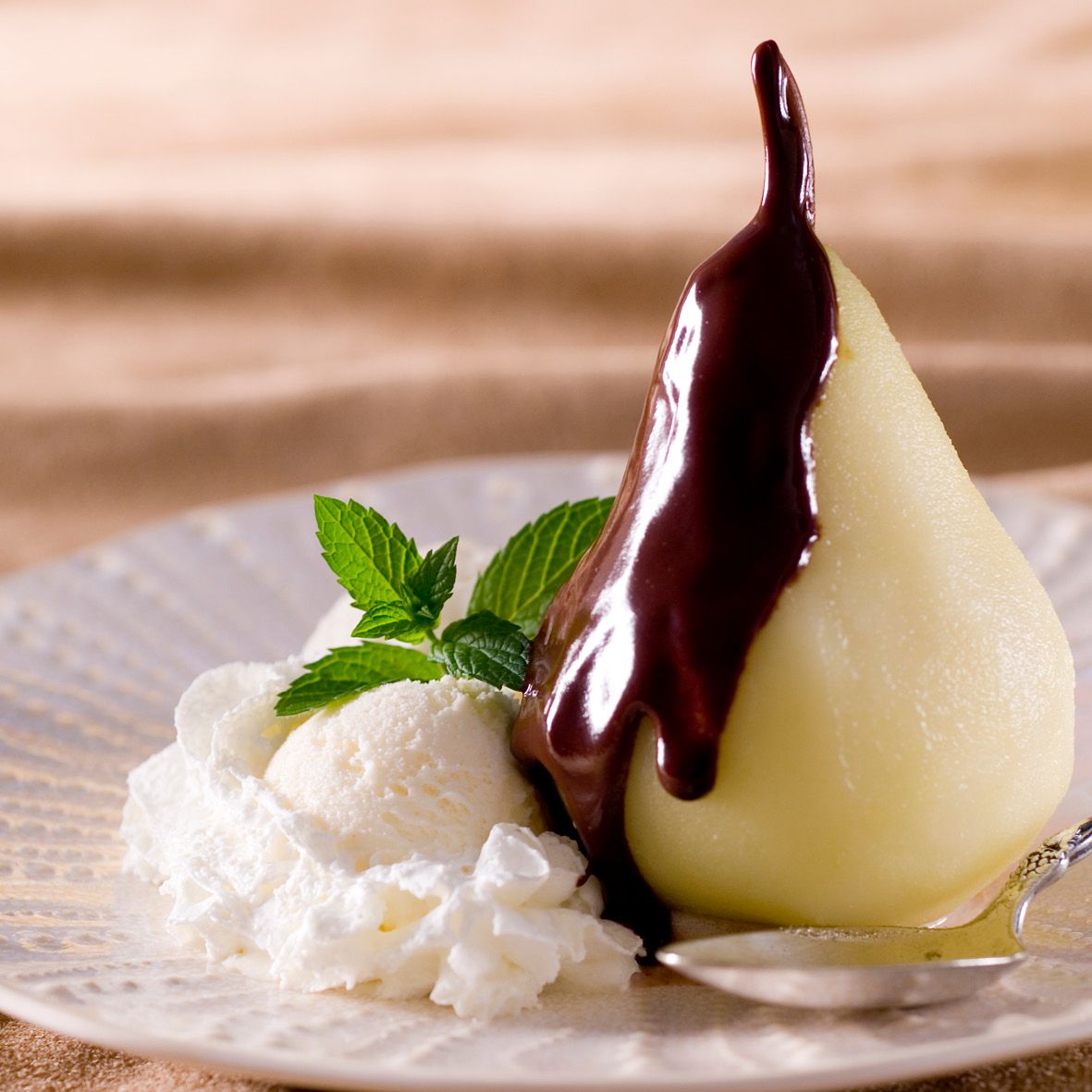 Poached pear with chocolate sauce
Pears and chocolate are a perfect pair (pardon the pun). This recipe sees the pears poached in a bath of fragrant spices that impart a delicious flavour. Serve with ice-cream, cream or both!
How long will it take?
10 minutes to prepare, 50 minutes to cook
What's the serving size?
Serves 4
---
What do I need?
For the pears
75g golden caster sugar
1 stick of cinnamon
2 strips lemon zest (use a potato peeler)
1 star anise
1 vanilla pod, split lengthways
5 cloves
1 piece of fresh root ginger, peeled and sliced
4 ripe pears, peeled
For the chocolate sauce
200g good-quality dark chocolate
142ml (or ½ cup and 1 tbsp) double cream
150ml full-fat milk
Pinch ground cinnamon
Valhalla vanilla ice cream, to serve
How do I make it?
In a pot big enough to hold the pears snugly, tip in all the caster sugar, cinnamon, lemon zest, star anise, vanilla, cloves and ginger. Half fill the pot with water and bring to the boil.
Simmer for 10 minutes to infuse, then drop in pears, cover and gently poach for about 30 minutes until soft. Turn off the heat and set aside. The pears can be poached up to 2 days ahead and kept in the poaching syrup in the fridge.
To make the chocolate sauce, place the chocolate into a heatproof bowl. In a pot, bring the cream, milk and cinnamon to the boil and pour over the chocolate. Stir until the chocolate has melted.
To serve, drain the pears and, holding them by the stem, dip them in the chocolate sauce to completely cover. Serve each pear with a generous scoop of vanilla ice cream.
---
Share this recipe
---
More recipes like this