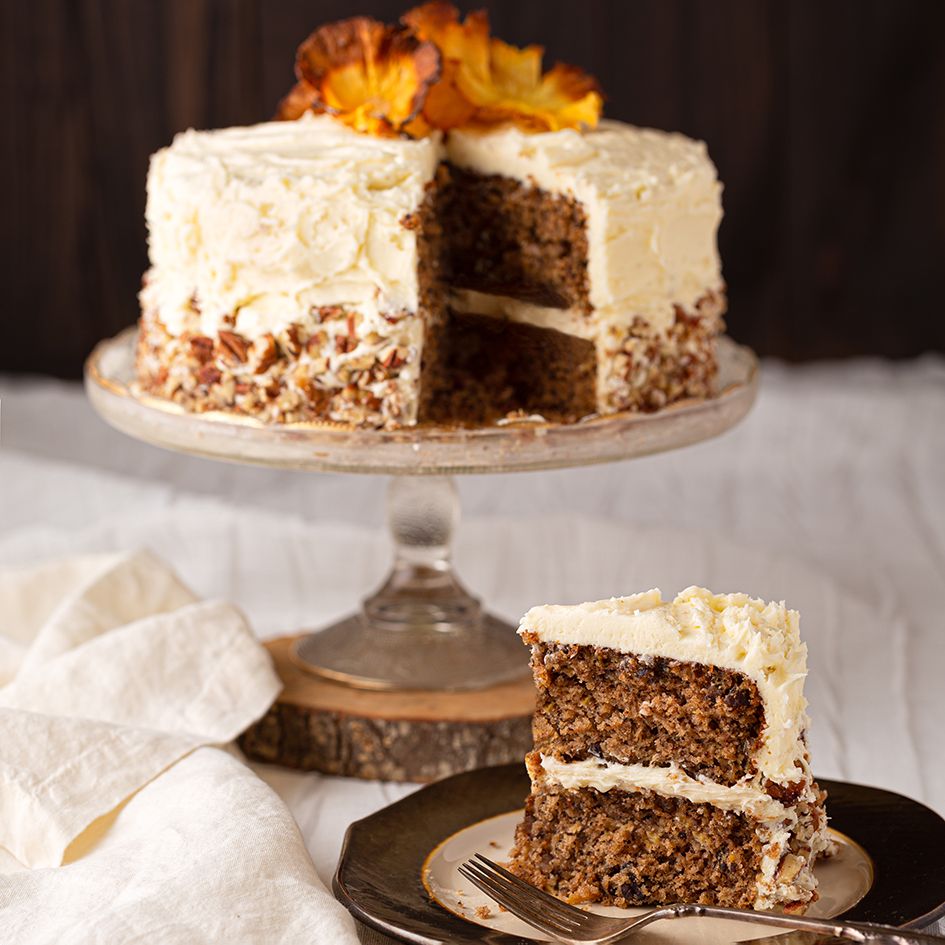 Hummingbird Cake
A favourite cake in the southern United States, Hummingbird Cake is rich and indulgent with flavours of pineapple, banana and cinnamon. Topped with a generous layer of cream cheese frosting and finished off with a sprinkling of pecans, it is sure to be a hit with family and friends.
How long will it take?
3 ½ hours
What's the serving size?
Serves 12
---
What do I need?
For the cake
250 g pecans, chopped
370 g plain flour
1 tsp baking soda
1 ½ tsp ground cinnamon
½ tsp ground nutmeg
½ tsp salt
4 ripe bananas, mashed
225 g crushed pineapple
3 free range eggs
160 ml vegetable oil
200 g brown sugar
150 g caster sugar
2 tsp vanilla extract
For the frosting
450 g cream cheese, softened
175 g unsalted butter, softened
600 g icing sugar
1 tbsp milk
2 tsp vanilla extract
Pinch of salt
How do I make it?
Preheat oven to 150C.
Line a baking tray with baking paper and spread the pecans evenly on it. Toast in oven for about 5 minutes.
Increase oven temperature to 180C. Grease and line two 25 centimetre cake tins.
Whisk flour, baking soda, cinnamon, nutmeg and salt together in a large bowl.
Whisk remaining cake ingredients in a medium bowl. Pour wet ingredients into dry ingredients and stir to combine well. Add 1 ½ cups toasted pecans.
Divide cake batter between the two cake tins and bake for 30 minutes or until a skewer inserted in the centre comes out clean.
Remove from the oven and leave cakes in tins to cool completely. When cooled, remove from cake tins and use a knife to level the tops of the cakes so that they are flat.
Make the frosting by beating cream cheese and butter together with an electric mixer until smooth and creamy. Add icing sugar, vanilla, milk and salt and then beat for another 2 minutes.
Place one cake on a serving plate. Cover the top of the cake with frosting and then add the second cake. Cover the top and sides of the cakes with frosting and then garnish with leftover pecans. Refrigerate for at least 1 hour before serving.
---
Share this recipe
---
More recipes like this