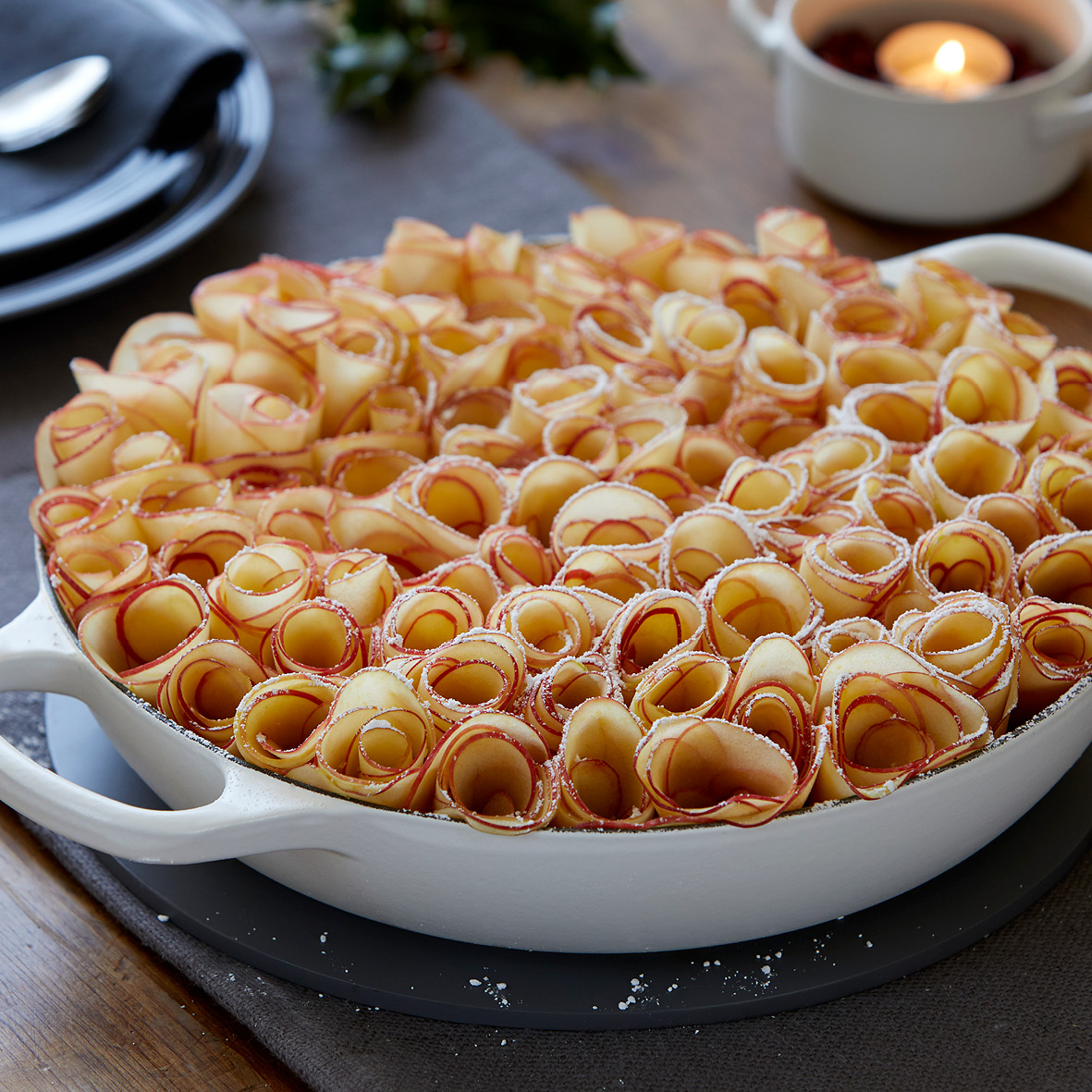 Ginger Biscuit and Apple Frangipane Tart
This is the ultimate flavour combination with the ginger biscuit base adding crunch while the frangipane offers a generous soft and creamy layer for the apples to sit in; think of this as an upside-down crumble with a difference.
How long will it take?
1 hour
What's the serving size?
Serves 8-10
---
What do I need?
Biscuit Base
400g ginger biscuits, finely blitzed
110g butter
½ jar crystallised ginger
Frangipane
150g butter
150g caster sugar
4 large free range eggs
2 teaspoons almond extract
¼ teaspoon vanilla paste
150g ground almonds
Topping
20 pink lady apples, sliced with a mandoline into rounds
250ml orange juice
200g caster sugar
250g melted butter
Icing sugar to dust
How do I make it?
Preheat the oven to 160ºC
Begin by blitzing the biscuits into a fine crumb and then melt the butter and finely chop the ginger.
Next, combine the biscuits, ginger and melted butter together in a bowl and then firmly press the mixture into the base and sides of the Le Creuset Signature Cast Iron Shallow Casserole. Aim for the base and sides to be equal thickness, just under half a centimetre or so.
Place the casserole into the pre-heated oven and allow the base to cook for 5-10 minutes until the biscuit base looks like it is set. Remove from the oven and allow to cool.
For the frangipane mixture, combine the butter and sugar, whipping until it becomes lighter in colour and fluffy in consistency. Then add in the eggs followed by the almond extract, vanilla paste and finally the ground almonds. Mix together well.
Spoon the frangipane mixture over the biscuit base and place into the oven at 170ºC. Cook until it begins to turn golden. This should take around 20 minutes
While the frangipane is cooking, take a mandoline and slice the pink lady apples. Once sliced place in a large bowl filled with the orange juice and sugar, this will help to soften the apples so you can mould and roll them into the rose shapes without them snapping
Allow the apples to soak for at least 10 minutes or until the frangipane is cooked
To make the apple roses, begin by rolling one apple slice, place another slice around this and repeat until you have a rose-like flower. Cut a small hole in the top of the frangipane and place the rose into the hole to ensure it stays in place
Once you have covered the entire base with apple roses sprinkle with icing sugar and serve straight to the table.
Recipe courtesy of Le Creuset
---
Share this recipe
---
More recipes like this