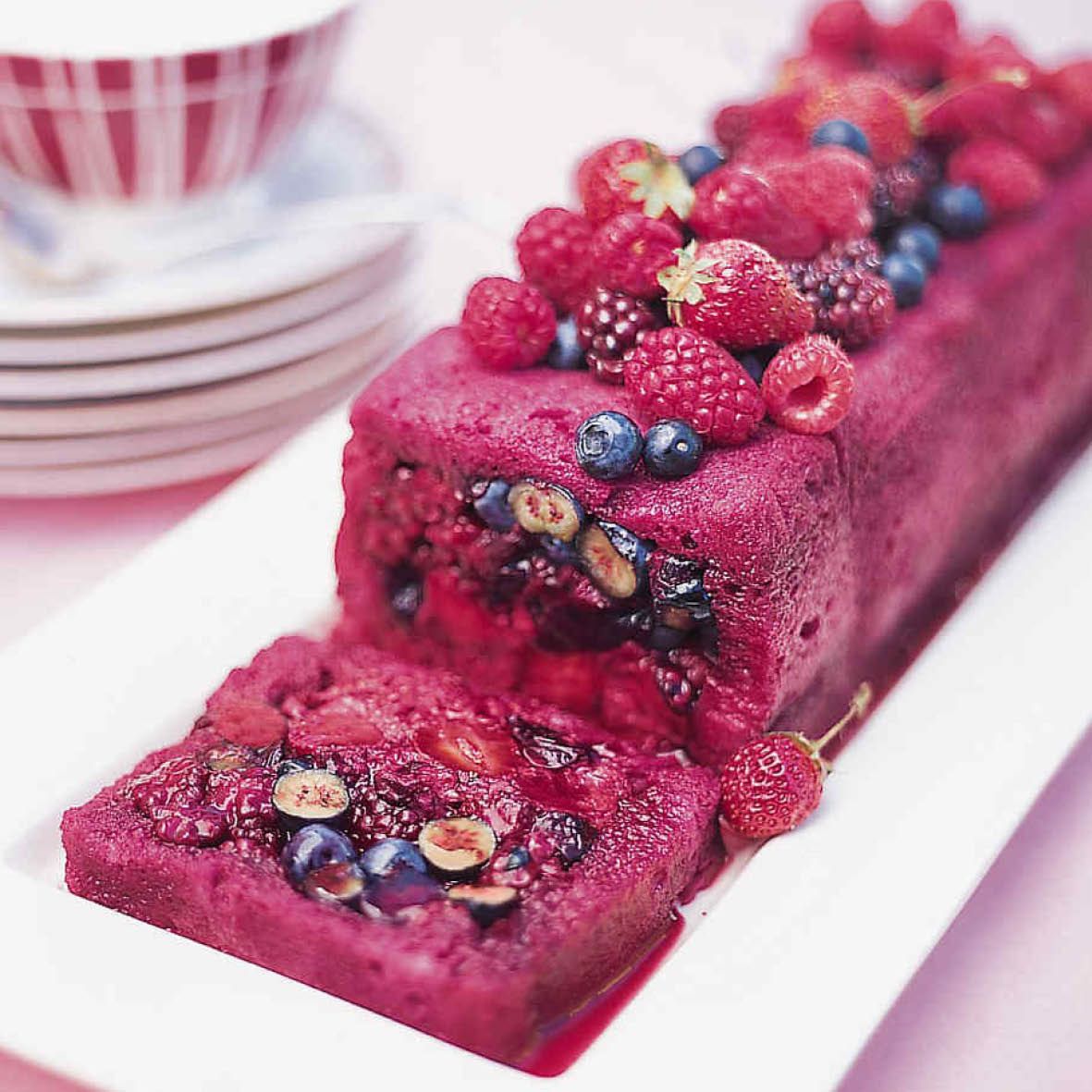 Summer Pudding Terrine
The essence of summer, this terrine is packed full summer fruit.
How long will it take?
30 minutes plus overnight refrigeration
What's the serving size?
Serves 16
---
What do I need?
500g strawberries, hulls and stems removed, plus a handful extra to serve
500g blueberries, plus a handful extra to serve
500g raspberries, plus a handful extra to serve
500g blackberries, plus a handful extra to serve
2 loaves fresh white bread, crusts removed, cut into 1cm thick slices
1 cup brown sugar
How do I make it?
Sprinkle brown sugar in a large frying pan, add 250g each of blackberries, strawberries, raspberries and blueberries and 2 cups water. Cook over medium-low heat, stirring occasionally, until berries soften and sugar is fully dissolved, about 10 minutes.
Remove from heat and stir in the remaining 250g of each type of berry. Transfer to a bowl and leave to cool.
Line the inside of a large loaf tin with plastic wrap, making sure it overhangs by 10 centimetres on each side.
Line bottom and sides of the tin with bread slices, trimming bread if needed. The slices should be tightly packed with no gaps or overlaps.
Use a slotted spoon to place berry mix in the tin and press down to make a flat top. Keep the juice in a bowl. Cover the terrine with a layer of bread.
Strain the juice through a fine sieve to remove any solids. Pour the juice over the terrine until it is three-quarters full.
Press down gently to compress the terrine and fold the excess plastic wrap over to cover the top.
Cut out a piece of cardboard to snugly fit the top of the terrine and place on top, weighing it down with pastry weights or a couple of cans of soup.
Place in the fridge and chill overnight.
Unmould onto a serving plate and serve with additional berries and cream.
---
Share this recipe
---
More recipes like this