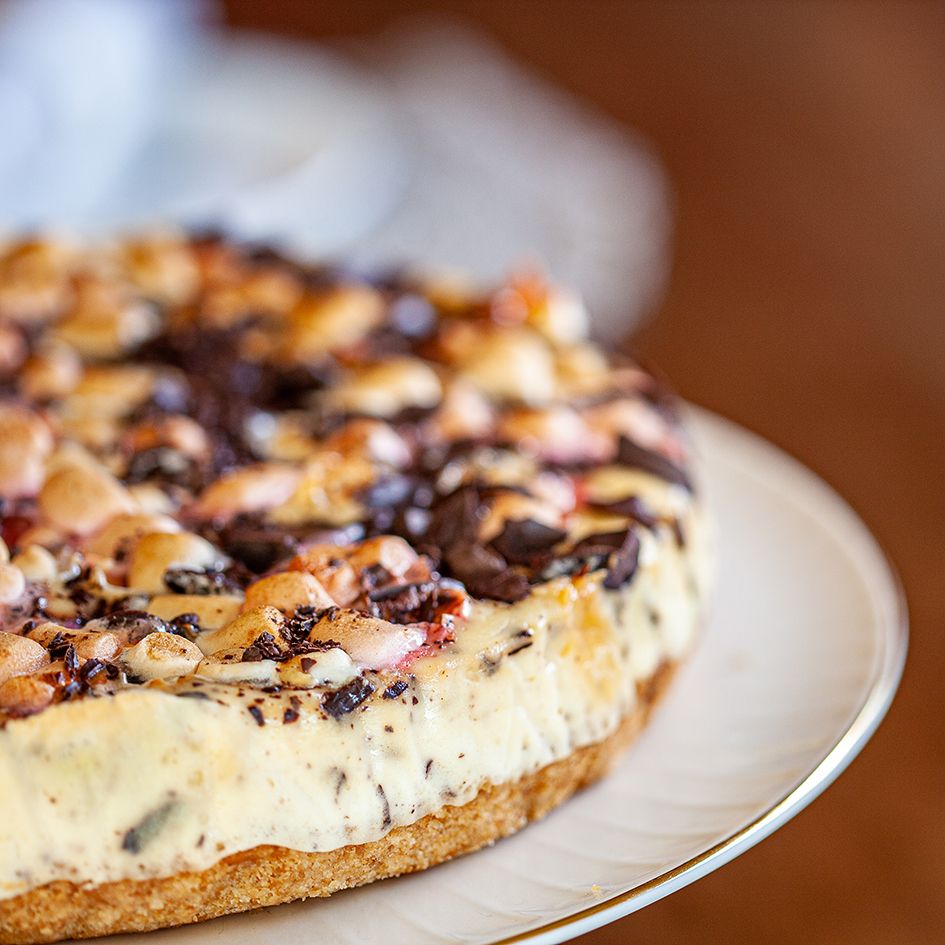 S'mores Cheesecake
The traditional American campfire treat, S'mores, is renowned for its delectable combination of chocolate, marshmallows and biscuits. We got to thinking how those ingredients would work really well in a cheesecake and so for your eating pleasure we introduce, S'mores Cheesecake. You can thank us later!
How long will it take?
2 hours 15 minutes
What's the serving size?
Serves 12
---
What do I need?
For the Base
200g Arnott's Milk Coffee Biscuits, or similar style of biscuits
130g unsalted butter, melted
¼ cup caster sugar
For the Cheesecake
600 g cream cheese, softened
½ cup caster sugar
1 tsp vanilla extract
3 large eggs
Pinch of salt
2 cups mini marshmallows, divided
170g dark 70% cooking chocolate, roughly chopped
How do I make it?
Preheat oven to 160C.
Grease and line a 22 centimetre springform pan and then wrap the base and sides with foil to make it waterproof. Set aside.
Combine biscuit with sugar and melted butter in a food processor until the mixture resembles wet sand.
Press biscuit mixture into the base of the springform pan and cook for 10 minutes.
Remove from oven and set aside to cool.
Use an electric mixer to beat cream cheese with sugar and vanilla until well-blended. Turn speed on to low and add eggs, one at a time, blending to incorporate before adding the next.
Add 1 cup of the marshmallows and 110 grams of the chopped chocolate to the mixture and fold through.
Add mixture to the cooled biscuit base and top with the remaining marshmallows and chocolate.
Place cheesecake into a roasting tray and return to oven. Fill the tray with boiling water to halfway up the side of the springform pan.
Bake for 1 hour then turn off oven and keep oven door closed. Allow the cheesecake to cool in oven for 45 minutes before removing from the oven.
Remove the foil and leave to cool.
When cooled, place cheesecake in the fridge for at least 4 hours or preferably overnight before removing the springform pan and serving.
Video & photography by David Pyefinch, food by Sarah Joseph
---
Share this recipe
---
More recipes like this