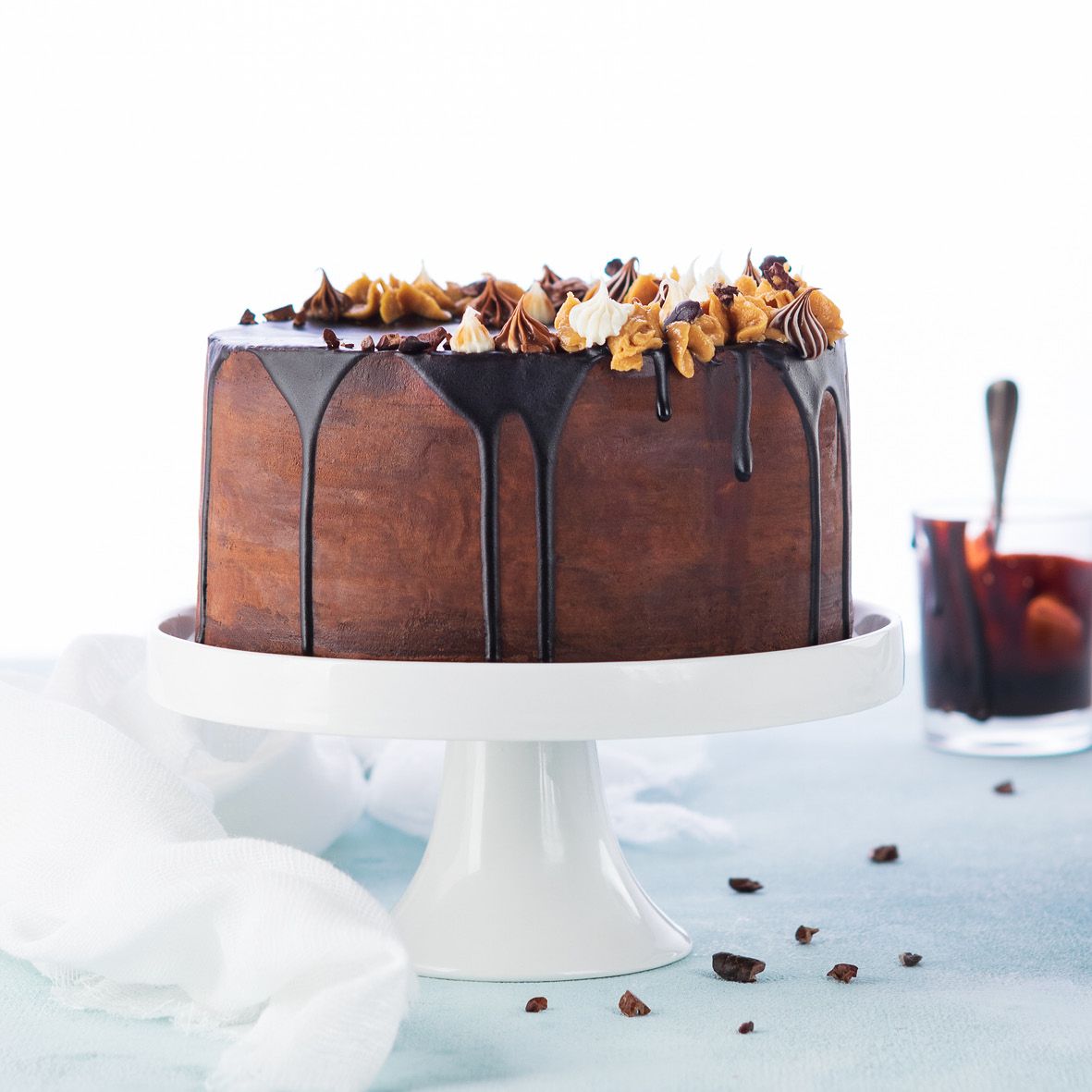 Choc-hazelnut drip cake
There's no better way to celebrate the opening of our new store at Sandy Bay than with cake. This decadent creation features one of our favourite flavour combinations chocolate and hazelnuts in a layered cake that is topped with a chocolate frosting and drizzled in rich ganache.
How long will it take?
1 ½ hours
What's the serving size?
Serves 10 to 12
---
What do I need?
For the cake
1 ¾ cups plain flour
2 cups sugar
¾ cup cocoa powder
2 ¼ tsp bicarbonate of soda
½ tsp baking powder
1 tsp salt
1 cup milk
½ cup vegetable oil
1 ½ tsp vanilla extract
2 large eggs
1 cup hot water
For the frosting
330g unsalted butter, at room temperature
340g milk chocolate chips, melted
5 tbsp cocoa powder
690g icing sugar
½ tsp salt
180ml thickened cream
For the ganache
1 ½ cups dark chocolate chips
¾ cup thickened cream
Other
¾ cup Nutella, softened in microwave
Hazelnuts to serve
How do I make it?
Preheat oven to 180C and grease and line three 20 centimetre cake tins.
In a large mixer bowl combine dry cake ingredients. In a separate bowl mix together wet cake ingredients. Add all wet ingredients except hot water to the dry ingredients and beat to combine. Slowly add hot water and beat on low speed until combined. Divide batter between the cake tins and bake for 20 – 25 minutes or until a skewer inserted comes out with moist crumbs. Remove from oven and allow to cool.
Make the frosting by beating butter with an electric mixer until smooth. Add melted chocolate and mix and then add cocoa and mix to combine. Add salt, half the cream and half the icing sugar and mix until well combined. Gradually add remaining icing sugar and cream until you have the consistency of frosting.
Make ganache by placing chocolate chips in a medium sized bowl and microwaving in 20 second bursts until they have melted. Heat the cream in a small saucepan until it starts to boil. Immediately remove cream from the heat and pour over the chocolate chips. Leave the ganache mixture to sit for a couple of minutes before whisking until smooth. Set aside.
To assemble cake, use a serrated knife to remove the domes from the cakes so that they are flat. Place the first cake on a serving plate and spread with a thick layer of Nutella.
Add the second cake and spread with Nutella and then add the final cake. Use the frosting to decorate the top and outside of the cake, using a palette knife to get a smooth finish.
Cover the top of the cake with ganache allowing it to drizzle over the edges and run down the sides.
Decorate the top of the cake with piped swirls of ganache and hazelnuts.
---
Share this recipe
---
More recipes like this