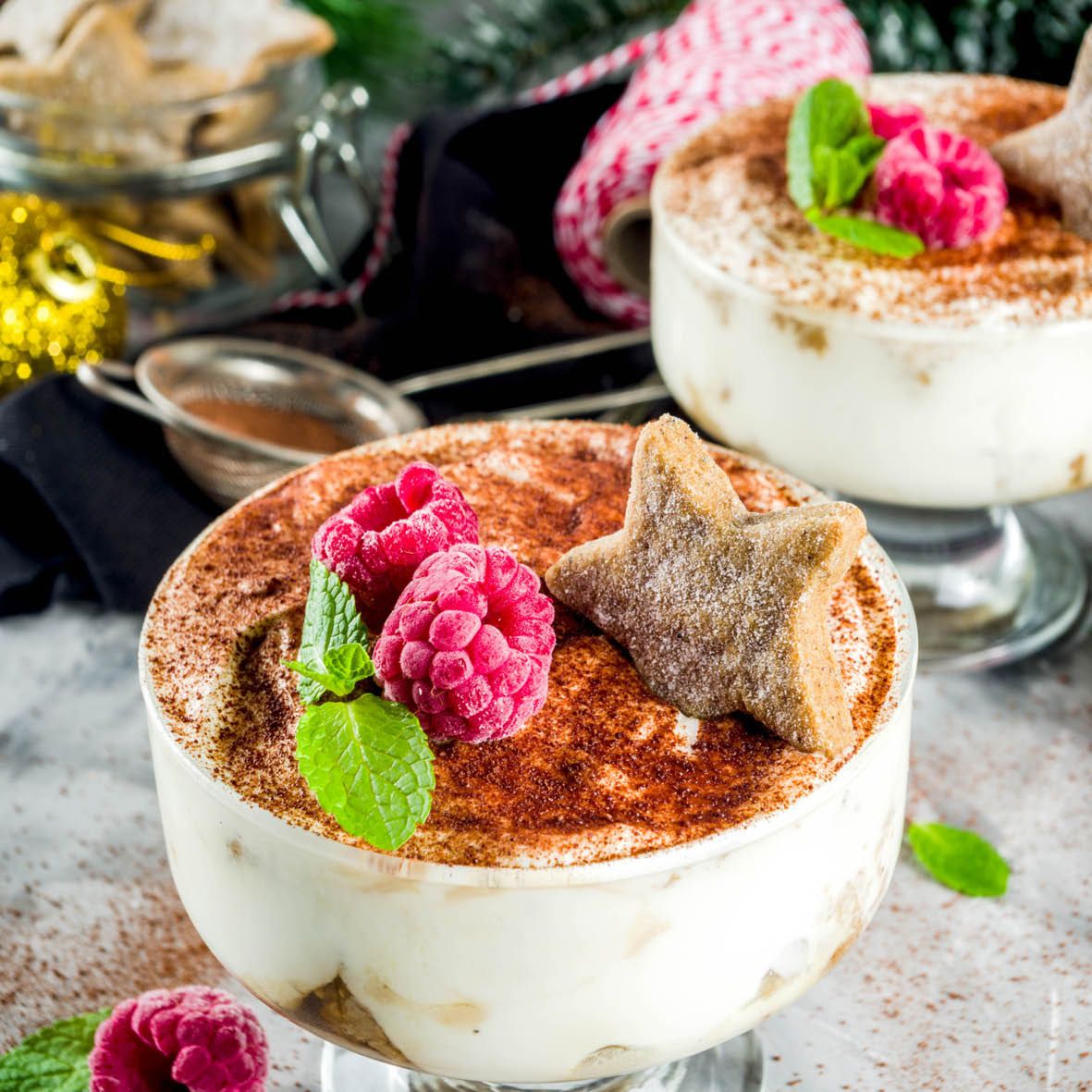 Gingerbread Tiramisu Trifle Parfaits
Perfect Christmas fare, this twist on the Italian classic is full of the flavours of Christmas.
How long will it take?
1 ½ hours plus setting time
What's the serving size?
Makes 12
---
What do I need?
For the gingerbread
150g unsalted butter, cubed
½ cup golden syrup
½cups firmly packed brown sugar
1 tsp bicarbonate of soda
3 cups plain flour
1 tbsp ground ginger
1 tsp ground cinnamon
1 tsp nutmeg
½ tsp ground cloves
½ tsp baking powder
1 egg, lightly whisked
For the tea syrup
2 ginger tea bags
½ cup caster sugar
For the filling
2 cups cream
½ cup icing sugar
500g mascarpone, softened
1 ½ tbsp vanilla extract
1 tsp cinnamon
To serve
Fresh raspberries
Cocoa powder
Mint leaves
How do I make it?
To make the gingerbread, preheat oven to 180C. Line a baking tray with baking paper.
Place butter, golden syrup and sugar in a small saucepan over medium heat. Cook, stirring until sugar dissolves. Bring to the boil and then remove from heat. Add bicarbonate of soda and stir to combine. Transfer to a bowl and set aside to cool.
Sift flour, ginger, cinnamon, nutmeg, cloves and baking powder over butter and golden syrup mixture. Add the egg and stir to combine. Turn onto a lightly floured surface and knead until smooth. Shape into a disc and cover with Multix Greener Cling Wrap and place in fridge for 30 minutes or until firm.
Remove from fridge and roll between 2 sheets of baking paper until ½ centimetre thick. Using a star shaped cookie cutter cut 12 stars from dough. Re-roll scraps and cut using a round cookie cutter into circles. Place on baking tray, leaving room for spreading.
Bake for 8 minutes, or until just firm to touch. Remove from oven and set aside to cool.
To make the tea syrup bring 2 cups of water to the boil in a small saucepan. When the water is boiling, turn off the heat and add the tea bags. Leave to steep for 10 minutes.
Remove tea bags and add sugar to the tea. Turn heat back on to medium-high and cook until the sugar has dissolved. Remove from heat and allow to cool completely.
For the filling beat cream in an electric mixer until stiff peaks form. Transfer cream to another bowl and place in the fridge. In the mixer bowl, cream together icing sugar, mascarpone, cinnamon and vanilla for 2-3 minutes on medium speed.
Remove cream from fridge and fold into mascarpone mixture with a spatula. Set aside.
To assemble, place a round piece of gingerbread in a parfait glass. Spoon over some of the tea syrup and then some of the cream mix. Repeat process to make a second layer.
Repeat for the remaining parfait glasses until all are filled.
Place parfait glasses in the fridge to chill for at least 6 hours before serving.
To serve, remove from fridge and dust with cocoa powder. Insert a star-shaped gingerbread biscuit in the top and garnish with fresh raspberries and mint leaves.
---
Share this recipe
---
More recipes like this