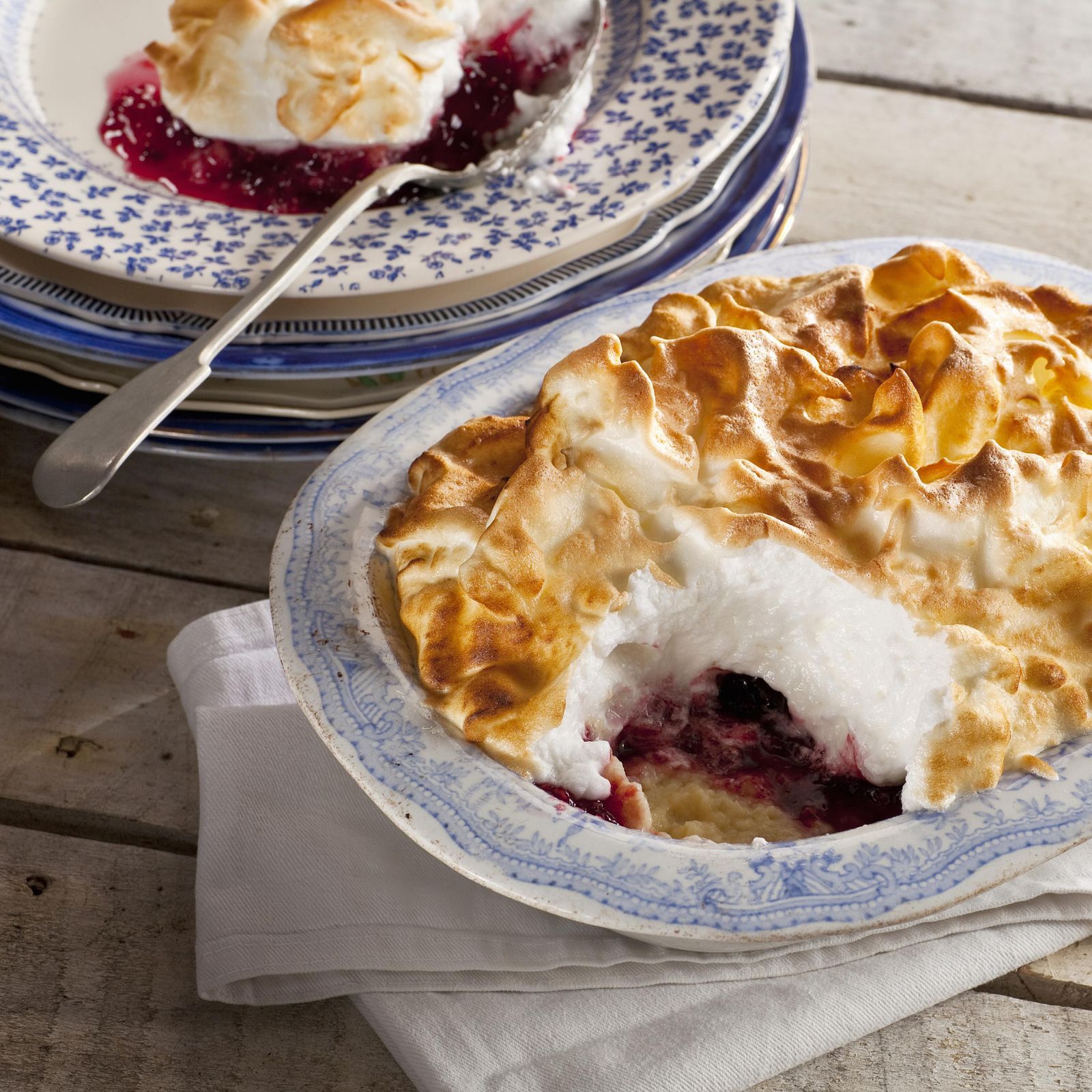 Queen of Puddings
A retro pudding with custard and jam topped off with chewy meringue.
How long will it take?
1 hour
What's the serving size?
Serves 8
---
What do I need?
500 ml (2 cups) milk
55 g (¼ cup) caster sugar
30 g butter, diced
finely grated zest of 1 lemon
5 egg yolks
2½ tsp natural vanilla essence or extract
150 g (2½ cups, lightly packed) fresh white breadcrumbs
85 g (¼ cup) mixed berry or raspberry jam
1 tbsp icing sugar, to dust
Meringue topping
3 egg whites
pinch of salt
110 g (½ cup) caster sugar
1 tsp natural vanilla extract or essence
How do I make it?
Put the milk, sugar, butter and lemon zest in a medium saucepan and stir over medium heat until the sugar dissolves and the butter melts.
Use a balloon whisk to whisk the egg yolks in a medium heatproof bowl until smooth. Gradually add the warm milk mixture, whisking constantly until well combined. Stir in the vanilla and breadcrumbs.
Pour the custard mixture into a shallow 1 litre (4 cup) ovenproof dish. Set aside for 15 minutes for the bread to soak up some of the custard.
Preheat oven to 170ºC (150ºC fan-forced).
Place the ovenproof dish into a roasting pan or larger ovenproof dish. Add enough boiling water to the roasting pan or larger ovenproof dish to reach halfway up the sides of the dish with the custard mixture to create a water bath or bain-marie. Bake in preheated oven for 20-25 minutes or until the custard has almost set but still wobbles slightly when touched on the top. Remove from the oven and place the custard dish on a wire rack. Set aside for 20 minutes or until cooled slightly (stop here if pre-preparing your pudding).
Increase the oven temperature to 190ºC (170ºC fan-forced).
To make the meringue, use an electric mixer with a whisk attachment to whisk the egg whites and salt until soft peaks form. With the motor running, gradually add the sugar, a spoonful at a time, and whisk until the sugar has dissolved completely and the mixture is thick and glossy. Whisk in the vanilla.
Carefully spread the jam over the top of the custard. Spread the meringue mixture over the jam to cover, swirling as desired.
Bake in preheated oven for 10 minutes or until the meringue is lightly golden. Serve immediately.
Recipe from sbs.com.au
---
Share this recipe
---
More recipes like this