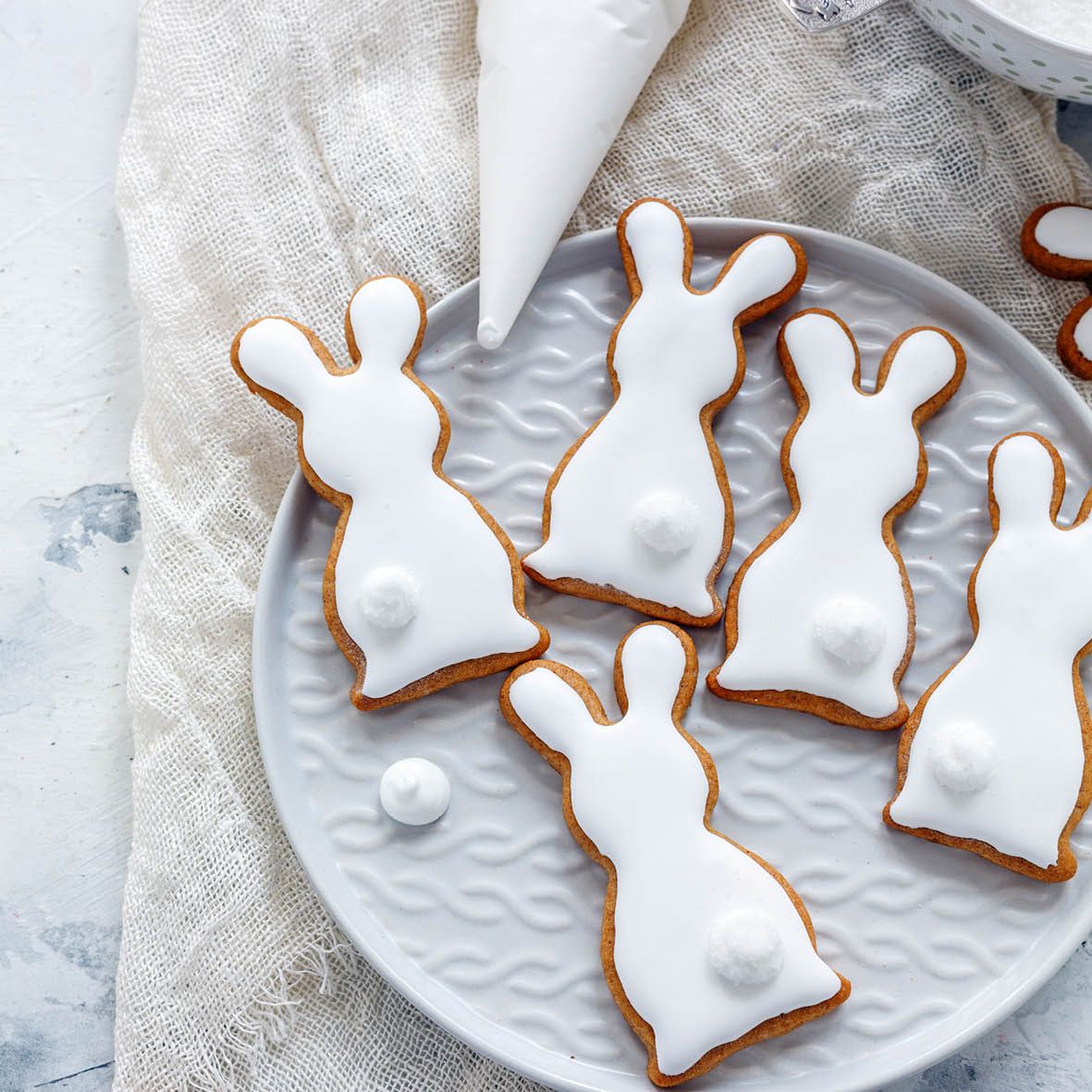 Cottontail Bunny Cookies
These cute bunnies make an ideal Easter gift, that's if you can resist eating them all yourself!
How long will it take?
1 ½ hours plus cooling time
What's the serving size?
Makes approximately 36 biscuits
---
What do I need?
225 g unsalted butter, softened
1 cup caster sugar
2 eggs
1 ½ tsp vanilla extract
½ tsp salt
1 tsp bicarbonate of soda
3 cups plain flour
For the Icing
1 ½ cups pure icing sugar, sifted
1 egg white
½ tsp lemon juice
For the Cottontails
100 g white chocolate, melted and cooled
White sugar, for sprinkling
How do I make it?
Beat butter and sugar in the bowl of an electric mixer until light and fluffy, then add eggs and vanilla and beat until combined. Add salt and bicarbonate of soda and mix. Sift in flour and continue mixing until it a smooth dough forms.
Turn dough out onto a lightly floured surface and divide in half. Wrap each piece in clingwrap and refrigerate for 1 hour, or until firm. Roll each piece of dough out between two sheets of baking paper to a thickness of 5 millimetres. Place on a lined baking tray and refrigerate for 15 minutes.
Preheat oven to 160C.
Remove dough from the fridge and use cookie cutters to cut out bunny shapes. Lay cookies on lined baking trays and return to the fridge for 15 minutes before baking in the oven for 12-14 minutes or until golden. Leave to cool on trays.
To make the icing, whisk the egg white and lemon juice together in a bowl. Gradually add icing sugar, whisking constantly. You are aiming for a mixture that looks like thick whipped cream with soft peaks. This is the best consistency for piping.
Spoon a little icing into a piping bag and outline the bunny with the icing. Allow the icing to dry for a few minutes and then flood the biscuit with a softer icing. To do this, add a little extra water, a few drops at a time, but make sure it is not so runny that it doesn't keep its shape.
When filling in shapes start from the outside and work towards the middle being careful not to put too much icing on. If air bubbles appear, prick them with a toothpick. Set the cookies aside to dry overnight in a cool, dry place.
To make the cottontails, use a teaspoon to add chocolate onto the bunny to form a tail. Let the chocolate set slightly before sprinkling with sugar. Leave to set completely before eating or packaging for gifts.
TOP TIPS
1. These cookies are lovely and buttery but the high butter content means that they do need to be chilled after being rolled out, cut and before baking to retain their shape.
2. These will keep, decorated, for 10 days.
---
Share this recipe
---
More recipes like this