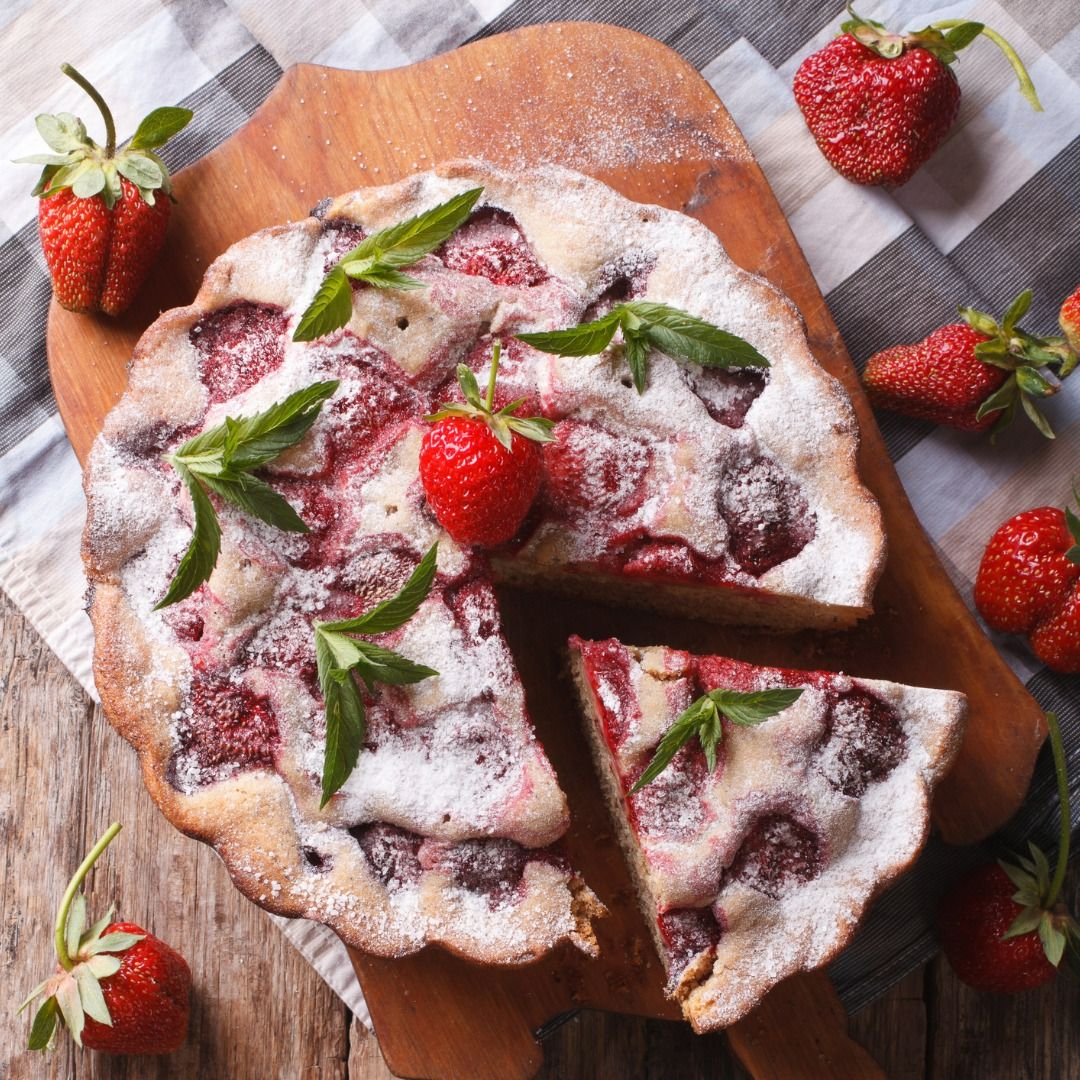 Strawberry Kombucha Cake
This cake is one not to be missed. The acidity of the kombucha gives the cake a subtle flavour similar to champagne. If you want to make a frosting to top it try the Cashew Coconut Frosting recipe below. It is creamy and luscious and can be spread or piped easily.
How long will it take?
1 ½ hours plus chilling time
What's the serving size?
Serves 12
---
What do I need?
For the cake
2 ½ cups plain flour or spelt flour
2 tsp baking powder
1 tsp bicarbonate of soda
Pinch salt
2 tbsp psyllium (whole or ground are both fine)
¾ cup kombucha (plain or ginger are both excellent)
1 cup maple syrup
½ cup unsweetened almond milk
2 tbsp vanilla extract
6 tbsp coconut oil, melted
2 cups strawberries, halved with green tops removed
For the Cashew Coconut Frosting
1 cup coconut cream
1 cup unroasted cashews
1 tbsp vanilla extract
¼ cup maple syrup, plus 1 tbsp extra
¼ cup coconut oil
Pinch salt
How do I make it?
For the frosting
Place all ingredients in a small saucepan and bring to a low simmer. Keep at that heat for 5 minutes. Remove from heat and let the ingredients set together for 15 minutes before adding to the bowl of a blender and blitzing until you have a completely smooth, creamy liquid consistency. Place the liquid into a glass container with a lid and cool in the fridge for a minimum of 4 hours.
For the cake
Preheat oven to 180C. Grease a 23cm springform pan with coconut oil or line with baking paper. In a large mixing bowl sift flour, baking powder, bicarb soda and salt. Add the psyllium.
In a separate mixing bowl, stir together the maple syrup, kombucha, almond milk, vanilla extract and coconut oil. Add the wet mix to the dry mix and whisk gently to combine, removing lumps as you go. Mix until just combined. Avoid popping too many of the air bubbles forming from the kombucha and sodas interacting. Pour the batter into a springform pan and bake for 45-50 minutes, until the cake is golden brown on top and a skewer inserted comes out clean.
Cool for a minimum of 20 minutes before releasing the springform. Remove the cake and place it on a cooling rack and let completely cool to room temperature before frosting if desired.
---
Share this recipe
---
More recipes like this