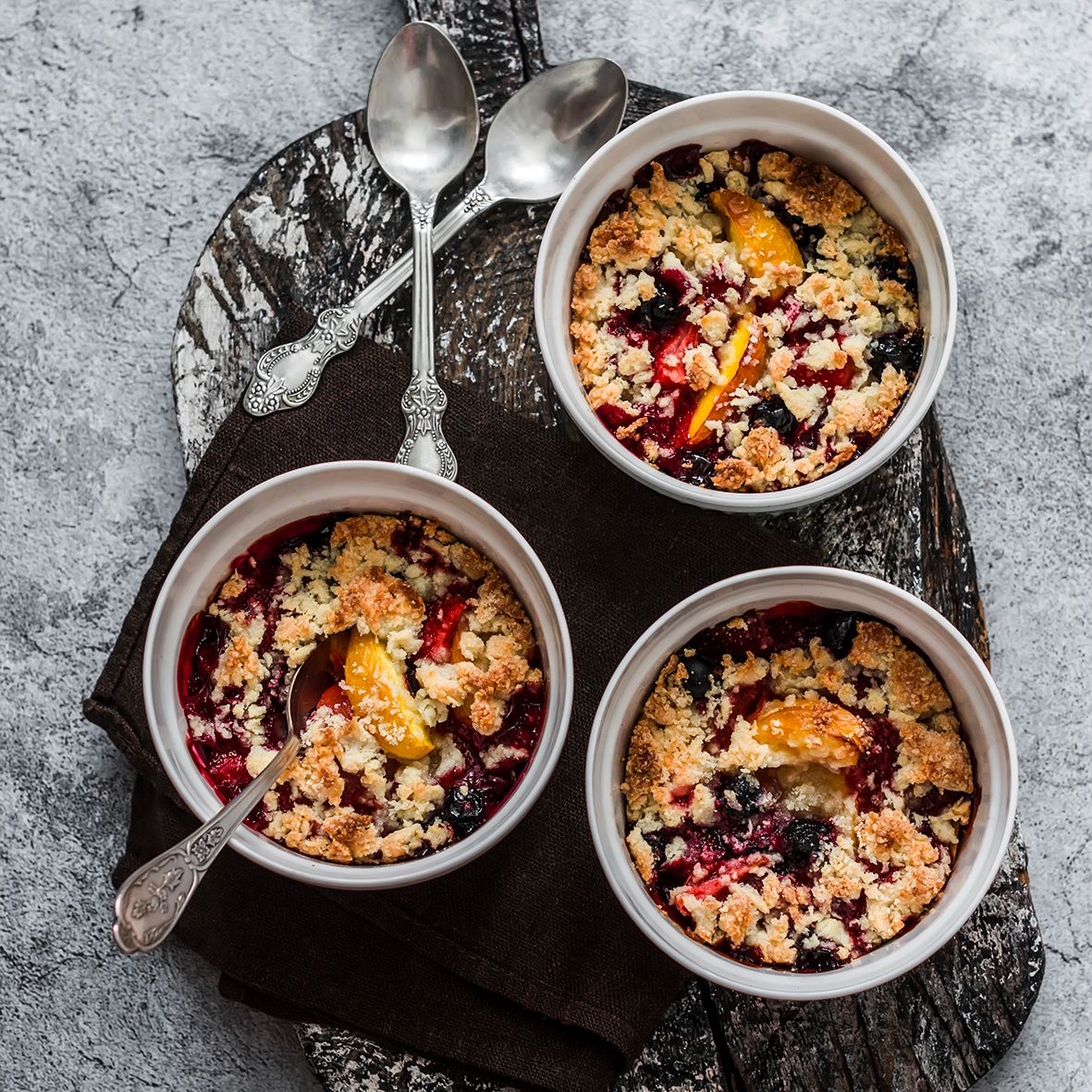 Berry, Plum and Apple Crumble
Served with cream, this crumble is impossible to resist. The combination of sweet berries and plum with the tartness of the apple really hits the spot. We made individual serves in ramekins, but you can make one larger crumble if you prefer.
How long will it take?
30 minutes
What's the serving size?
Serves 4
---
What do I need?
1 Granny Smith apple, peeled, cored and cut lengthwise
2 tbsp freshly squeezed lemon juice
1 tbsp sugar
¼ tsp ground cinnamon
125 g blueberries
125 g strawberries, roughly chopped
4 plums, stone removed, roughly chopped
1 cup oats
1 cup brown sugar
½ cup plain flour
½ tsp freshly grated ginger
Pinch of salt
150 g unsalted butter, cut into small cubes
Cream, to serve
How do I make it?
Preheat oven to 180C.
Add apples to a medium bowl with lemon juice, sugar and cinnamon and toss to coat.
Divide apples between 4 oven-proof ramekins and top with blueberries, strawberries and plums.
In a separate bowl combine oats, brown sugar, flour, ginger and salt. Use your fingers to work the butter into the mixture until crumbly.
Spoon oat mixture over the berries and cook in oven for 20 minutes or until the fruit is bubbling and the top is a golden brown colour.
Serve with cream.
---
Share this recipe
---
More recipes like this