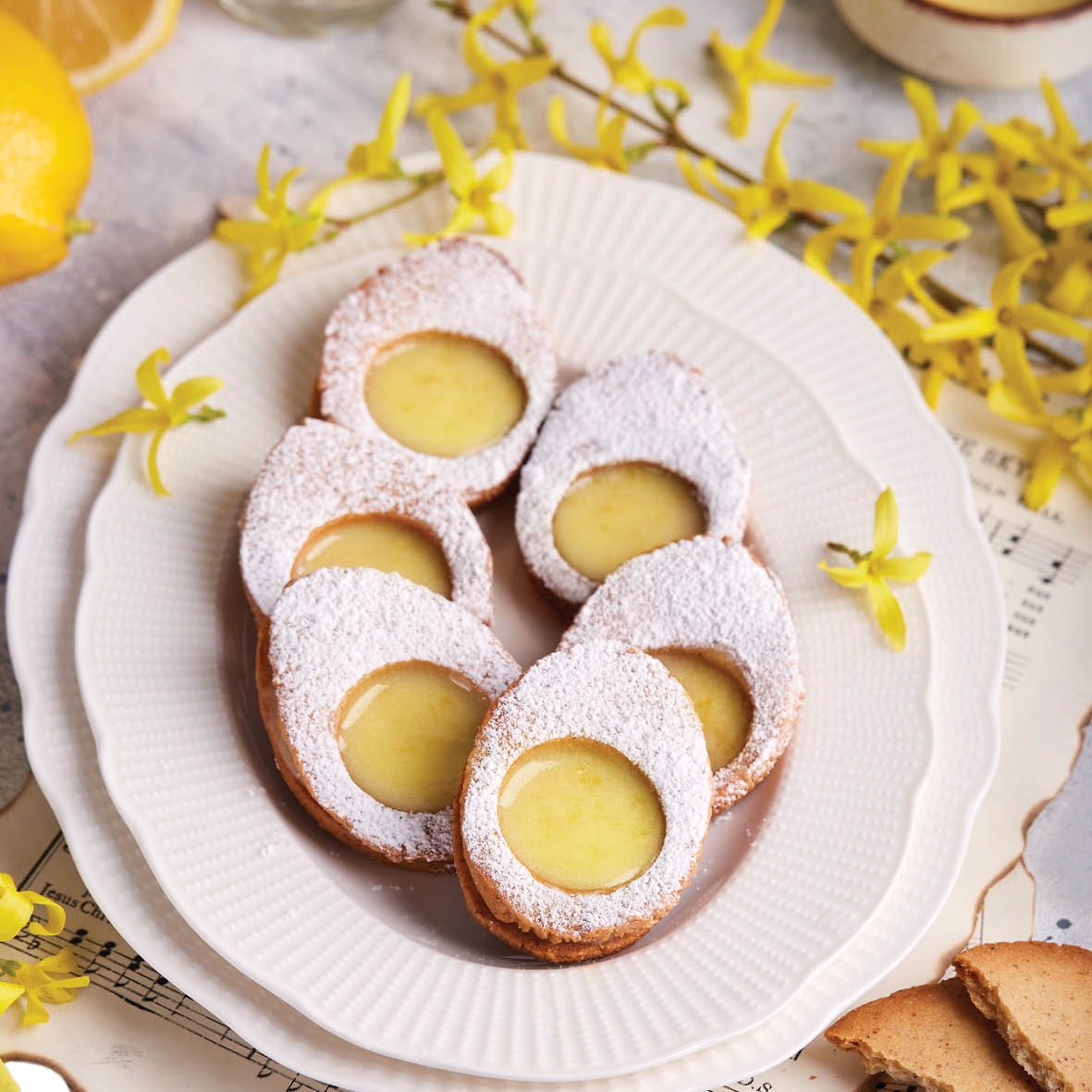 Lemon Curd Easter Cookies
With their luscious lemon curd filling, these cookies make a lovely homemade chocolate-free Easter gift.
How long will it take?
2 ¼ hours
What's the serving size?
Makes 32 cookies
---
What do I need?
For the Lemon Curd
185 g caster sugar
Generous pinch of salt
115 g unsalted butter, divided
2 eggs
2 egg yolks
165 mL lemon juice
Zest of 1 lemon
For the Cookies
225 g butter
120 g icing sugar, sifted plus extra for dusting
2 egg yolks
½ tsp salt
½ tsp ground cinnamon
1 tsp vanilla extract
30 ml lemon juice
300 g plain flour
100 g almond flour
How do I make it?
Make the lemon curd by adding sugar, salt and 85 g of butter to the bowl of an electric mixer. Cream butter, sugar and salt together until light and fluffy. Gradually add eggs and egg yolks, beating well, then add lemon juice (don't be concerned if the mixture separates as it will come together when cooked).
Transfer the mixture to a saucepan over low heat and cook, stirring constantly until the lemon curd is smooth. Increase heat to medium and continue cooking while stirring until the mixture starts to thicken. Remove from the heat and whisk reserved butter into the curd. Add lemon zest and stir. Set aside to cool to room temperature, then transfer to the fridge. It will thicken more as it cools. Leave in the fridge to chill until needed.
Make cookies by creaming butter in a stand mixer on medium speed until creamy, about 1 – 2 minutes. Add icing sugar and blend to combine.
Add egg yolks and mix, then add salt, cinnamon, vanilla and lemon juice and mix.
Reduce speed to low and gradually add in flour and almond flour.
Divide mixture in half and form each piece into a disc, about 2 ½ centimetres thick. Wrap in clingfilm and chill for at least 1 hour.
Preheat oven to 175C. Line 2-3 baking trays with baking paper.
Roll dough discs out on a lightly floured surface to approximately ½ centimetre thickness. Cut out cookies using the larger cookie cutter and place half on baking trays, leaving 3-4 centimetres space between them (these will be the base of your Linzer Cookies). With the remaining cookies, use the smaller cutter to cut out the shape in the centre of the cookie to make the "window". You should have a total of approximately 64 cookies – 32 bases and 32 tops.
Bake each baking tray for 10 minutes or until the cookies look dry on the top. Remove from oven and allow to cool completely.
To assemble, dust the cut-out cookies with icing sugar. Spread lemon curd on each of the base cookies, then place the cut-out cookies on top and gently press down so that the lemon curd is showing through the "window".
TOP TIPS
- You will need two cookie cutters – one to make the basic shape and a smaller one to cut out the shape in the centre to reveal the lemon curd.
- You can make the cookie dough up to 2 days in advance and keep in the fridge.
- It is important to keep filled cookies in an airtight container to prevent the cookies going soggy.
---
Share this recipe
---
More recipes like this