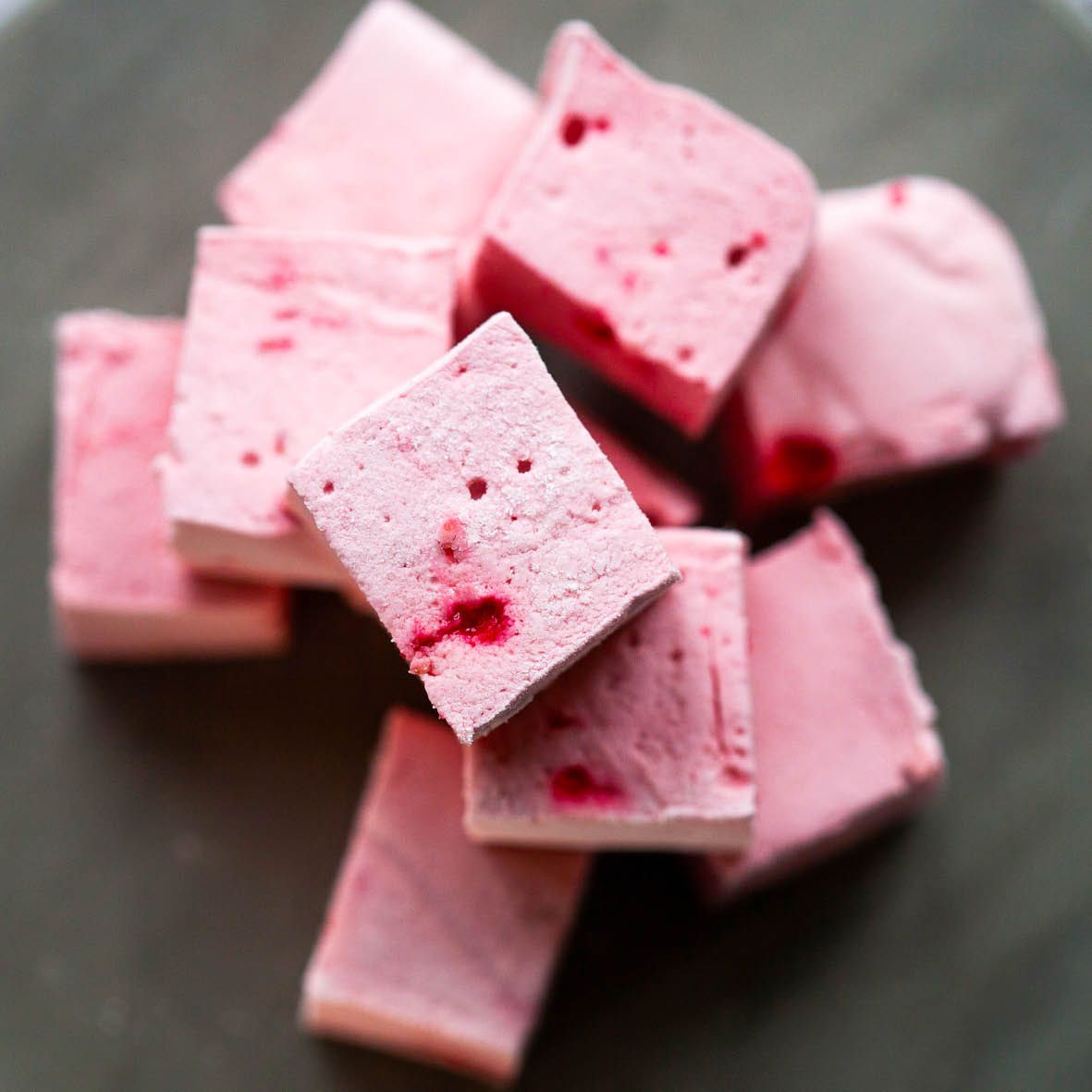 Raspberry marshmallows
Make these sweet treats as a gift for someone special
How long will it take?
45 minutes preparation + setting time
What's the serving size?
Makes about 30
---
What do I need?
Oil spray
20g pure icing Sugar, sifted
30g corn flour, sifted
7 gelatine leaves (10g)
400g caster sugar
1 tbsp glucose syrup
200ml water
2 large egg whites (75g)
30g freeze dried raspberry, half blitzed to a powder
Pinch salt
How do I make it?
Line a 25cm square cake tin or baking dish with baking paper.
Mix together the icing sugar and corn flour and sieve 1/3 over the base and sides of your tin.
Soften gelatine leaves by placing in a bowl of cold water.
Mix the water, sugar and glucose together in a small saucepan. Place on medium heat and stir to dissolve the sugar. Increase the heat and boil, without stirring, until it comes to 125C (hard crack stage).
While the sugar is cooking, place the egg whites and salt in the bowl of an electric mixer with the whisk attachment in place. Beat on a medium-low speed until lightly and frothy. When the sugar reaches temperature increase the speed to medium-high and very carefully and slowly pour the syrup in a steady stream into the egg whites while you continue to whisk.
Squeeze excess water from the gelatine leaves and add them to the mixture.
Whisk on medium-high until tripled in size, light and pillowy but still warm, about 5 minutes. Mix through the dried raspberry powder and pieces.
Pour the mix into the tin and smooth off the top. Dust the top with half the remaining icing sugar mix. Once cool, cover with clingfilm and set aside in a cool, dry place (not in the fridge) to set.
Turn marshmallow out on a board and cut into squares. Toss with the remaining icing sugar to lightly coat.
Store between sheets of baking paper in an airtight container.
Video & Photography by David Pyefinch – www.madfinch.com
Food by Sarah Joseph
---
Share this recipe
---
More recipes like this