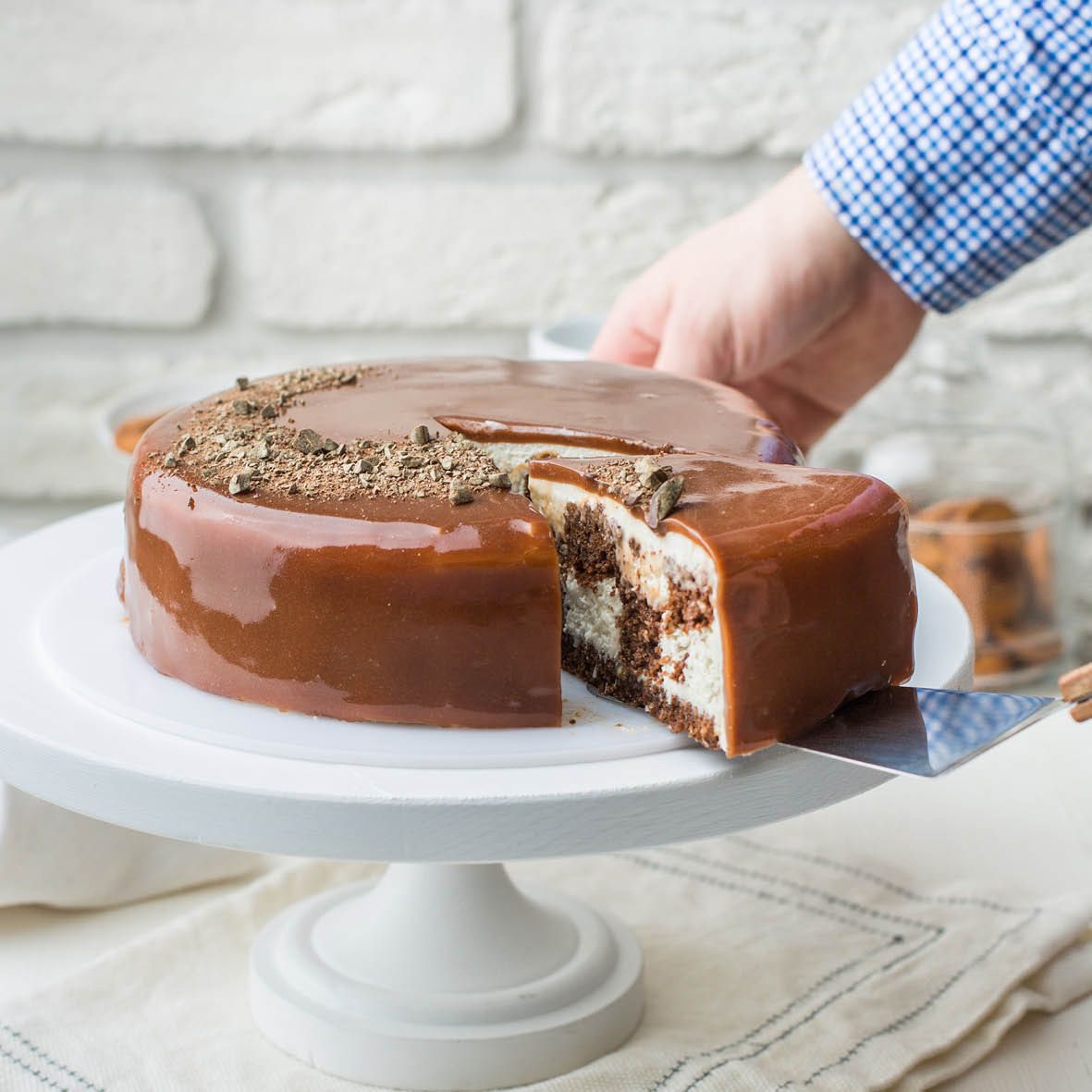 Marbled Chocolate Cheesecake with Caramel Mirror Glaze
Hidden beneath a super-shiny mirror glaze is a delectable baked chocolate cheesecake.
How long will it take?
Takes 2 hours
What's the serving size?
Serves 8
---
What do I need?
For the cheesecake
1 x 250g pack Arnott's choc ripple biscuits
100g butter, melted
2 x 250g packs cream cheese, softened
3/4 cup icing sugar
300g cup sour cream
3 eggs
100 g dark chocolate, melted
For the mirror glaze
6 sheets of gelatin leaves
200 g caster sugar
225 g corn syrup or glucose syrup
118 g water
163 g sweetened condensed milk
200 g white cooking chocolate, finely chopped
Brown food gel or powdered food colouring
Grated chocolate to garnish
How do I make it?
Preheat oven to 160C.
To make the cheesecake
Crush biscuits until they are fine crumbs. Add butter and mix to combine. Use biscuit mix to line the base and sides of a prepared 22 centimetre springform pan. Set aside in the fridge.
Blend together cream cheese, sour cream and icing sugar. Add eggs, one at at time. Transfer 1 1/3 cups of mixture to a separate bowl. Add melted chocolate to 1 1/3 cups of cream cheese mix and stir to combine.
Pour half of the plain mixture onto the refrigerated base. Dollop on half of the chocolate mixture and repeat pattern. Use a knife to swirl the mixture.
Bake in oven for 1 hour. Remove from oven and allow to cool slightly before refrigerating.
To make the mirror glaze
Cut gelatin into 2 ½ centimetre strips and submerge in cool water for at least 5 minutes to soften. Place white chocolate in a heat-proof bowl and set aside.
Combine sugar, corn syrup, and water in a saucepan and bring to a boil over medium heat until sugar is completely dissolved and mixture is clear.
Squeeze as much water out of the gelatin as possible then remove sugar and corn syrup mixture from heat and add gelatin. Whisk until completely dissolved. Whisk in sweetened condensed milk. Pour hot mixture over chopped white chocolate and let sit for 30 seconds, then stir until chocolate is completely melted and mixture is smooth.
Let glaze cool, stirring occasionally, until glaze reaches approximately 32C on a thermometer. The glaze needs to be the correct temperature or it will not form a thick enough layer on the outside of the cheesecake.
When the glaze reaches 32C, add powder or gel food colouring to make desired colour. If at any point your glaze gets too cool/thick, microwave it in 10 second bursts, stirring to even out the temperature throughout.
If you want to make the glaze ahead of time, store it tightly covered in the fridge until you're ready to use it. Before glazing, rewarm the glaze in the microwave in 30 second bursts, stirring well after each interval, until glaze is smooth and fluid.
Before glazing the cheesecake, put the cheesecake in the freezer for 30 minutes to ensure it is firm enough to glaze.
Remove cheesecake from freezer and place on a wire rack set over a rimmed baking tray to catch excess glaze. Pour glaze generously over cheesecake. If the glaze seems too thin, add another layer. Let the glaze drip off for a few minutes, then scrape the edges to remove any remaining drops. Garnish with grated chocolate. Transfer cheesecake to a serving plate and refrigerate until ready to serve.
The glazed cheesecake will keep uncovered in the refrigerator for up to 3 days.
---
Share this recipe
---
More recipes like this