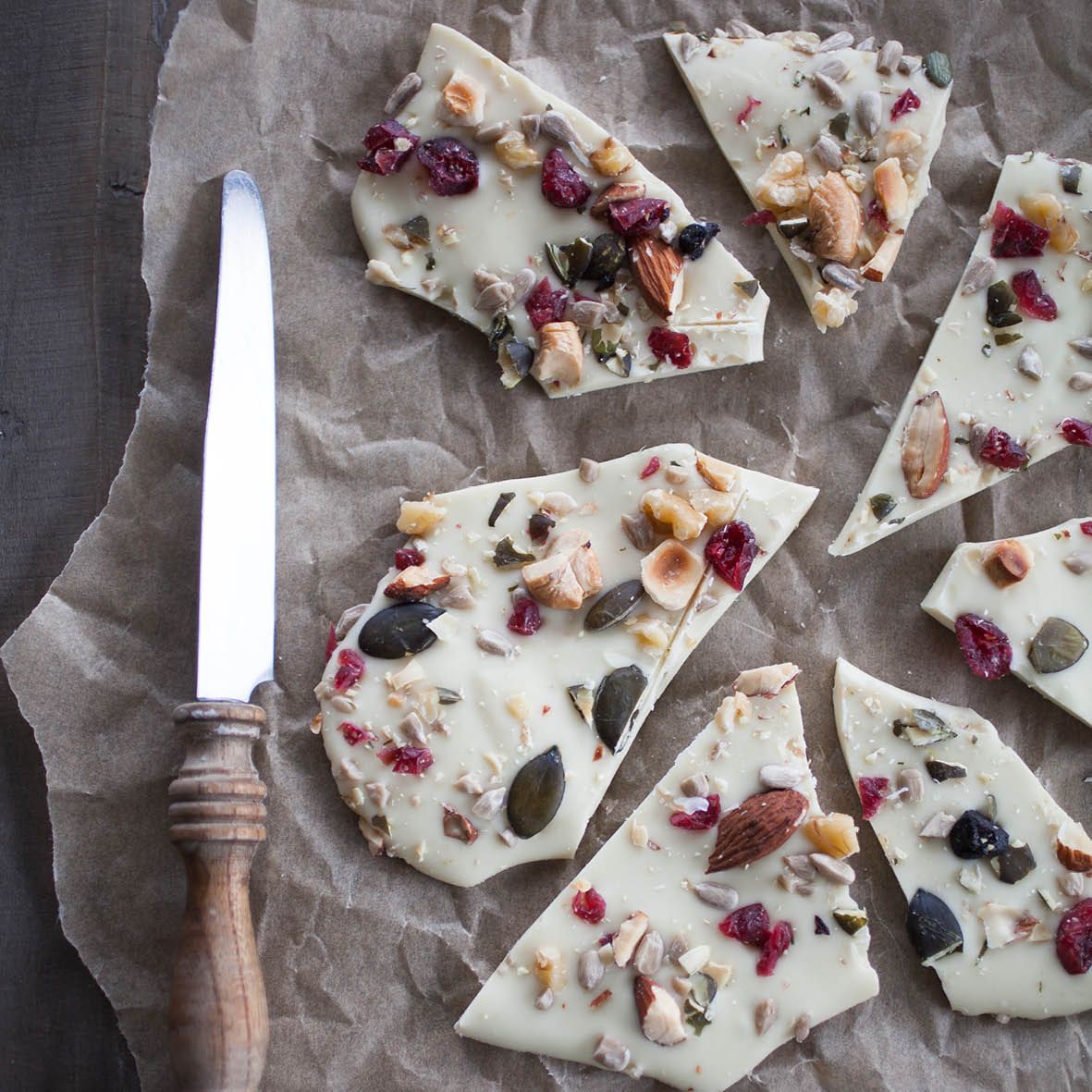 White Chocolate bark
The colours and flavours of Christmas combine to create a delightful treat.
How long will it take?
2 hours 30 minutes
What's the serving size?
Makes two 25cm discs
---
What do I need?
750g white chocolate, finely chopped
½ cup dried cranberries
½ cup shelled pistachios
½ cup almonds
¼ cup walnuts, chopped
¼ tsp flaked sea salt
How do I make it?
Preheat oven to 175C.
Place pistachios, almonds and walnuts in a single layer on a baking tray lined with baking paper.
Bake nuts in oven for 5 to 8 minutes or until they are lightly toasted.
Remove from oven and set aside to cool completely. When cool roughly chop the nuts and cranberries.
Line a baking tray with baking paper. Draw a large circle on the baking paper as a guide for your chocolate. Turn baking paper over so that the pencil doesn't get on the chocolate.
Place 560grams of chocolate in a heat-proof glass bowl and microwave on high for 30 seconds. Stir chocolate and return to microwave for another 30 seconds, then stir again. Repeat this process until the chocolate is just melted. Immediately add remaining chocolate, stirring it in until chocolate is smooth. If you need to heat it to melt all the chocolate return it to the microwave for 15 seconds.
Pour melted chocolate onto baking paper and spread it to fill in the circle.
Sprinkle the top of the chocolate with cooled nuts and cranberries. Press the nuts and cranberries lightly into the top of the chocolate and sprinkle with salt.
Refrigerate until fully set.
Cut or break bark into pieces to serve.
Video & Photography by David Pyefinch – www.madfinch.com
Food by Sarah Joseph
---
Share this recipe
---
More recipes like this