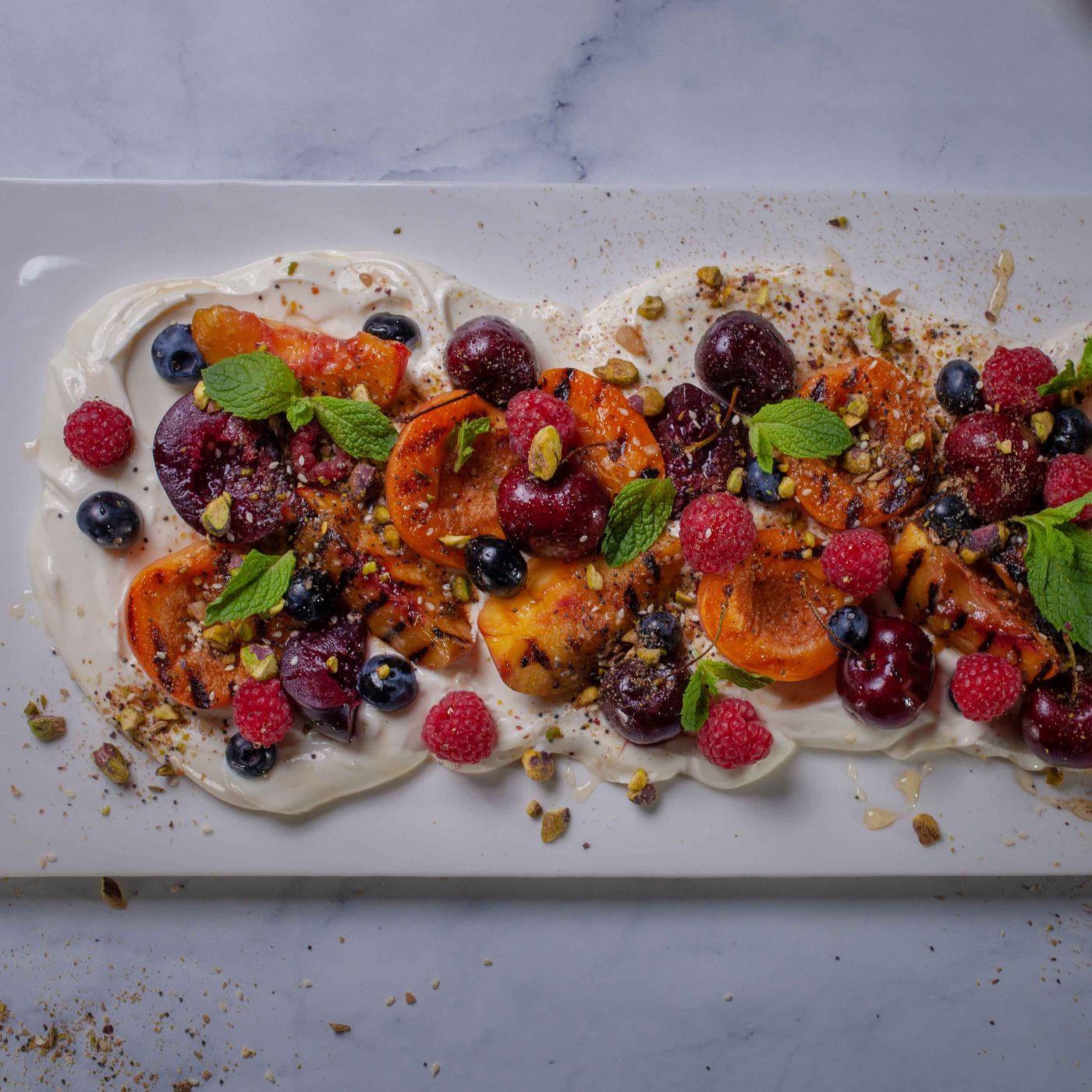 Grilled fruit with honey labneh and pistachio dukkah
Showcase summer's bounty of fruit with this light and fresh dessert. The labneh will need 24 hours to drain so start a day ahead. You can also make the pistachio dukkah in advance and store it in an airtight container until ready to serve.
How long will it take?
30 minutes plus 24 hours for the labneh
What's the serving size?
Serves 8
---
What do I need?
4 apricots
4 yellow or white peaches
4 nectarines
4 plums
250 g cherries
2 tbsp vegetable oil
125 g raspberries
125 g blueberries
Mint leaves, to serve
For the Honey Labneh
900 g Greek yoghurt
2 tsp freshly squeezed lemon juice
1 tsp salt
4 tbsp honey, plus extra to serve
1 tsp vanilla extract
For the Pistachio Dukkah
50g shelled pistachios
1 tbsp sesame seeds
½ tbsp poppy seeds
1 tbsp palm sugar, grated
½ tsp ground cinnamon
1 tsp fennel seeds
¼ tsp ground cardamom
¼ tsp ground cloves
How do I make it?
Line a strainer with several layers of muslin/cheese cloth and set over a bowl.
Add yoghurt, lemon juice and salt to a bowl and stir well to combine. Pour into the lined-strainer and bring the edges of the muslin together to seal in the yoghurt. Place strainer and bowl with the yoghurt in the fridge for 24 hours to drain.
Preheat oven to 180C.
Prepare the pistachio dukkah by adding all ingredients to a small bowl and mixing to combine. Spread mixture over a baking tray lined with baking paper and cook for 6-10 minutes or until it is gently toasted and fragrant. Set aside to cool then blitz in a food processor to make a coarse mixture.
Heat barbecue or grill pan over medium-high heat.
Prepare fruit by halving apricots, peaches, nectarines, and plums and removing the stones. Pit the cherries but leave them whole.
Brush apricots, peaches, nectarines, plums and cherries with vegetable oil and place cut side down on the grill. Cook for 2-3 minutes or until there are grill marks and the fruit is lightly caramelised, then turn and cook for a further 1-2 minutes.
Remove from heat and set aside.
When ready to serve, remove strained labneh from the fridge and place in a mixing bowl with honey and vanilla and stir to combine.
To serve, dollop labneh onto a serving platter and top with grilled fruit. Scatter with raspberries and blueberries and drizzle with extra honey. Sprinkle with pistachio dukkah and garnish with mint leaves. Serve extra dukkah in a bowl on the side.
---
Share this recipe
---
More recipes like this